By Retta Race on SwimSwam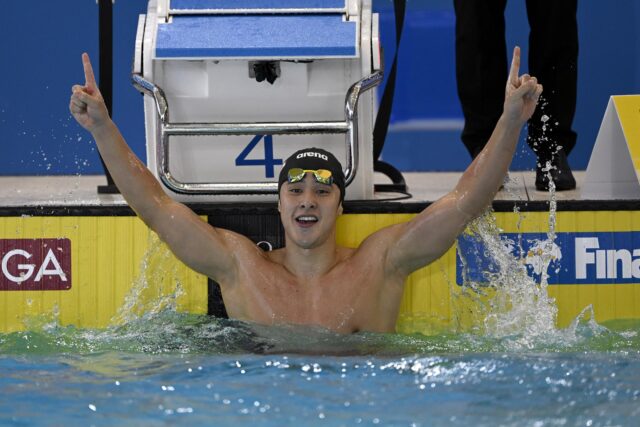 2023 KOSUKE KITAJIMA CUP
Friday, January 20th – Sunday, January 22nd
Tokyo Tatsumi International Swimming Center
LCM (50m)
The 2023 Kosuke Kitajima Cup wrapped up tonight from Tokyo with a big-time swim from Olympic medalist Daiya Seto.
Taking on his bread-and-butter 200m IM event, 28-year-old Seto fired off a season-best of 1:56.72 for a new meet record.
With a first half of 54.58 and a closing 100m of 1:02.14, Seto produced the only sub-2:00 time of the field en route to topping the podium. His result now sits only behind American Chase Kalisz's 1:56.52 in the season's world rankings.
Seto's performance bodes well for his relatively-new coaching partnership with Takeshi Kato with whom he paired up last spring. Kato is the director of Tokai University and was the coach of 2016 Olympic Games gold medalist in the women's 200m breaststroke, Rie Kaneto.
Another veteran was in the water tonight as former World Record holder Ippei Watanabe raced the men's 200m breast. The 25-year-old got to the wall at the same time as Olympian Shoma Sato, with both clocking a winning time of 2:08.55.
Sato was out slightly quicker in 1:01.66 to Watanabe's 1:01.88 but the pair kept pace to the wall en route to routing the rest of the field. No one else got under the 2:12 barrier in tonight's event.
Watanabe and Shato now share the season's world rankings crown, dipping under teammate Yu Hanaguruma's previous world-leading mark of 2:08.86 from last month's Japan Open.
The 200m fly and 400m free victor here, Tomoru Honda, also made some noise tonight in the men's 100m fly. Honda cranked out a result of 51.87 as the only sub-52-second swimmer. His performance here was just .15 shy of the 51.72 he logged at the Japan Open, rendering the 21-year-old the #2 performer in the world this season.
The women's 1fly saw Hiroko Makino get it done for gold in a swift 57.73. Makino opened in 27.30 and brought it home in 30.43 to keep runner-up Nagisa Ikemoto at bay. Ikemoto settled for silver about half a second behind in 58.34. Of note, Rikako Ikee wund up 4th in 59.33.
Makino's result here crushed her previous season-best of 58.29 from last month's Japan Open. It also overtook her previous PB of 58.28 from last year's Japanese Championships, meaning the 23-year-old dipped under the 58-second barrier for the first time in her career.
Makino now moves up to rank 2nd in the world this season behind America's Regan Smith.
Reona Aoki notched a new meet record en route to taking the women's 200m breaststroke race. Aoki hit a time of 2:23.12 to double up on her 100m breast victory earlier in the meet.
Her time surpasses Dutch swimmer Tes Schouten's 2:23.67 from last month to now check-in as the quickest time in the world this season.
Additional Notes
SwimSwam: Daiya Seto Kicks Off New Year With 1:56.72 200 IM At Kitajima Cup