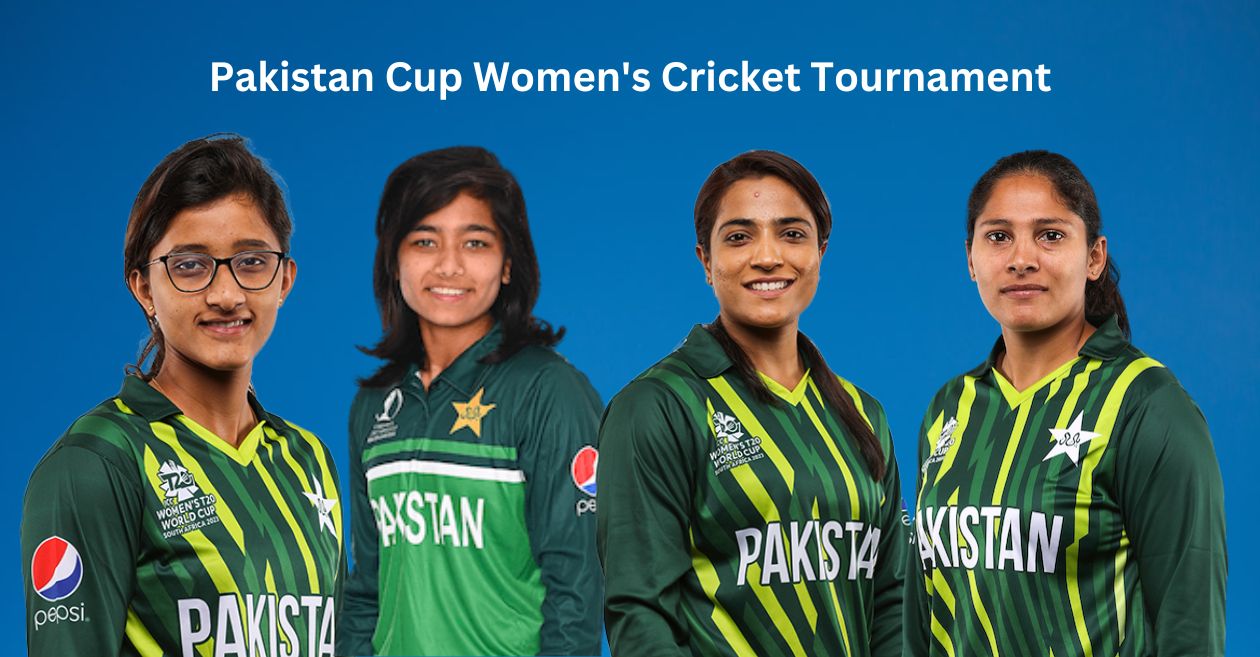 The much-awaited Pakistan Cup Women's Cricket Tournament 2022-23 is all set to begin from May 19 in Karachi, confirmed the Pakistan Cricket Board (PCB) on Wednesday.
The tournament will consist of two parts. Firstly, four teams will compete in T20 matches in a round-robin format. Following that, three teams will engage in ODI fixtures in a double round-robin format, culminating in the final on June 4.
Fatima Sana, the prominent fast bowler from Pakistan, will lead the Strikers team, comprising potential players for the ACC Women's Emerging Teams Asia Cup. The Strikers team will exclusively participate in the first round, which includes T20 matches.
The remaining three teams in the tournament are the Blasters, with Muneeba Ali as the captain. Notably, Muneeba holds the distinction of being the only batter from Pakistan to have scored a century in T20Is. The Challengers team is led by Sadia Iqbal, a left-arm orthodox bowler, while the Dynamites team is captained by Sidra Amin, a right-handed top-order batter.
The T20 matches will be held from May 19 to May 21 at the Hanif Mohammad High-Performance Centre Oval Ground and State Bank Ground. From May 23 onwards, the Blasters, Challengers, and Dynamites will shift their focus to the 50-over tournament. These three teams will compete against each other twice, and the final match will take place between the top two sides.
Squads:
Blasters: Muneeba Ali (captain), Aleena Shah, Anam Amin, Asma Amin, Ayesha Bilal, Ayesha Javed, Ayesha Zafar, Diana Baig, Fajar Naveed, Iram Javed, Kainat Imtiaz, Saba Nazir, Saiqa Riaz, Zaib-un-Nisa and Zunera Shah
Challengers: Sadia Iqbal (captain), Aima Saleem, Amber Kainat, Areesha Noor, Fareeha Mehmood, Fatima Zehra, Huraina Sajjad, Javeria Khan, Javeria Rauf, Kaynat Hafeez, Maham Tariq, Masooma Zehra, Noreen Yaqoob, Saima Malik and Warda Yousaf
Dynamites: Sidra Amin (captain), Aliya Riaz, Bismah Maroof, Fatima Shahid, Ghulam Fatima, Humna Bilal, Khadija Chishti, Laiba Nasir, Maham Manzoor, Nashra Sundhu, Omaima Sohail, Rameen Shamim, Sidra Nawaz, Waheeda Akhtar and Yusra Amir
Strikers: Fatima Sana (captain), Anoosha Nasir, Dua Majid, Eyman Fatima, Fatima Khan, Gull Feroza, Gulrukh, Lubna Behram, Najiha Alvi, Natalia Parvaiz, Sadaf Shamas, Shawaal Zulfiqar, Syeda Aroob Shah, Tuba Hassan and Umm-e-Hani
Fixtures:
The first phase (T20 format)
May 19 – Dynamites vs Blasters, State Bank Ground
Challengers vs Strikers, Oval Academy Ground.
May 20 –Dynamites vs Challengers, State Bank Ground
Blasters vs Strikers, Oval Academy Ground.
May 21 –Dynamites vs Strikers, State Bank Ground
Blasters vs Challengers, Oval Academy Ground.
The second phase (50-over format)
May 23 – Blasters vs Dynamites, State Bank Ground
May 25 –Blasters vs Challengers, State Bank Ground
May 27 –Dynamites vs Challengers, State Bank Ground
May 29 – Dynamites vs Blasters, State Bank Ground
May 31 – Challengers vs Blasters, State Bank Ground
June 2 – Challengers vs Dynamites, State Bank Ground
June 4 – Final, State Bank Ground
This article was first published at WomenCricket.com, a Cricket Times company.
For latest cricket news & updates, visit CricketTimes.com.