By Anya Pelshaw on SwimSwam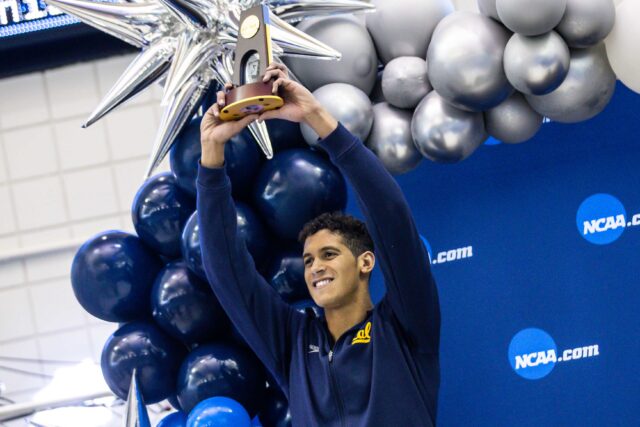 Football rivalry week? Nah, swimming rivalry week (mostly). There was a slight preview last week with meets like Virginia vs. Virginia Tech, but there sure are some big ones for this week.
There are some classic rivalries this week such as Florida vs Florida State, Ohio State vs Michigan, and Alabama vs Auburn. In addition, there are also some new swimming rivalries being formed such as Cal vs ASU.
Alabama vs Auburn is expected to be very close on the men's side. Alabama was 14th and Auburn was 15th in our most recent power rankings. Based on rankings, the women's side is not expected to be as close as Alabama was ranked 5th and Auburn was ranked 22nd. Although the rankings are currently far apart, since the rankings have come out, Alabama has lost two huge contributors to their women's team, Morgan Scott and Cora Dupre.
Ohio State and Michigan are coming off much different weekends. Ohio State had successful meets in the double dual between Texas and Alabama whereas Michigan is coming off losses against Indiana. Kentucky and Louisville looks to be a close meet on the women's side as both were in the top 12 at last year's NCAAs. In addition, Virginia will take on both NC State and UNC. On the women's side UNC is led by fifth years Grace Countie (sprinter) and Sophie Lindner (backstroker) which match up well against Virginia (with names such as Gretchen Walsh and Kate Douglass) as well as NC State (with names such as Katharine Berkoff and Kylee Alons).
Highlighting what could be considered a new swimming rivalry will be the Cal vs ASU meet. The Cal men are the defending national champions but the ASU men were projected to score the most points at NCAAs based on results from midseason. More on that showdown will be coming out soon.
Tune into the Instagram story this week for a takeover for the Tennessee and Georgia meet which will feature names such as Jordan Crooks and Gui Caribe.
| | | | |
| --- | --- | --- | --- |
| Meet | Date | Men | Women |
| Florida vs. Florida State | 1/20 | X | X |
| Alabama vs. Auburn | 1/20 | X | X |
| ASU vs. Stanford | 1/20 | X | X |
| Cal vs. ASU | 1/21 | X | X |
| UVA vs. NCST vs. UNC | 1/21 | X | X |
| LSU vs. Texas A&M | 1/21 | X | X |
| Kentucky vs. Louisville | 1/21 | X | X |
| Georgia vs. Tennessee | 1/21 | X | X |
| Ohio State vs. Michigan | 1/21 | X | X |
| Purdue vs. Indiana | 1/21 | X | X |
| FIU vs FGCU | 1/18 | | X |
| Florida Diving Invite (Florida | 01/20 – 01/21 | X | X |
| Arkansas vs. Kansas vs North Texas (diving) | 01/20 – 01/21 | | X |
| Air Force Invite (BYU, Air Force, Seattle U, Colorado Mesa, Colorado State | 01/20 – 01/21 | X | X |
| Tate Ramsden Invite (Dartmouth, UMass, Northeastern) | 01/20 – 01/21 | X | X |
| Central Connecticut State vs. Sacred Heart | 01/20 – 01/21 | | X |
| Utah vs. Washington State | 1/20 | | X |
| Cal vs. Arizona | 1/20 | X | X |
| Cal vs. UCSD | 1/20 | X | |
| Oakland vs. Bowling Green | 1/20 | X | X |
| St. Thomas vs. South Dakota | 1/20 | X | X |
| Georgia Tech vs. Queens | 1/20 | X | X |
| Georgia Tech vs. West Florida | 1/20 | | X |
| UNC Asheville vs Davidson | 1/20 | | X |
| Columbia vs. Princeton | 1/20 | | X |
| Penn vs. West Chester | 1/20 | X | X |
| Green Bay vs. Northern Michigan | 1/20 | X | X |
| UNLV vs. UNR | 1/20 | | X |
| Akron vs. Baldwin Wallace vs. Mount Union Tei | 1/20 | ? | X |
| Triton Invintational (Cal, UCSD | 1/21 | X | |
| Oakland vs. Wayne State | 1/21 | X | X |
| St. Thomas vs. Omaha | 1/21 | X | X |
| South Dakota State vs South Dakota | 1/21 | X | X |
| FAU vs St. Thomas | 1/21 | X | X |
| Stanford vs. Arizona | 1/21 | X | X |
| Vanderbilt vs. Iowa | 1/21 | | X |
| Penn State vs. Virginia Tech | 1/21 | X | X |
| Iowa State vs. Northern Iowa | 1/21 | | X |
| Iowa State vs. West Virginia | 1/21 | | X |
| Illinois vs. Nebraska | 1/21 | | X |
| Northwestern vs. Wisconsin | 1/21 | X | X |
| Brown vs. Cornell vs Harvard | 1/21 | X | X |
| Mount St. Mary's vs St. Francis Brooklyn | 1/21 | X | X |
| Saint Louis vs Little Rock/Valparaiso | 1/21 | X | X |
| Columbia vs. Navy | 1/21 | X | |
| James Madison vs. Navy | 1/21 | | X |
| Penn vs. Harvard | 1/21 | X | X |
| American v. Old Dominion | 1/21 | X | X |
| Boston College vs. Boston University | 1/21 | X | X |
| Bucknell v. Lehigh | 1/21 | X | X |
| Colgate v. Holy Cross | 1/20 | X | X |
| Holy Cross v. Providence | 1/21 | X | X |
| Rhode Island vs Vermont | 1/21 | | X |
| Davidson vs William & Mary | 1/21 | X | X |
| Marshall vs Duquesne | 1/21 | | X |
| St. Bonaventure vs Binghamton | 1/21 | X | X |
| Fordham vs La Salle vs Richmond | 1/21 | X | X |
| Drexel vs Towson | 1/21 | X | X |
| George Washington vs Georgetown | 1/21 | X | X |
| George Mason vs UMBC | 1/23 | X | X |
| Cincinnati vs. Xavier | 1/20 | X | X |
| East Carolina vs. Georgia Southern | 1/21 | | X |
| Georgetown vs. Johns Hopkins | 1/20 | X | X |
| Seton Hall vs. NJIT | 1/20 | X | X |
| Seton Hall vs. Delaware | 1/21 | X | X |
| Xavier vs. Bellarmine | 1/21 | X | X |
| Missouri State vs Drury | 1/20 | X | X |
| Southern Illnois vs. Southern Indiana | 1/21 | X | X |
| Wyoming vs. Colorado School of Mines | 1/21 | X | X |
| Idaho vs. Utah Tech | 1/21 | | X |
| Cal Baptist vs. Grand Canyon | 1/21 | X | X |
| Rutgers v Villanova | 1/21 | | X |
| Eastern Illinois vs. Valparaiso vs. Wabash | 1/20 | X | X |
| UC Santa Barbara vs. Pacific | 1/21 | X | X |
| UC Santa Barbara vs. UC Davis | 1/20 | | X |
| WCC Cup (Pepperdine, Loyola Marymount, San Diego) | 1/20-1/21 | | X |
| Cal Poly vs. UC Santa Cruz | 1/21 | X | X |
| Illinois State vs. Indiana State | 1/21 | | X |
| UC Davis vs. Fresno State | 1/21 | | X |
| Lindenwood vs. Little Rock vs. Southern Illinois | 1/20 | X | X |
| New Mexico vs. Nevada | 1/21 | | X |
| Miami Ohio vs. Ball State | 1/21 | X | X |
| Bowling Green vs. Oakland | 1/20 | | X |
| Eastern Michigan vs. Buffalo | 1/21 | | X |
| Omaha vs. Augustana | 1/19 | X | X |
| Canisius v. Niagara | 1/21 | X | X |
| Fairfield v. Iona | 1/21 | X | X |
| Marist v. Bryant | 1/21 | X | X |
| Monmouth v. Saint Peter's | 1/21 | X | X |
| Campbell vs Liberty | 1/21 | | X |
| Siena v. Saint Francis | 1/21 | | X |
| Binghampton v. Saint Bonaventure | 1/21 | X | X |
| Georgia Southern vs East Carolina vs North Florida | 1/21 | | X |
| Maine v. Bowdoin (D3) | 1/21 | X | X |
| New Hampshire v. UConn | 1/21 | | X |
| NJIT vs Rider vs. Stony Brook | 1/21 | X | X |
| UNC Asheville vs Emory & Henry (D3) | 1/21 | | X |
| Ohio v. Toledo v. Buffalo | 1/20 | X | X |
| Ohio v. Denison (D3) | 1/21 | | X |
| Green Bay vs. Milwaukee | 1/21 | X | X |
| Youngstown vs. Clarion (Diving) | 1/21 | X | X |
| IUPUI v. Wabash College (D3) | | | |
| Mt. St. Mary's vs. St. Francis College | 1/21 | X | X |
| UIC vs U Chicago | 1/20 | X | X |
| Incarnate Word vs. Trinity | 1/21 | X | X |