By Retta Race on SwimSwam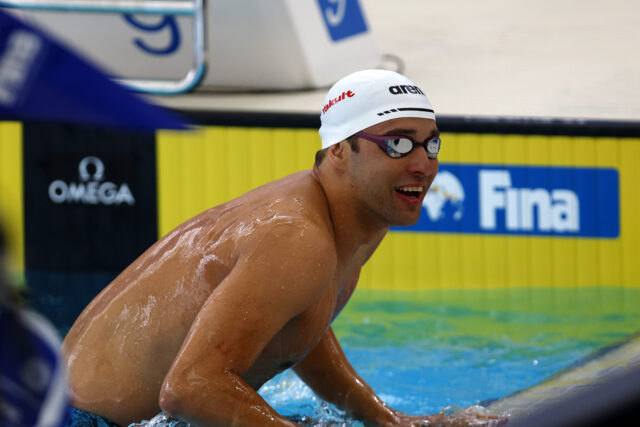 2023 GERMAN TEAM CHAMPIONSHIPS, ESSEN
Saturday, February 4th & Sunday, February 5th
1st Bundesliga, Essen, Sportbad Thurmfeld
SCM (25m)
The 2023 German Team Championships wrapped up from Essen over the weekend with the women of SG Neukölln Berlin and men of SG Frankfurt taking the team titles.
Top 3 Women's Teams:
SG Neukölln Berlin, 25,119 pts
SG Frankfurt, 24,765 pts
SV Nikar Heidelberg, 24,086 pts
Top 3 Men's Teams:
SG Frankfurt, 26,606 pts
SC Wiesbaden, 24,226 pts
SG Stadtwerke Munchen, 24,086 pts
The identical event program was conducted on Saturday and Sunday, save the 800m and 1500m free races which were swum just once for each gender. Each team needed at least one member represented in each event but only 5 starts per swimmer in total were allowed over the course of the competition.
Saturday Highlights
Germany's Angelina Kohler put her butterfly prowess on display, taking the 100m and 200m distances on day one. The 22-year-old punched a time of 56.73 in the 100m while capturing the 2fly in a mark of 2:08.87. She owns respective lifetime bests of 56.20 and 2:06.75 over this short course format.
18-year-old Nina Jazy of the host club SG Essen fired off a new German Age Record en route to winning 50m freestyle gold. The teen produced a time of 24.50 to establish the new standard, slicing .03 off of her previous personal best of 24.53 clocked last November.
Jazy is the reigning European Junior Champion in the long course edition of the splash n' dash, ripping a lifetime best of 25.22 in Romania last summer.
South Africa's Chad Le Clos who trains in Germany, took part in the competition, with the 30-year-old earning the victory in the men's 100m fly on day one. Le Clos stopped the clock at 49.76 to edge out domestic swimmer Marius Kusch.
Kusch settled for silver in 49.90 but both men were within striking distance of their season-bests. Le Clos has been as quick as 48.58 from October's World Cup while Kusch hit 49.12 at the Short Course World Championships. There in Melbourne, Le Clos topped the 1fly podium in 48.59 while Kusch's aforementioned 49.12 garnered his bronze.
Kusch did grab gold on day one, however, snagging the top spot in the men's 100m free. Kusch clinched a time of 46.98, easily defeating a field in which no other athlete dipped under the 48-second threshold. His effort fell just .07 outside of his PB of 46.91 from November 2020.
Visiting swimmer Szebasztian Szabo of Hungary made his presence known early with the 26-year-old doubling up on the 50m fly and 50m free victories to kick off his meet.
Szabo earned 50m fly gold in 22.82, the only sub-23 second time of the field. He followed up with a swift 21.68 50m free to beat out Dutchman Thom de Boer who also got under the 22-second threshold in 21.93 as the runner-up.
Additional day one winners included American Coleman Stewart clinching the gold in the 100m IM in 54.23 as well as the 100m back in 51.08. Of note, Le Clos also raced the 100m back, getting to the wall less than a second behind Stewart in 51.71.
This 100m back performance represents another glowing review for 'Chad 2.0′. Entering this meet, Le Clos' career-best in this off-event rested at the 55.00 notched in 2017. He ripped that to shreds with his 51.71 outing in Germany this weekend.
Maya Werner topped the women's 200m free podium in 1:59.03 while Hugary's Dalma Sebestyen earned the 100m breast win in 1:07.48.
Austrian national record holder Christopher Rothbauer won the men's 100m breast in 58.10 and also nabbed the 2breast gold in 2:05.11.
Sunday Highlights
Kohler did additional damage to close out the two-day affair, wrangling up 3 additional victories to help her squad take the overall women's title. Kohler took the 50m fly in a time of 26.10, the 50m free in a mark of 24.22 and won the 100m free event in a time of 53.62.
Her 100m free time was especially impressive, with Kohlman's sub-54 second result sitting just .04 outside of her best-ever in the event. That mark remains at the 53.66 she established in November of last year.
Representing Frankfurt, Estonian Olympian Kregor Zirk helped his team's cause by capturing two golds on day two. The 23-year-old punched a mark of 1:46.65 in the 200m free and 3:45.08 in the 400m free.
Germany's Kusch was in action once again, dominating the men's 100m IM race. He got to the wall in a time of 52.58, beating the field by 2 seconds. That result also crushed Kusch's own lifetime best in the event. Entering this meet, Kusch had been as quick as 53.54 from 2018 so the former Queens University ace hacked nearly one second off of that previous PB.
The 100m fly saw Stewart get it done for gold in 51.84 while Luca Armbruster was right behind. Stewart represented Wiesbaden at this competition.
Armbruster followed up with a win in the 50m free, producing a time of 22.00 to give his squad additional points.
2015 world champion Marco Koch dove in for the men's 200m breast, destroying his competitors with a time 6 seconds faster than the next man. Koch clocked 2:07.22 for the victory.
Additional day two winners included Chiara Klein taking the women's 200m free in a time of 1:59.52 as the only racer to get under 2:00.
Heidelberg's Werner captured gold in the 200m back in a time of 2:12.07 while Ole Braunschweig edged out Le Clos for the top spot in the men's 2back race. Braunschweig stopped the clock in 1:54.98 while Le Clos was right behind in 1:55.10.
Rothbauer completed his trifecta of breaststroke wins with a gold in the 50m breasts in 26.90.
Sebestyen was formidable in the women's 200m and 400m IM events on day two, clinching the gold in each. She produced a winning effort of 2:11.60 in the former and 4:40.51 in the latter to conclude her competition.
SwimSwam: Chad Le Clos, Coleman Stewart Race At German Team Championships