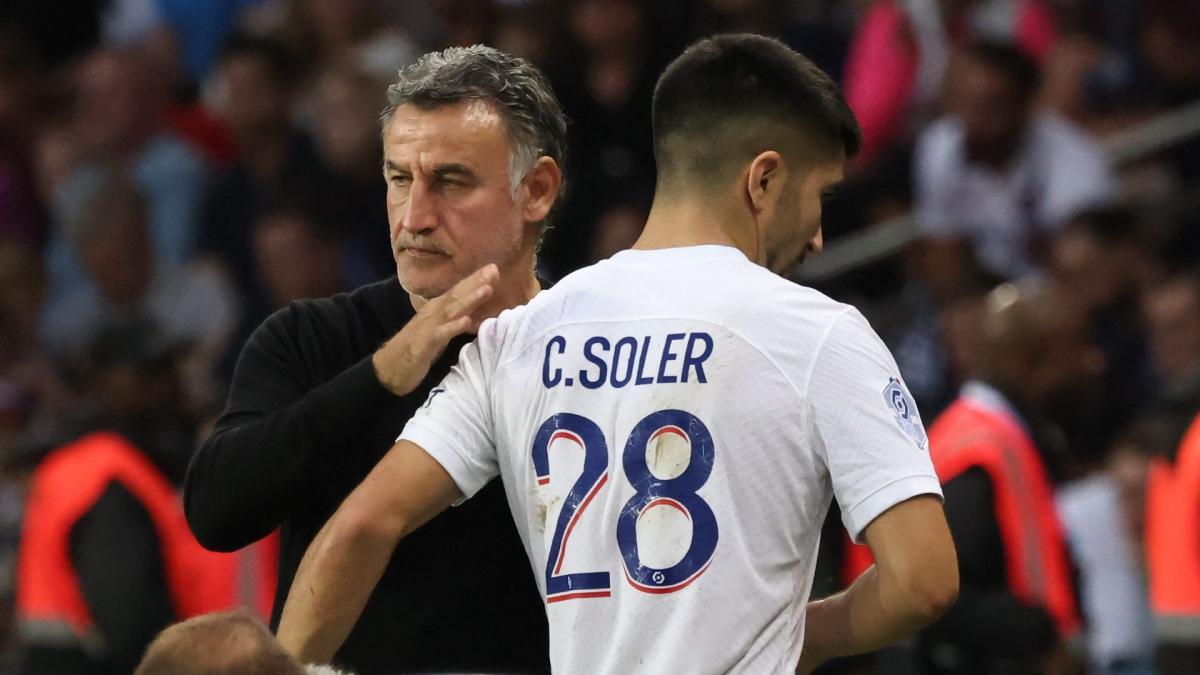 What's next after this ad
5 goals and 3 assists in 19 matches in all competitions. Statistically, Carlos Soler (26) made a generally honorable start with Paris Saint-Germain. A very different observation if we take a closer look at the Spaniard's performance. Often absent from the debates since his arrival in the capital, the Parisian midfielder, established on the right side of the midfield against the Stade de Reims, has simply made a catastrophic copy. Invisible and unable to bring the slightest extra soul to the construction of the game, the former Valencia player has once again confirmed all his difficulties.
Recently called to order by Christophe Galtier, the one who was credited with a 3.5 by our editorial staff, clearly did not score points, this Sunday evening, against the ambitious Rémois. Completely overwhelmed by the intensity of the Munetsi-Matusiwa pair, the international from La Roja (14 caps, 4 goals) offered nothing. A bad habit and a delicate situation to manage for PSG. "On a personal level, at the start of the season I didn't have a lot of playing time, I can understand. I know I'm not at my best but it's football and as I always say you have to keep working to improve."recognized the interested party in the mixed zone after the draw (1-1) conceded against the Champagne club.
To read
PSG: Carlos Soler reacts to Kylian Mbappé's comments
Carlos Soler, symbol of Parisian flaws!
With only one duel won in the game, 3 meager balls recovered and 5 ball losses, Soler thus confirms his too low performance in Paris. At the moment, far too many players are not at their level, admitted Galtier when looking at the individual performances of his group. Without being directly quoted, the one who sees his contract run until June 2027 has, in any case, not scored any points in the mind of his coach. Symbol of the torpor displayed by his people during the first act, Soler will not have weighed on the return from the locker room either, despite the more conquering face displayed by PSG.
What's next after this ad
Replaced by Danilo Pereira shortly after the hour mark (63rd), the neo-Parisian has still not found his place. Proof of this discussed and debatable contribution, he has only started in Ligue 1 6 times in 12 appearances (472 minutes played in total) and has not played any full game. If the flaws are collective and he is not the only one responsible, far from it, for the poor performance offered against the Rémois, Carlos Soler will also have to raise his level of play, at the risk of seeing his Parisian adventure come to an end.
Pub. the