The Angels are making a managerial change. As first reported by Sam Blum of the Athletic (on Twitter), the club has decided not to retain Phil Nevin, whose one-year contract expired at season's end. General manager Perry Minasian is scheduled to hold a press conference tomorrow, which appears to indicate he'll retain his position.
Nevin spent a season and a half at the helm. The 52-year-old took over on an interim basis when the club dismissed Joe Maddon in June 2022. At the end of that season, the Halos signed him to a one-year extension and removed the interim tag. It essentially served as a trial run for Nevin, who'd only joined Maddon's coaching staff heading into the '22 campaign.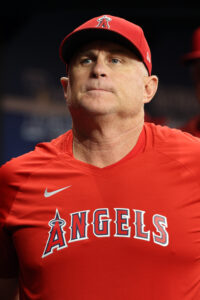 Unfortunately for Nevin and the organization, the 2023 season played out in largely the same disappointing fashion as it had in prior years. Los Angeles made a run at competing in their final season with Shohei Ohtani under arbitration control. They started reasonably well, playing slightly above .500 ball in each of the first four months. An 8-3 run coming out of the All-Star Break led the front office to push further in a win-now direction, dealing top prospect Edgar Quero as part of a package for Lucas Giolito and Reynaldo López. That pushed the Halos past the luxury tax barrier for the first time in two decades.
Almost immediately after that deal, the Halos' postseason expectations crumbled. They lost seven straight from deadline day onwards, burying them in the standings. By the end of August, the Angels had placed a host of veterans (Giolito and López included) on waivers in hopes of dipping back below the tax threshold. It remains unclear if that effort was successful. Los Angeles would go just 17-36 in the season's final two months, concluding with a 73-89 record that exactly matched last year's mark. They dropped to fourth place in the AL West.
On the heels of that kind of collapse, it's not surprising to see the team make a managerial change — particularly with Nevin's brief contract having already expired. At the same time, it's hard to know how much of the blame falls on the manager. The Halos have rapidly churned through dugout leaders without success. Nevin was their fourth manager since 2018 alone.
Longtime skipper Mike Scioscia stepped down at the end of the '18 campaign. Brad Ausmus was at the helm for 2019. The Angels fired him when Maddon became available, but he only made it through two and a half seasons. None of those skippers oversaw even one winning record. The Angels haven't finished above .500 since 2015 and are tied with the Tigers for the longest active playoff drought at nine years.
That's made worse by an uncertain, arguably bleak, future. The Angels face the potential loss of Ohtani this offseason. Even if they manage to re-sign him on what'd almost certainly be the largest contract in major league history, he's unlikely to pitch for all of next season. Mike Trout played one game from July 4 onward due to a hamate fracture. Anthony Rendon's backloaded contract pays him $38MM annually for three more years. The farm system is among the thinnest in MLB, as the Angels have aggressively pushed players to the majors and traded prospect talent in order to address short-term deficiencies on the roster.
The Halos aren't devoid of positives, of course. Trout remains one of the game's best hitters when healthy, even if his production took a step back from MVP level to merely excellent. Shortstop Zach Neto and catcher Logan O'Hoppe look like regulars. Nolan Schanuel had an impressive rookie showing considering he jumped to the majors within a month of being drafted out of Florida Atlantic, where he was generally facing mid-major college pitching. He'll eventually need to demonstrate more power, but running a .402 on-base percentage through 29 major league contests within that context is remarkable. Patrick Sandoval and Reid Detmers remain promising controllable rotation pieces.
Overall, that's still a below-average collection of organizational talent. The Angels face an uphill battle ascending beyond any of Houston, Texas or Seattle in the AL West — particularly if Ohtani were to land elsewhere. It'll be a challenging position for whomever the Halos tab to lead the dugout. The Angels join the Mets and Giants as teams that have moved on from their manager in recent days. The Guardians will need to replace Terry Francona — who has all but officially announced his retirement — leaving four current vacancies around the league.
As for Nevin, he should be able to find a position on another major league staff this winter. While his initial foray into major league managing wasn't successful, the former infielder has a decade and a half of coaching experience. He previously managed in the Tigers' and Diamondbacks' systems and has been on a big league staff since 2017. Nevin spent a year as the third base coach for the Giants, held the same position with the Yankees for five seasons, and was the Halos' third base coach before replacing Maddon.
Image courtesy of USA Today Sports.