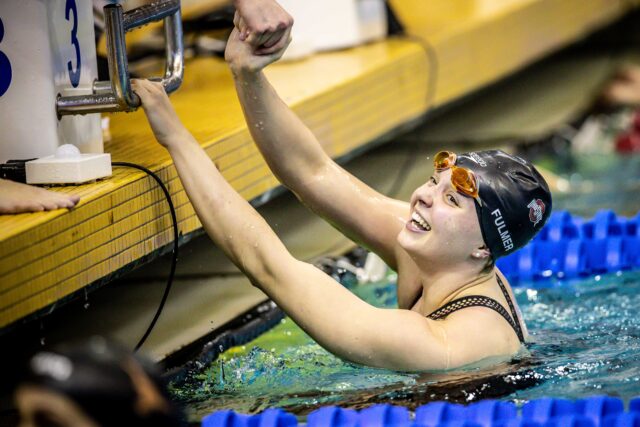 2023 WOMEN'S NCAA SWIMMING AND DIVING CHAMPIONSHIPS
March 15-18, 2023
Allan Jones Aquatic Center–Knoxville, Tennessee
SCY (25 yards)
Meet Central
Live Results
Two of the most notable NCAA lineup changes from last year seen in the pre-scratch psych sheets come from Ohio State swimmers Amy Fulmer and Felicia Pasadyn. Fulmer opted to swim the 50 free, 200 free, and 100 free this year, which means she won't be available on all five of Ohio State's relays like she was last year when she only swam the 50 and 100 free. Meanwhile, Pasadyn is going for the 400 IM, 200 back, and 200 fly instead of her 200 IM/400 IM/200 back lineup from last year, meaning that she will take on the day four 200 back/200 fly double.
Swimming the 200 free is a great way for Fulmer to earn more points for Ohio State, as her best time of 1:42.94 set at Big Tens would have 'A' finaled at 2022 NCAAs and is seeded as high as 4th this year. She likely will be dropping the 200 medley relay from her event lineup this year, as she didn't swim it at Big Tens this year and instead the Buckeyes opted to use Teresa Ivan (who split 21.55) on anchor.
The 200 back/200 fly double is a grueling task that isn't for the weak, but Pasadyn has shown she's capable of pulling it off. At Big Tens, she finished second in both the 200 back and 200 fly on the same night, swimming best times of 1:52.29 and 1:54.33 in each event. Other swimmers have also succeeded doing this double, as Brendan Burns has won the 200 back/200 fly at Big Tens three years in a row, while Regan Smith won the 200 back and finished second in the 200 fly at NCAAs last year.
Amy Fulmer, NCAA Seed Times:
50 Free: 21.79 (10th seed)
200 Free: 1:42.94 (4th seed)
100 Free: 47.02 (6th seed)
Felicia Pasadyn, NCAA Seed Times:
400 IM: 4:03.62 (3rd seed)
200 Back: 1:52.29 (16th seed)
200 Fly: 1:54.33 (14th seed)
SwimSwam: Amy Fulmer To Swim 200 Free, Felicia Pasadyn Opting For 200 Back/200 Fly Double At NCAAs