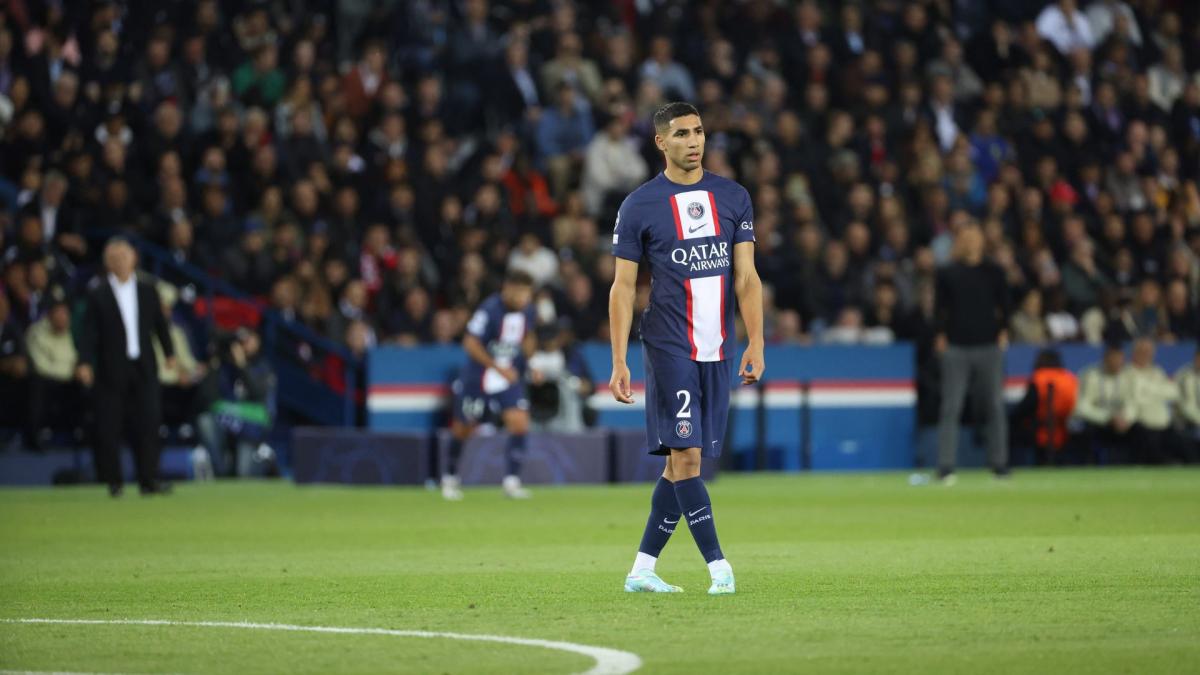 What's next after this ad
For his second full season with Paris Saint-Germain, Achraf Hakimi finally had to confirm his status as a world-class player in his position. The Moroccan international, who had shown an impressive level at Dortmund and Inter, was necessarily an added value for the capital club which had been struggling to find a reliable right-back for several years. But like last season, Achraf Hakimi had a very irregular season, chaining big matches at times then becoming unremarkable, even disappointing in several other matches. In recent weeks, the one who has just been named in the typical UNFP team of the season, has had mixed performances and does not really seem to be in good spirits.
Proof of this is that he has only played 2 of his team's last 5 matches. The reason ? On these two matches, he received a red card. Symbol of nervousness and a lack of control as the season draws to a close. Slightly injured last March, nervous in recent months, Achraf Hakimi does not sweat serenity and seems to be psychologically worn out. It must be said that his season has not been easy. And his last months are obviously marked by an extra-sporting affair. The Moroccan was cited in an alleged rape case in February which had a strong impact on him. Since then, he was heard by the investigators and then released. For the moment, the investigation has not yet rendered its verdict while his lawyer denounces an attempted racketeering and he denies the facts. But inevitably, this story, which also led to his divorce with his ex-girlfriend, did not help the player to focus on his sports performance.
To read
Mercato PSG: Achraf Hakimi wants to return to Real Madrid with Kylian Mbappé
An uncertain future?
Finally, the season of the 25-year-old right side is almost to be forgotten, a bit like that of the club in general despite this title of Champion of France. Almost, because the Moroccan, as for several years now, seems transformed when he evolves under the tunic of the Atlas Lions. His season is obviously marked by Morocco's heroic journey to the 2022 World Cup with this semi-final. In the typical team of the tournament, he was one of the great architects of the history written by his team. "We are wholeheartedly with him, it will do him good to return home, to feel the support", explained Walid Regragui when summoning him last March, when he was in turmoil. International breaks that sound like breaths of fresh air for the player who can't seem to be so essential with PSG.
What's next after this ad
What to question his future in the club of the capital? In recent days, the Spanish press has explained that the player wants to leave PSG this summer. The reality is a little different. Since leaving Real Madrid in 2020, Achraf Hakimi has not hidden his desire to return one day to his favorite club to win. It is his dream. But for the moment, the Parisian feels very good in Paris where he is very close to his teammate Kylian Mbappé. And the Parisian management retains total confidence in its player. Nasser al-Khelaïfi does not want to let him go and appreciates him very much. In the short term, a departure is not envisaged for the moment. While Mbappé will obviously be announced with insistence at Real Madrid next year, this could also be an opportunity for Hakimi to fly to his training club. The time to achieve a full season in Paris with a coach who would exploit his qualities to 100%…
Pub. THE
update the
Achraf Hakimi, a season to quickly forget or almost 24hfootnews.