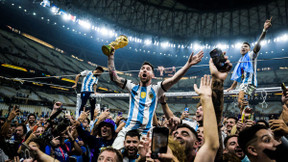 After the World Cup final won by Argentina, Emiliano Martinez had a lot of talk about him following his inappropriate gesture when receiving his trophy for best goalkeeper in the competition. The Aston Villa goalkeeper then returned to this moment, making a revelation about Lionel Messi.
Keeper of theArgentina, Emiliano Martinez didn't just talk about him for his performances at the world Cup. Indeed, he made headlines for his many slippages. Kylian Mbappe notably paid the price, but that was not the only deviation from Martinez. Another image also caused a lot of talk, that of his inappropriate gesture after receiving the trophy for best goalkeeper of the world Cup.
A totally crazy project is brewing for Messi https://t.co/83k5SWDSis pic.twitter.com/K9FoGYWela

— 24hfootnews (@24hfootnews) February 11, 2023
"A joke with my teammates"
It's in an interview for France Soccer thatEmiliano Martinez returned to the controversy aroused with his inappropriate gesture. The keeper of theArgentina then revealed in particular: The gesture I made with the best goalkeeper trophy was a joke with my teammates ".
"Even Leo…"
" I had already done it at the Copa America and there, they all told me, even Leo: "Not "cap" to do it again, not "cap". I did it for them, nothing more. It lasted a second and that's it ", added Emiliano Martinezvisibly pushed by Lionel Messi.
A controversy breaks out in Qatar, Messi is involved 24hfootnews.