By Anya Pelshaw on SwimSwam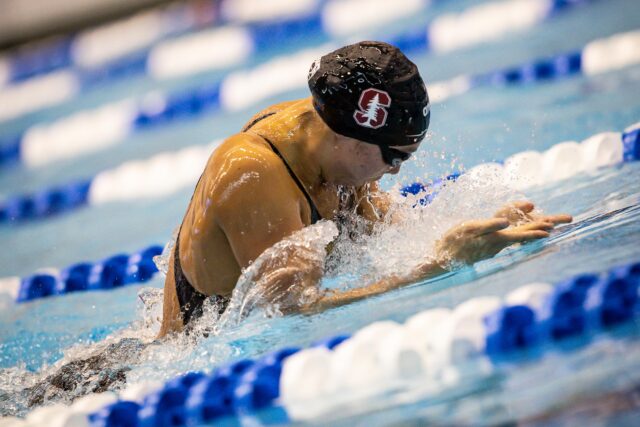 2023 NCAA WOMEN'S SWIMMING AND DIVING CHAMPIONSHIPS
March 15-18, 2023
Allan Jones Aquatic Center–Knoxville, Tennessee
SCY (25 yards)
Kicking off the night with a swim you might have missed was Abby Carlson (Wisconsin) in the 500 free. Carlson swam to a second place finish in a 4:36.96. That was a best time for Carlson as her previous best (prior to prelims) stood at a 4:38.15 which she swam to win Big Tens a month ago. 
In total, Carlson has now dropped over six seconds in the event this season, as she swam a 4:43.08 last year. It is also important to note that Carlson swam the event at this meet last year, swimming a 4:43.20 to finish 25th, but Carlson is now an NCAA runner-up. 
Kate Douglass swam a 200 IM American, NCAA, and US Open record in the 200 IM, but something you might have missed is the fact that both Stanford's Torri Huske and Virginia's Alex Walsh were also both under the previous record of 1:50.08 which Walsh had held until tonight. Huske swam a 1:50.06 for second and Walsh swam a 1:50.07 for third. Huske and Walsh were within striking distance for the first half of the race, but Douglass was able to have a strong back half as well to pull away from them. Huske's time was a huge personal best as her previous best stood at a 1:51.81 which she swam at NCAAs last year. 
Also having a solid 200 IM was Wisconsin's Phoebe Bacon. Bacon swam a 1:53.56 for fifth place. Bacon's previous best stood at a 1:54.39 which she swam to finish 10th at last year's NCAAs. Coming into the meet, Bacon's season best was a 1:55.06. 
Finishing second in the B final of the 50 free was Indiana's Ashley Turak. Turak swam a personal best time of 21.81, setting a new Indiana school record in the process. Turak's previous best coming into the meet stood at a 21.99 which she swam back at Big Tens in 2021. Turak also had a big flying start split for Indiana's 200 free relay as she split a 21.43. She was their fastest split and helped them to an eighth place finish overall. Turak came to NCAAs last year for the Hoosiers as a relay-only swimmer.
Ohio State sophomore Teresa Ivan had a huge swim in the 50 free going a 21.46 for fourth place. Like Turak, Ivan also was a relay-only swimmer at this meet a year ago. Coming into this season, Ivan had a best time of 22.23 in the 50 free, meaning she has dropped almost eight-tenths in the event over the last year…yes, I said eight-tenths in a 50.
Ivan came into the meet with a best time of 21.78 which she swam at Big Tens a month ago. In addition to her individual 50 free tonight, Ivan also had a noteworthy 50 free split on the Buckeye's 200 free relay as she went a 21.19, which also was the fourth fastest flying start out of the entire field. 
Gabi Albiero of Louisville swam a personal best time for third place in the 50 free with a 21.30. Albiero's previous best stood at a 21.36 which she swam a month ago to place second at ACCs. Albiero was ninth in the event last year with a personal best of 21.69, so she has dropped over three-tenths in the last year. 
Claire Curzan had the third fastest flying split of the night with a 20.98. Curzan swam Stanford's second leg of the relay. Curzan has a flat start best of a 21.50 in the event which she swam back in high school, and led off Stanford's relay at Pac-12s in a 21.59. Her split here was also her first one under the 21 second mark as she swam a 21.15 at midseason. 
Another notable 50 free split you may have missed was NC State's Kylee Alons split of 21.12. Alons was the Wolfpack's second leg and she swam the split before they were DQed so it is still noteworthy. Alons split a 21.31 at ACCs and was as fast as 21.22 at NCAAs last year, so her time here is important to note even though there was the DQ.
SwimSwam: 2023 Women's Division I NCAAs: Swims You Might Have Missed on Night 2