By Ben Dornan on SwimSwam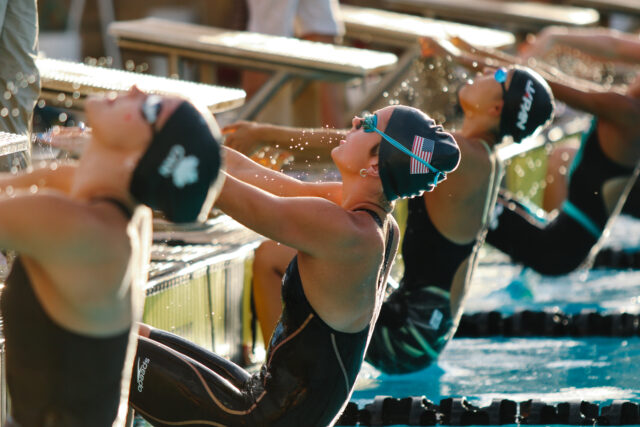 2023 NCSA SPRING CHAMPIONSHIPS
March 14-18, 2023
Rosen Aquatic and Fitness Center, Orlando, FL
SCY (25 yards)
Results on Meet Mobile: "2023 NCSA Spring Swimming Championships"
The final session of the 2023 NCSA Spring Championships is upon us. The last night will start off with the 50 backstroke, in which Maggie Wanezek and Ryan Hufford hold the top female and male seeds, respectively. After the first sprint events, there will be a distance interlude in the form of the women's 1000 freestyle and the men's 1650 freestyle.
The final two individual events of the meet will be the 200 IM and 50 freestyle, and the night will wrap up with the women's and men's 400 medley relays. On the girls' side of the meet, Elmbrook currently holds a lead of more than 3oo points over second place NOVA, meaning that they will likely take home the victory tonight.
The race is slightly closer in the boys' meet where Rockville holds the top stop at the moment with 775.50 points, followed by Nation's Captial at 668.50.
Team Standings – Top 5 After Day 4 (Girls)
Elmbrook Swim Club – 826.50
NOVA – 572
Aquajets Swim Team – 548
Academy Bullets Swim Club – 545
Long Island Swim Club – 531
Team Standings – Top 5 After Day 4 (Boys)
Rockville Montgomery Swim Club – 775.50
Nation's Capital – 668.50
NOVA – 606.50
FMC Aquatic – 435
Aquajets Swim Team – 400
Women's 50 Backstroke
Meet Record: 23.95 – Levenia Sim (2022)
Podium:
Levenia Sim (TNT) – 23.75
Maggie Wanezek (EBSC) – 24.04
Emma Kern (AQJT) – 24.51
Levenia Sim opened up the last session of the meet with a win in the 50 backstroke, getting to the wall in a 23.75. That time for Sim allowed her to improve upon her own meet record in the event of 23.95, which she set last year. That former meet record was Sim's best time in this event, meaning she's shaved nearly a quarter of a second off her best here.
The top seed out of prelims in this event was Maggie Wanezek of Elmbrook who hit a 24.37 in the heats. She didn't pull off the victory here but was fast enough for second place, posting a 24.04. Wanezek has cracked 24 seconds in this event before, having swum a 23.98 in November 2022.
The bronze medal came down to a race to the wall between Emma Kern and Aspen Gersper. Kern touched first with a 24.51, while Gersper hit a 24.74 for fourth place. 5th overall was Lexi Stephens who hit a 24.80.
Men's 50 Backstroke
Meet Record: 21.23 – Scotty Buff (2022)
Women's 1000 Freestyle
Meet Record: 9:31.79 – Becca Mann (2013)
Men's 1650 Freestyle
Meet Record: 14:46.40 – Patrick Ransford (2014)
Women's 200 IM
Meet Record: 1:56.99 – Grace Sheble (2021)
Men's 200 IM
Meet Record: 1:43.76 – Andrew Seliskar (2014)
Women's 50 Freestyle
Meet Record: 21.70 – Simone Manuel (2014)
Men's 50 Freestyle
Meet Record: 19.56 – Scotty Buff (19.56)
Women's 400 Medley Relay
Meet Record: 3:32.19 – Elmbrook Swim Club (2022)
Men's 400 Medley Relay
Meet Record: 3:12.50 – Nation's Capital (2015)
SwimSwam: 2023 NCSA Spring Championships: Day 5 Finals Live Recap