By Riley Overend on SwimSwam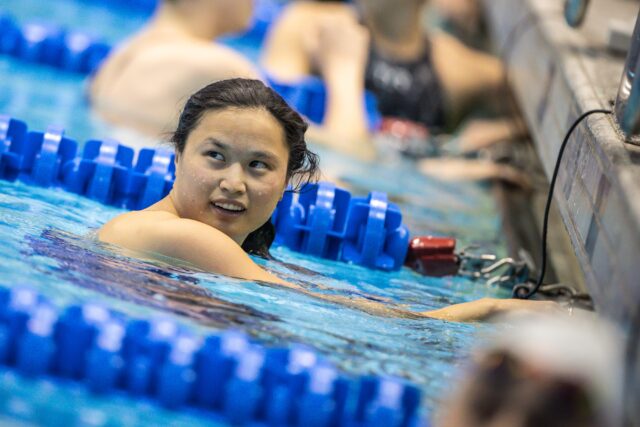 2023 NCAA WOMEN'S SWIMMING AND DIVING CHAMPIONSHIPS
March 15-18, 2023
Allan Jones Aquatic Center–Knoxville, Tennessee
SCY (25 yards)
Virginia may not have broken its own NCAA record from last month in the 200 free relay, but there were still plenty of impressive splits from Thursday night's finale in Knoxville.
Not long after breaking the NCAA, U.S. Open, and American records in the 200 IM with an otherworldly 1:48.37, senior star Kate Douglass threw down a 21.01 to lead off the Cavaliers' relay. She was close to her personal best of 20.84 from last year's NCAA Championships, giving Virginia the lead by more than half a second over Stanford's Torri Huske (21.57) after the opening leg.
Louisville junior Gabi Albiero (21.62), Ohio State junior Kit Kat Zenick (21.74), and Texas junior Grace Cooper (21.96) clocked the other three sub-22 leadoff splits in the field.
LSU fifth year Maggie MacNeil posted the quickest swinging split in the field with a personal-best 20.37 for the fifth-place Tigers. Her previous-best split was a 20.44 from last month's SEC Championships. MacNeil still ranks as the third-fastest performer in history behind Douglass' 20.34 from Wednesday's 200 medley relay and Anna Hopkin's 20.27 from the 2020 SEC Championships. Her swim came just about an hour after breaking the NCAA record in the individual event with a 20.79.
All-Time Relay Performers, 50-Yard Free
Anna Hopkin (2020) – 20.27
Kate Douglass (2023) — 20.34
Maggie MacNeil (2023) – 20.37
Simone Manuel (2018)/Abbey Weitzeil – 20.45
–
Gretchen Walsh (2023) – 20.48
Erika Brown (2020) – 20.57
Maggie MacNeil (2022) – 20.59
Arianna Vanderpool Wallace (2012) – 20.80
Maggie Meyer (2010) – 20.81
That being said, there was a touchpad error when Hopkin set her record-splitting split (which was still considered legal), so how much faster she really was than Douglass and MacNeil is something that we will never figure out.
Virginia sophomore Gretchen Walsh had the second-fastest split in the field at 20.59, slightly off her personal-best 20.48 from last month's ACC Championships, which ranks her sixth all-time. Walsh had previously owned the fastest flat-start time ever in the 50 free until about an hour before the race, when MacNeil edged her by .06 seconds in their individual showdown.
Stanford freshman Claire Curzan (20.98) had the only other sub-21 split in the field. The three fastest splits — belonging to MacNeil, Walsh, and Curzan — all came during the second leg of the race.
Notably, second-place Stanford (1:25.70), third-place Louisville (1:25.73), and fourth-place Ohio State (1:25.80) all finished within just a tenth of each other. Ohio State sophomore Teresa Ivan anchored the Buckeyes with a 21.19 — the fastest of any anchor — soon after placing fourth in the individual event with a huge lifetime best of 21.46. Ohio State lowered its Big Ten record from last month (1:26.70) by almost a full second with a 1:25.80.
200 FREESTYLE RELAY — TIMED FINAL
NCAA Record: 1:23.87, Virginia (K. Douglass, G. Walsh, L. Cuomo, A. Walsh) — 2023
Meet Record: 1:24.55, California (M. Murphy, K. McLaughlin, A. Bilquist, A. Weitzeil) — 2019
American Record: 1:23.87, Virginia (K. Douglass, G. Walsh, L. Cuomo, A. Walsh) — 2023
US Open Record: 1:23.87, Virginia (K. Douglass, G. Walsh, L. Cuomo, A. Walsh) — 2023
Pool Record: 1:26.38, Alabama (K. Antoniou, M. Scott, K. Winter, C. Dupre) — 2021
2022 Champion: Virginia (K. Douglass, A. Walsh, L. Cuomo, G. Walsh) — 1:24.96
Top 8:
Virginia (K. Douglass, G. Walsh, L. Cuomo, M. Parker) – 1:24.51
Stanford (T. Huske, C. Curzan, T. Ruck, A. Tang) – 1:25.70
Louisville (G. Albiero, C. Regenauer, J. Dennis, E. Welch) – 1:25.73
Ohio State – 1:25.80
LSU – 1:27.04
Texas – 1:27.11
Florida – 1:27.31
Indiana – 1:27.48
TOP 20 TEAMS THRU DAY 2
Virginia – 208.5
Texas – 162
Louisville – 117
Stanford – 106
Ohio State – 93
Indiana – 83
Florida – 76
Cal – 74
UNC-Chapel Hill – 73
Georgia – 66.5
NC State – 66
LSU – 62
Tennessee – 61
Alabama – 56
Wisconsin – 49
USC – 37
Kentucky – 26
Virginia Tech – 18
Arizona – 17
Miami (FL) – 16
SwimSwam: 2023 NCAA Division I Women's Championship: Day 2 Relay Splits Analysis