By Retta Race on SwimSwam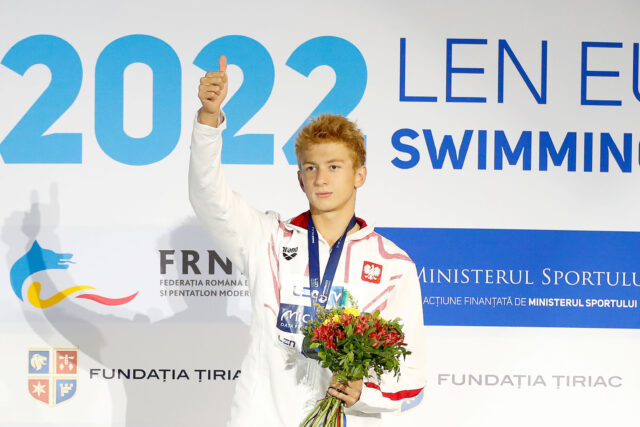 2023 MARE NOSTRUM TOUR – BARCELONA
Wednesday, May 17th & Thursday, May 18th
 Club Natació Sant Andreu, Barcelona, Spain
LCM (50m)
World Championships Qualifier
Several swimmers put up notable performances in the morning heats on day two of the Mare Nostrum Tour in Barcelona, including Hong Kong's dynamo Siobhan Haughey
The 25-year-old former University of Michigan Wolverine made her presence known across two events, the women's 50m free and 200m free.
In the former, Haughey snagged the top spot with a morning outing of 25.01. That landed lane 4 ahead of French swimmer Beryl Gastaldello who clocked 25.13 and Aussie Cate Campbell who produced 25.19 as the 3rd-seeded swimmer.
British Olympian Anna Hopkin is also in the mix with an AM time of 25.24, hoping to land on the podium after missing the 100m free final yesterday.
Haughey put up a new Hong Kong national record in the 50m free event last week in Canet, posting a lifetime best of 24.56.
Haughey was also in control of the women's 200m free this morning, posting a heats time of 1:58.45. That garnered her the 2nd seed behind Dutch standout Marrit Steenbergen who touched in 1:57.42.
Last week in Canet Haughey threw down a marker of 1:55.42 season-best to rank 6th in the world thus far.
Of note, Canadian Olympic multi-medalist Penny Oleksiak withdrew from this 2free event. Yesterday Oleksiak contested the 100m free where she finished 16th in 56.08.
American Michael Andrew was once again in the water. He forewent the 50m back and instead focused on the 50m fly and 100m breast events.
Andrew logged a time of 23.76 in the former to rank 4th, with his prelims result sitting .21 behind the top-seeded Abdelrahman Elaraby of Egypt who earned the pole position in 23.52.
Hungarian World Record holder Szebasztian Szabo was right behind Elaraby in 23.55 while newly-minted Norweigan 50m free national record holder Nicholas Lia is also in the mix in 23.75.
Reigning Commonwealth Games champion in this event Ben Proud of Great Britain was well out of the final, hitting 24.37 for 16th while Florent Manaudou of France and Dylan Carter of Trinidad and Tobago withdrew from the race.
Andrew was the 7th-quickest performer this morning in the 100m breast, notching a prelims result of 1:02.12.
It was Lithuanian Adrius Sidlauskas who earned the quickest time, clocking 1:01.07 while Ippei Watanabe of Japan, Darragh Greene of Ireland and Olympic bronze medalist Nicolo Martinenghi of Italy also made the final.
The women's 50m breast looks to be a potential scorcher with British record holder Imogen Clark, Commonwealth Games champion Lara van Niekerk and Lithuanian Olympic champion Ruta Meilutyte all vying for gold.
Clark got her hand on the wall first this morning with a heats swim of 30.50 but that sits just .02 ahead of van Niekerk's 30.52. Meilutyte cruised to the 3rd seed in 31.08 this morning.
American Lydia Jacoby withdrew from the 50m breast but earned the 2nd seed in the 200m distance here on day two.
Jacoby already nailed a season-best mark of 1:05.84 to grab gold in the 100m breast last night and followed up with a solid 2breast morning performance of 2:27.04.
Jacoby will flank top-seeded Thea Blomsterberg of Denmark who has been on a tear as of late.
Blomsterberg scored a time of 2:24.21 this morning but ranks 5th in the world with her Danish national record of 2:22.61 logged just last month.
Krzysztof Chmielewski of Poland put on a show in the heats of the men's 200m fly, registering a time of 1:55.04.
This morning's outing already beats the 1:55.95 the 18-year-old World Junior champion produced in Canet for silver last week behind Japan's short course World Record holder Tomoru Honda
With the final yet to come, Chmielewski bumps himself up the season's world rankings to now be positioned as the 8th fastest performer. Honda did not compete in this 200m fly race today.
2

Tomoru




Honda

JPN
1:52.70
12/03
3

Chen




Juner

CHN
1:54.16
05/06
4

Ilya




Kharun

CAN
1:54.49
03/02
5

Teppei




Morimoto

JPN
1:54.74
04/06
6

Takumi




Terada

JPN
1:54.81
04/06
7

Alberto




Razzetti

ITA
1:54.98
04/13
8

Niu




Guangsheng

CHN
1:55.05
03/24
9

Leon




Marchand

FRA
1:55.58
04/14
10

Federico




Burdisso

ITA
1:55.61
04/13
Additional Top Seeds
SwimSwam: 2023 Mare Nostrum Barcelona Day 2 Prelims Recap: Chmielewski Clocks 1:55.04 200 Fly