By Retta Race on SwimSwam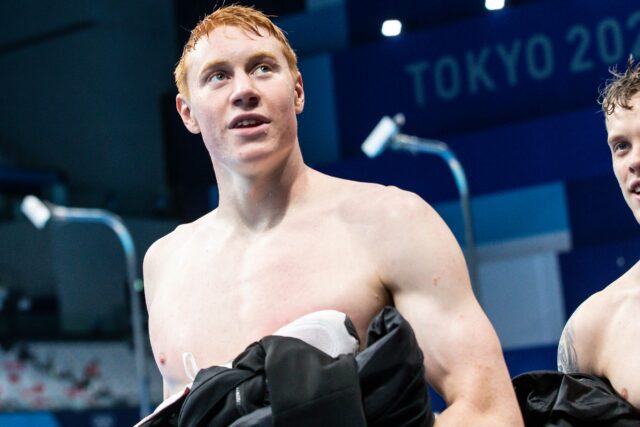 Tuesday, April 4th – Sunday, April 9th
Prelims at 9:30 am local (4:30 am EDT)/Finals at 6:00 pm local (1:00 pm EDT)
Ponds Forge, Sheffield
LCM (50m)
World Championships Qualifier
The penultimate day of action is upon us at the 2023 British Swimming Championships as swimmers continue to vie for spots on the nation's roster for this summer's World Championships.
This morning we saw Swansea's Medi Harris lead the women's 50m back heats, producing a time of 28.27. Loughborough's Lauren Cox was next in 28.63 while Blythe Kinsman (28.74) of Mt. Kelly and Kathleen Dawson (28.91) of Stirling are also in the mix.
25-year-old Olympian Dawson owns the British national record in this event with the 27.19 logged in the semi-finals at the 2021 European Championships. She ultimately snagged silver there in Budapest while Harris placed 4th at last year's edition in Rome.
Cox was the top British performer at the 2022 Commonwealth Games where she hit 27.61 for 4th place en route to becoming the 5th fastest British woman in history.
Lewis Burras brought the speed to this morning's men's 50m freestyle prelim, punching the sole time of the field under the 22-second barrier.
The 23-year-old registered a time of 21.95 to land lane 4, well on his way to getting within range of his lifetime best of 21.68 from earning silver in Birmingham.
Millfield's Matt Richards was the next-fastest contestant this morning, logging 22.21 to flank Burras and will be joined by Commonwealth Games champion and national record holder Ben Proud. Proud produced a heats swim of 22.33 in his quest for World Championships qualification.
Freya Colbert has already qualified for the World Championships in the women's 400m IM and she'll try to double up with the 400m free. The Loughborough ace led the heats with a solid swim of 4:15.38 to set herself up nicely for the final.
Shannon Stott of Hatfield earned the 2nd seed in 4:15.39 while Bath athlete Leah Crisp cruised to the 3rd slot in 4:15.71.
13-year-old multi-national British Age Record holder Amelie Blocksidge lurks as the 5th seed with an AM time of 4:16.87.
The usual suspects appear at the top tier of the men's 200m IM, with Tom Dean leading the charge. The reigning Olympic champion in the 200m free produced a heats swim of 1:59.90 as the only swimmer to dip under the 2:00 threshold thus far.
Behind him was Loughborough's Joe Litchfield who touched in 2:00.25 in his pursuit of earning his first World Championships cut.
Stirling's 100m free runner-up here Duncan Scott made his 2:01.31 heats swim look easy while Mark Szaranek posted 2:01.84 to try to upgrade his 400m IM bronze to a potentially better result in this shorter distance.
Scott owns the British national record in this event with his lifetime best of 1:55.28 when he snagged silver at the 2020 Olympic Games. Dean is the nation's 3rd swiftest man of all time, owning a career-best of 1:56.77 from last year's World Championships.
SwimSwam: 2023 British Championships Day 5 Prelims: Dean & Scott Headed To 200 IM Showdown