By Sidney Zacharias on SwimSwam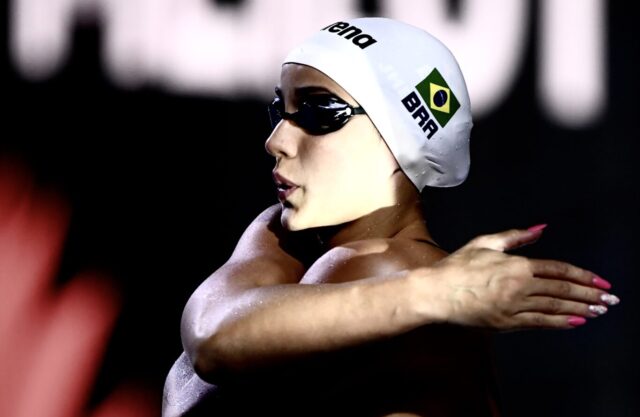 To see all of our 2022 Swammy Awards, click here.
2022 SOUTH AMERICAN FEMALE SWIMMER OF THE YEAR: JHENNIFER CONCEICAO, BRAZIL
Jhennifer Conceicao of Brazil is this year's Swammy award for the South American Female Swimmer of the Year. A breaststroker, Conceicao has continued to break her own Brazilian and South American continental records over the course of 2022, earning her the 2022 continental award.
Conceicao opened the year in April at the 2022 Brazil Swimming Trophy, which serves as Brazil's selection meet for the World Championships. In a decisive victory in the 100 breaststroke, Conceicao cleared her own national record to post a 1:07.12, good for a FINA 'A' standard to land her on Brazil's World Champs team. She also put up a dominating performance in the 50 breaststroke, clocking a 30.51, which is just 0.11 off her personal best and South American record from last June. Conceicao has owned the continental record in the 50 breaststroke since 2017.
At the World Championships in Budapest, Conceicao ended up 8th in 50m breaststroke. She opened with a 30.53 in prelims, then blasted a 30.28 in semifinals to take 0.12 seconds off her South American and Brazilian record set in 2021. Conceicao was slightly slower in finals with a 30.45, ending up 8th in final. She also swam the 100 breast, where she posted a 1:07.40, just off her Brazilian record set earlier in the year. She was one spot out of advancing to semifinals, placing 17th overall.
Conceicao continued her record-breaking streak in the short course season. At the Jose Finkel Trophy in September, Conceicao threw down a 29.87 in the 50 breaststroke to again lower her own personal best and continental record of 29.91, set in 2020 during the ISL season. She also grabbed 2nd in the 100 breaststroke with a final time of 1:06.18.
She continued her LCM season at the South American Games in October, where she earned bronze in the 100 breast with a 1:08.71. Conceicao missed the qualifying standard for SC Worlds, and instead  ended the year at the at the U.S. Open, where she finished 14th in the 100 breaststroke with a 1:10.29.
HONORABLE MENTION:
Beatriz Dizotti, Brazil – A member of Brazil's World Championship team, Dizotti placed 6th overall at World Championships in the 1500m freestyle. Dizotti and Viviane Jungblut both cleared Jungblut's previous national record in prelims, with Dizotti clocking a 16:08.35. In finals, she shaved off another 3 seconds for a 16:05.25, marking a new national record for 6th place. Dizotti went on to snag 2nd in the 1500 and 3rd in the 800 at the Jose Finkel Trophy.
Viviane Jungblut, Brazil – The other part of what was a historic showing for Brazil in the 1500 at World Champs is Jungblut. She clocked a 16:09.27 in prelims to qualify in 7th, also under her own previous national record. She was slightly slower in finals, but ended up 7th overall with a 16:13.89. Jungblut was also the first ever Brazilian to make the 800 free final at either World or the Olympics, when she finished in 8th with an 8:37.04.
PREVIOUS WINNERS:
SwimSwam: 2022 Swammy Awards: South American Female Swimmer of the Year – Jhennifer Conceicao