With about two minutes to go before the clock strikes 2 p.m., the Pelicans trio begins to emerge from the opposite side of the empty gym. Technically, they're a couple of minutes early to our shoot, but it's a welcomed sight, considering how unpredictable NBA players' schedules can be while in season. 
The team's practice facility, located in Metairie, LA, just under 20 minutes from the Smoothie King Center, has two full-size courts, with one of the sidelines leading to an open-concept weight-room area. The three players are walking through the workout area and onto the court when we spot them from afar. But they stop halfway through the weight room and decide to turn to their right, where a wall mirror stands. 
Haircut check. 
Uniform check. 
Kicks check. 
Zion Williamson is busy making sure the blinged out jewelry around his neck is properly positioned for the looming photo shoot. 
All looks set now.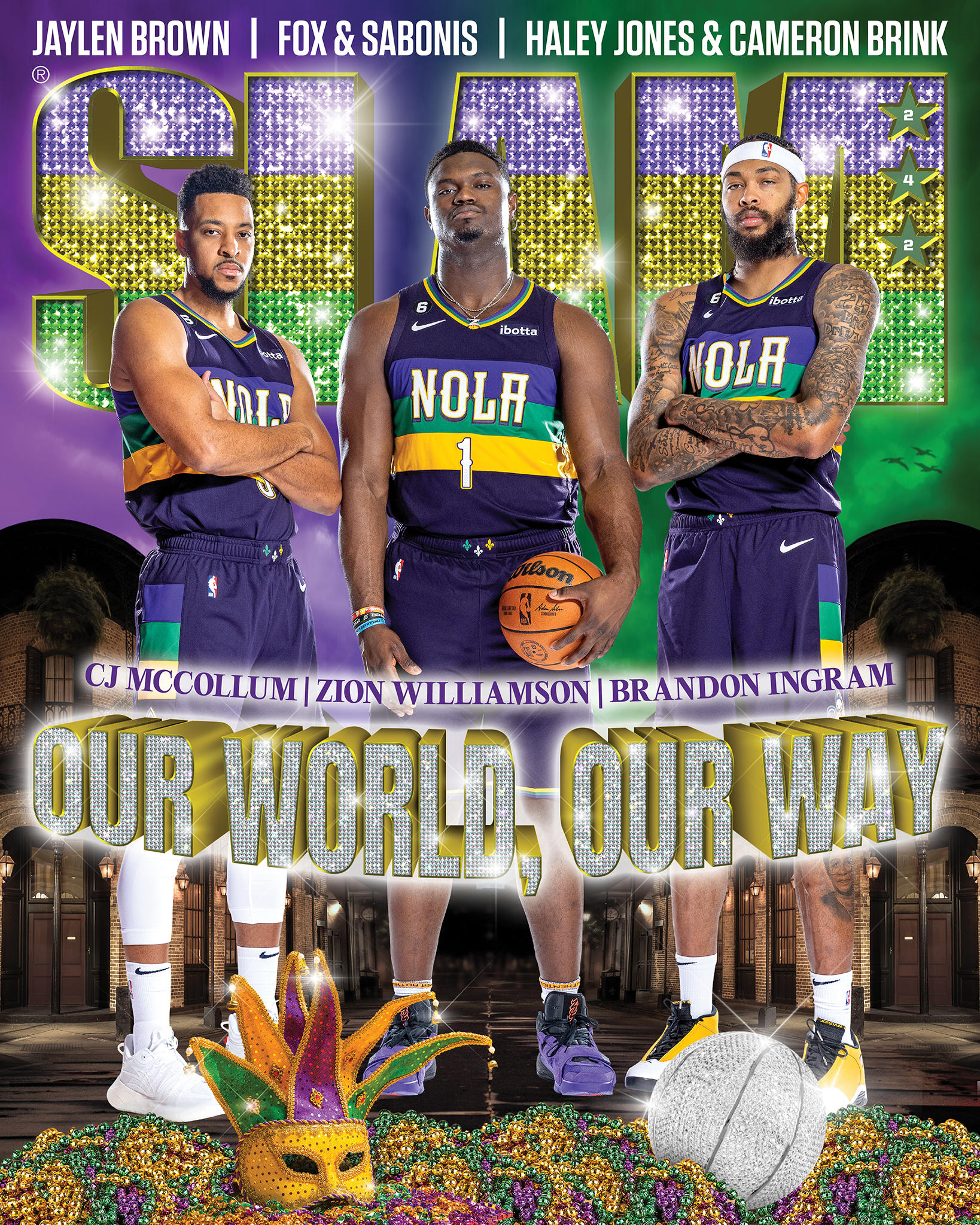 SLAM 242 featuring Zion, CJ and BI are available now. Shop here.
The guys keep walking through the weight room and onto the court, where some team staffers await. Except, there's only two of them now. 
Zion's here. CJ McCollum is next to him. But Brandon Ingram, who was literally just with them a few seconds earlier, isn't. 
Zion and CJ look around for BI and eventually realize that he stayed behind in the weight room area. There he is, still in front of the mirror, doing some standing bicep curls with dumbbells in each hand, going as fast as he can.  
Laughter ensues throughout the gym, from staffers to Ingram's teammates. Zion and CJ shake their heads. They point out that he's just trying to get a quick pump in so that his arms look swole for the photo shoot. 
Ingram is trying not to laugh. He can hear them teasing him from about 50 feet away—especially Zion. But he just stays focused on each rep, looking straight ahead at the mirror. Eventually, though, Ingram can't keep a straight face anymore and begins to grin from ear to ear. He puts the dumbbells down and joins in on the laughter. 
The laughs set up the perfect mood for the 60 minutes that follow. It also serves as the perfect example of how this trio, and the Pelicans team as a whole, move in general, on and off the court, and how it's ultimately contributed to the very joyful run they've embarked on over the past 11 months.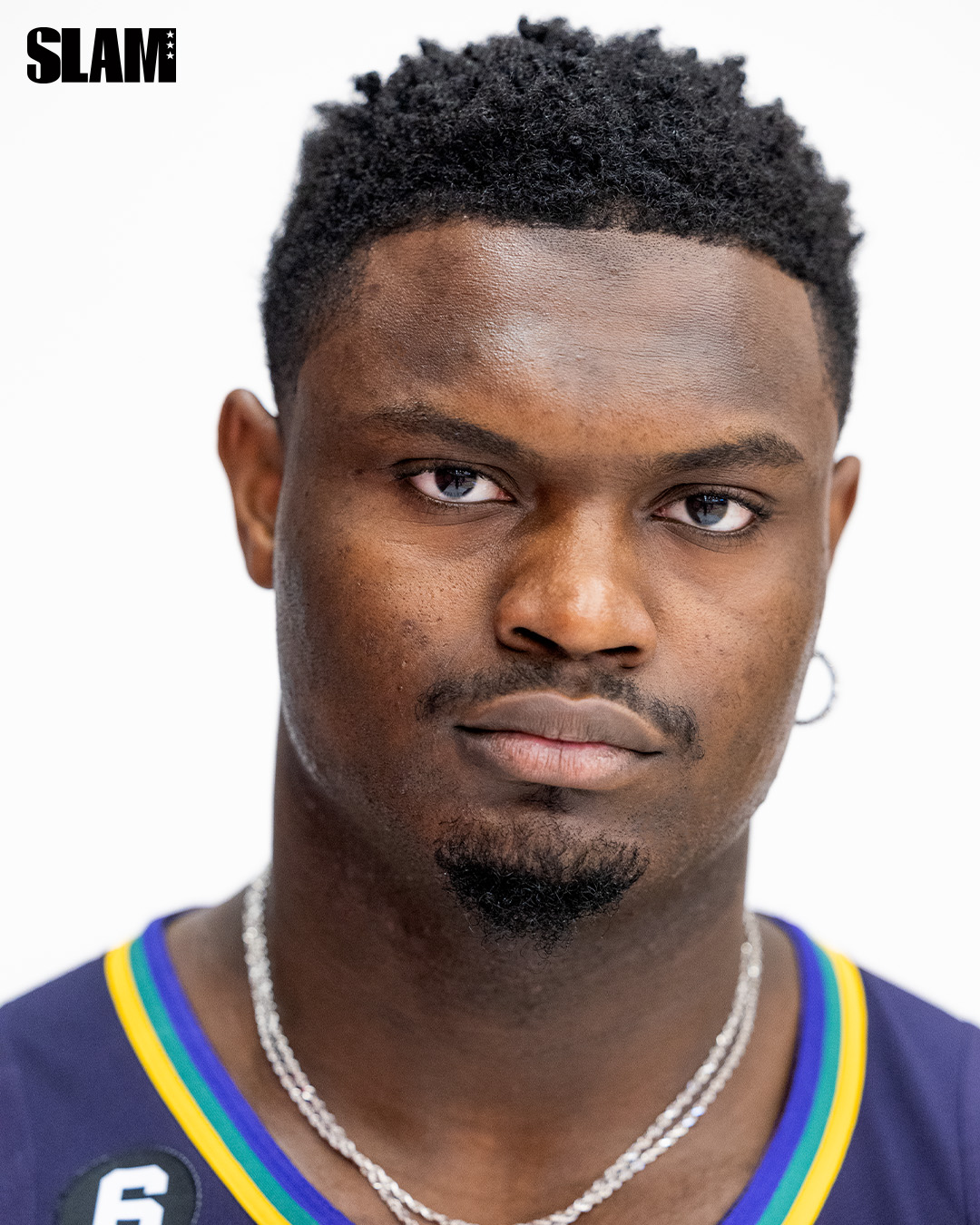 See, we weren't even sure if this shoot would happen just hours earlier. A couple of days before we were to be on set, it was announced that Zion Williamson would miss at least three weeks with a hamstring strain, which he suffered against the 76ers at the top of the week. If the shoot were canceled as a result, it would have been understandable. After all, two of our three cover stars were currently injured—BI had been out since late November after suffering a toe injury. But despite the bad news just 48 hours before the shoot, we were told everything was still a go. Even then, we were concerned about what mood the guys would be in, considering the sudden loss of a second All-Star right when the team was playing some of its best basketball.
Again, any kind of somber or toned-down enthusiasm from the guys on set would have been very reasonable, given the circumstances. Except, there was none of that. Jokes, laughs and even an early arrival is what we got. 
The symbolism in all of this? It appears that a major reason why this team was one of the biggest surprises to the start of the 2022-23 campaign—the Pels were tied for the most wins (24-14) in the Western Conference on the day of our early-January shoot and had a home record of 17-4, despite its elite trio of Zion-BI-CJ only playing 10 games together all season up 'til then—seems to stem from an overall culture of trust and true buy-in. Trust that the plan put together by the front office has worked to a T because the roster combo works to a T. There is nothing but smiles on set because deep down they feel like the best is yet to come. 
It's easy to see that this group genuinely clicks by the way they speak of each other. 
"CJ is like the dude that knows everything, but in a good way," says Zion of McCollum. "Like, if you need to get plugged in with somebody or you have questions about anything, CJ, really, I don't really know how, but he knows everybody. He has a friend or cousin for everything. I'm like, Yo, CJ, I like these bags. [He'd say,] Yo, I know this dude out in so and so, met him three years ago. I got you. And you know what? He always comes through with it. And I respect that."
Adds Ingram of Zion: "Z, [he] wake[s] up—basketball. He ain't gotta come to practice, he gonna have 40. Can't nobody stop him. He in his own lane, though. He his own person. He ain't worried about nobody else and he just stay true to his self."
CJ finishes it off by speaking on Ingram: "BI…works hard, cares about the game a lot, loves his teammates, wants to win [by] any means necessary. Basketball junkie. Wants to be great. He's funny. He acts like he's quiet and shy but he not, he not at all."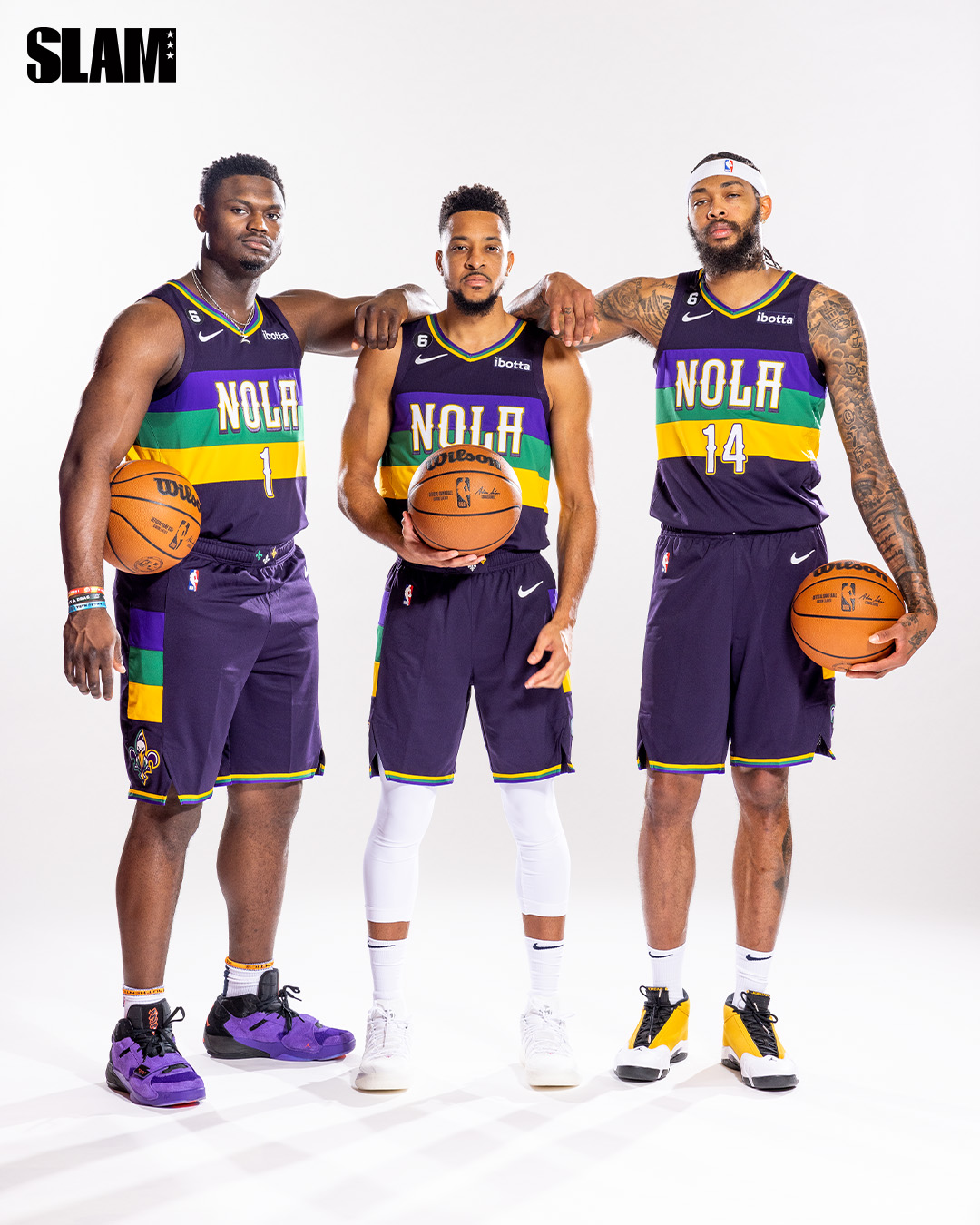 Just 11 months earlier, it was looking really bleak in The Big Easy. Their franchise player, Zion Williamson, was out for the season, and the team had a 22-32 record (they started the season 3-16) as the trade deadline approached. And then came February 8, 2022. The Pels acquired CJ McCollum from the Trail Blazers in a trade that sent Josh Hart, Nickeil Alexander-Walker, Tomas Satoransky, Didi Louzada and some draft picks to Portland, while New Orleans also welcomed Larry Nance Jr (and Tony Snell, who's no longer in N.O.).
New Orleans went 1-4 right after the trade, sinking their record to 23-36. According to ESPN's BPI projections, they had only a 10 percent chance of making the playoffs at that point. But it was here when things began to take a turn. The team went 13-10 to finish out the regular season, earning a spot in the play-in tournament as the 9th seed, and then beat the Spurs and the Clippers (coming back from a 13-point fourth-quarter deficit) to earn the final spot in the playoffs. 
Their performance in the first round against the No. 1 seed Phoenix Suns really sent fans of the League (and in New Orleans, of course) into a frenzy. The series went six games (at one point it was tied 2-2, and kinda looking scary for CP3, Book and company), as the Pelicans made the Suns work for every last one of their buckets. And that was all without Zion, of course.
"Two things. I think when you get a taste of something, you want more of it, and being in the playoffs last year, seeing our fans come out and how important the games were, it made it better to play," Ingram recalls. "It got me up more going into the playoff games, just going out there. And two, you just look around the room, and the players that you're playing with—like, we know we got something special, we know we're talented, but we know we have to come in here and work every single day and continue to learn the game, so that's where our confidence comes from. Just being around each other every single day."
With the Zion-BI-CJ pairing making its debut this past fall, expectations and excitement around what could be, might be, should be, all ran rampant. In his media day presser, Ingram said that a "championship" was the ultimate goal.
CJ has clarified in previous interviews that when the trade happened last year, he and his wife signed off on it because they saw the potential that New Orleans offered. Nonetheless, even he's been taken aback by how good and how quickly the results have been. 
"I knew we were gonna be special, I just didn't know how quickly we would get there. That's always the hard part about figuring out roles, figuring out how to coexist, figuring out how to maneuver in game situations," say McCollum. "You can't script it. Like, you could practice and play together but you gotta be in the fold to really figure it out. And I think that's what normally takes longer than what's taken [us]. But I would say that I knew it was gonna be a great experience, I knew it was gonna be a great situation. [It's been] probably better than I thought, honestly, in terms of how well we're playing, how deep we are. I knew we were a good team, I didn't know we were this deep, you know what I mean?
"Having conversations with the front office, with Willie [Green, head coach], understanding what they want to accomplish, short-term and long-term. I would say both parties, you know, for me and my family, and then from the organization, I would say that they'd probably say the same thing—it's probably going better than we all expected because of how well I was able to assimilate into this culture, but also how well the younger guys were able to develop, and how I was able to just kind of figure out where I fit in."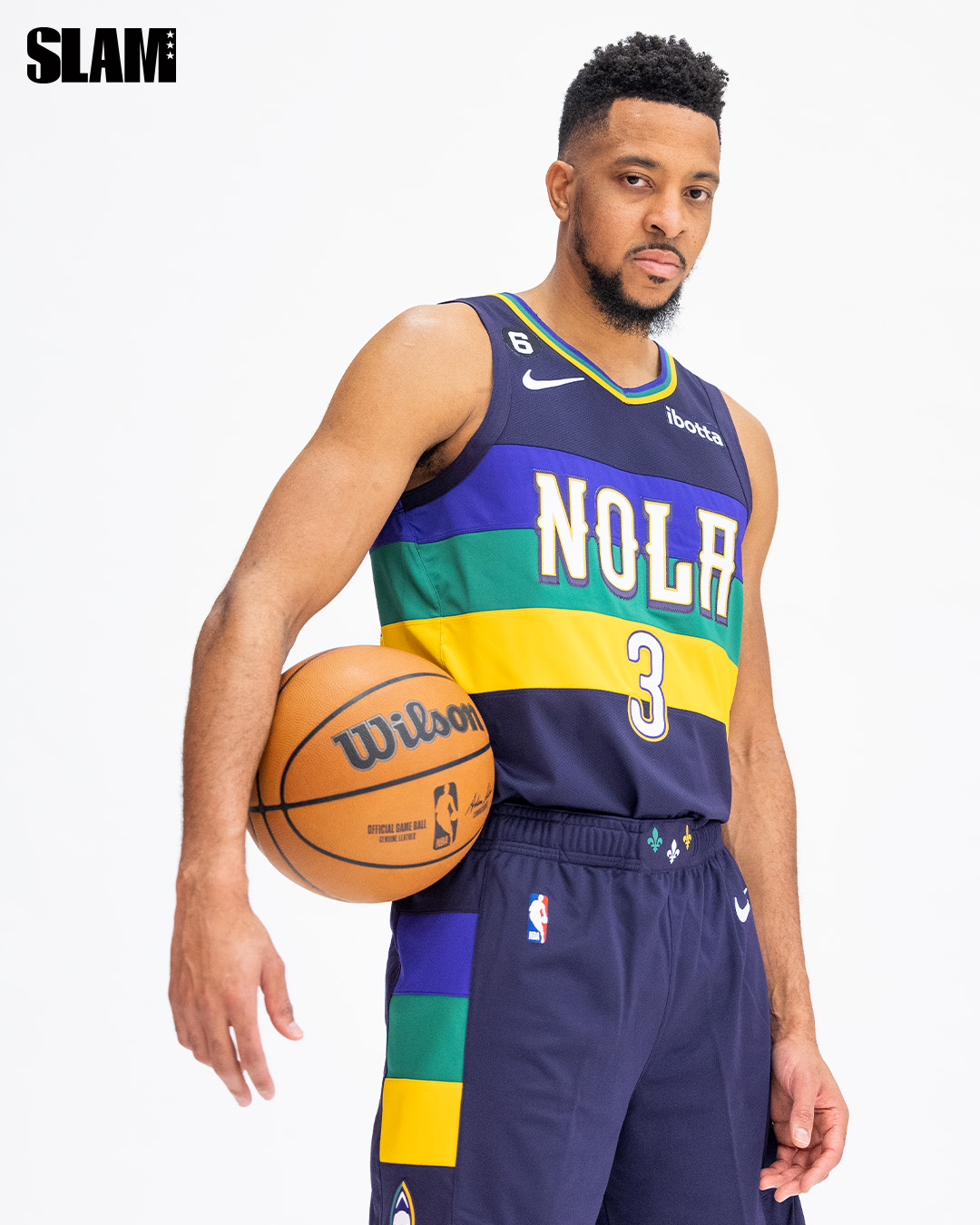 After finishing 21st in scoring last season, the team found itself at No. 3 in the League when we shot these photos 38 games into the season. And following a 6-6 start to the '22-23 campaign, the team went on to win 12 of its next 14 games (including 7 in a row) to stamp its name among the top teams in the West early on.   
"A lot of buckets out there, a lot of buckets," says Ingram of this year's high scoring offense. "You know, the funny thing is we haven't had a chance to play together, but for like maybe 10 games, at that. We got guys that just step up in roles that can really legit be starters on other teams. So, I think it's just the culture, you know, we set an example of how to work around here and how we treat each other. So, from that, guys just come in here and work and we see the results on the floor. Everybody's confident, 1 through 13, how[ever] many players that's playing a night, everybody [is] confident to do what they do. So, coaches make it easy for us and the people that we're around every day make it easy for us."
The team eventually hit a slump with the absence of both Zion and BI in mid-January, eventually hitting a 10-game losing streak. They're currently on a three-game winning streak after defeating the Hawks last night.
There's still lots to smile about, though. And we'll probably see a lot more of those come spring when the trio is healthy and ready to outdo last year's playoff run.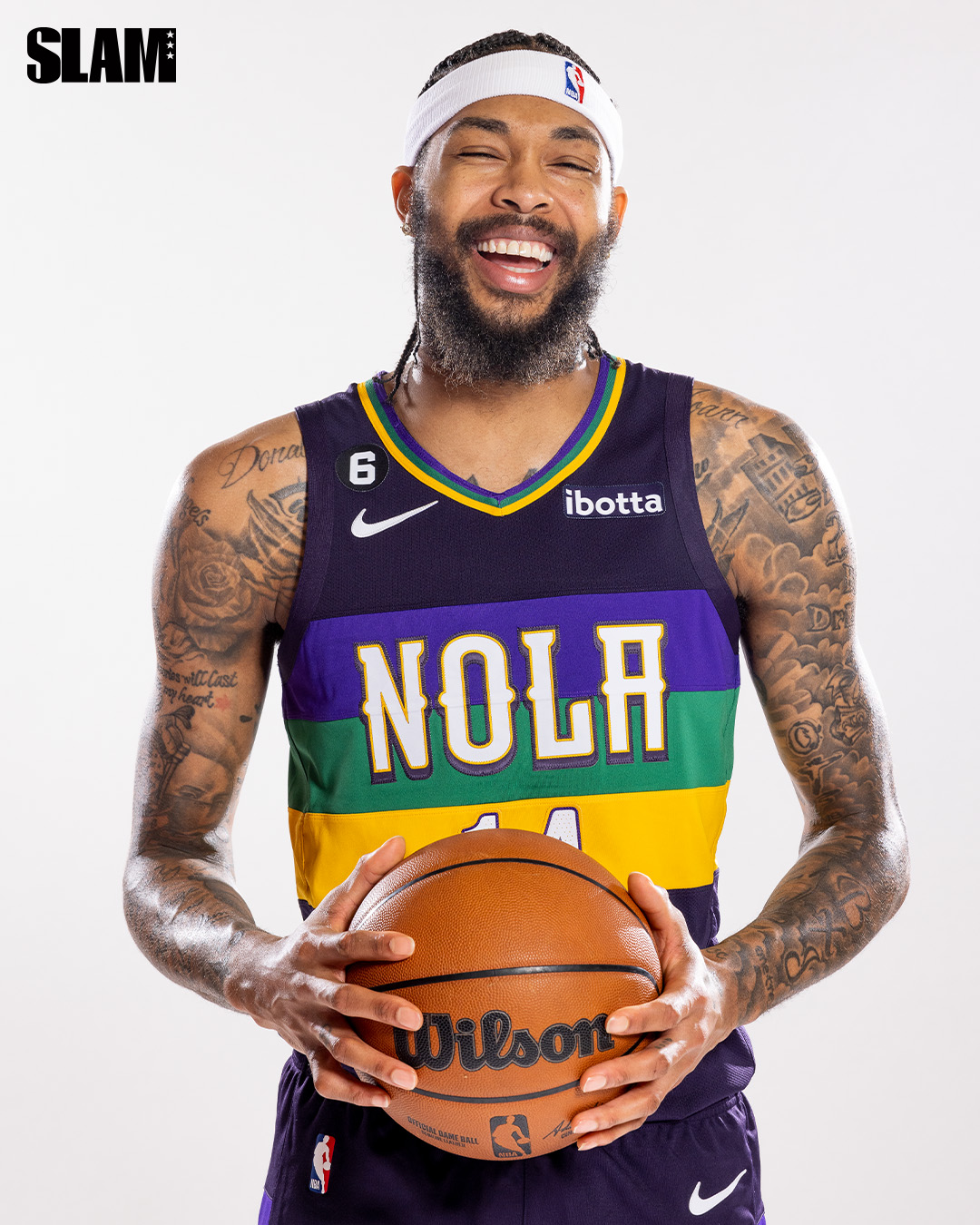 "I think it's frustrating for Brandon, frustrating for Zion, that they don't get to play more," Pelicans GM Trajan Langdon tells us over the phone a couple of weeks after the shoot. "For us, taking a holistic view, it's, you know, somewhat of a silver lining because you do get to see these [other] guys develop more, have them play a bigger role. There's times when all three have been out of the lineup and other guys have to step up and play a huge role. Play 32 minutes, play 28 minutes, when [they're] used to only playing 18. Guys that you didn't think might be in the rotation at the start of the year now get to play 10, 15 straight games. So, I think that is going to bode well toward the end of the year when we get everybody healthy, that these guys have had bigger roles in big moments and games. And so that's not gonna be an issue if they have to play in the fourth quarter at a crucial moment—they would have already done it. And if these injuries didn't happen, that opportunity might not have happened for that player or players during the year. So, we're looking at this as a silver lining and when we get these guys back, like you said, we're deep. But it's gonna make us even stronger in our depth, hopefully in a late March, early April playoff push."
CJ adds: "I think for us playing in the playoffs [last year] against the high seed, having to fight in, gives you an idea of, like, OK, what can happen now if we get a higher seed? What can happen if we get home court advantage? What can happen if we win 50 games? You start to imagine what that's like and then you go chase it. And I think that's the stage that we're in now—How do we win 50 games? How do we get a high seed? How do we get home court? What does that look like? What's that experience gonna be like? And I think when you go through those moments and those experiences, it creates a growth mindset." 
---
SLAM 242 is out now in this exclusive Gold Metal Edition and Cover Tee. Shop now.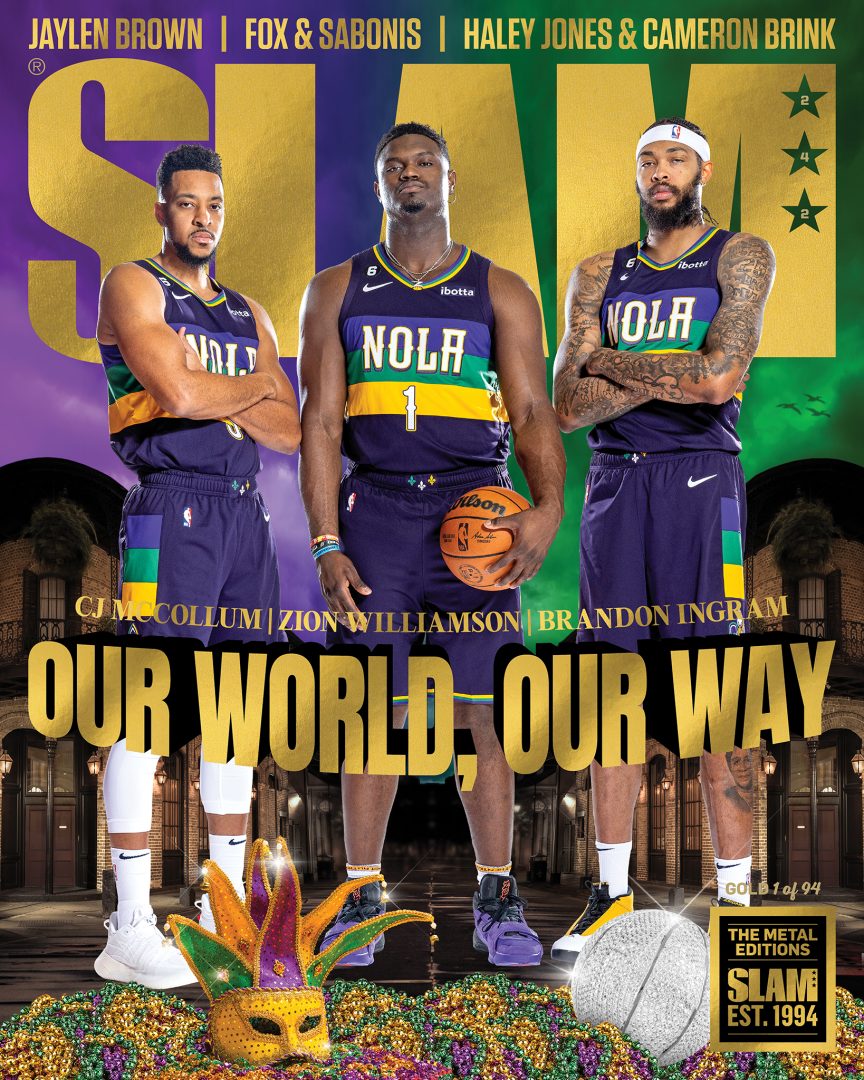 Portraits by Atiba Jefferson
Zion Williamson, CJ McCollum, and Brandon Ingram are Ready to Take the Pelicans to New Heights SLAM.