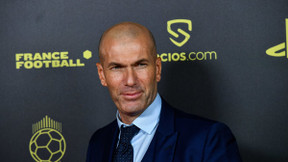 At PSG, Christophe Galtier today seems to be on an ejection seat. Will he still be there next season? So that is the question as Zinedine Zidane's name keeps coming back to Paris. But now the former Real Madrid coach should not succeed Galtier. And obviously, Zidane would have his reasons for failing PSG.
For several months now, Zinedine Zidane is heralded as Qatar's dream to coach the PSG. Last summer, the choice finally fell on Christophe Galtier while Zizou waited for theFrench team. But now the soap opera Zidane/PSG would have started again. Rumors are multiplying again about the Parisians' interest in the former coach of the real Madrid. But what about the position of Zinedine Zidane about an arrival at PSG ?
Zidane – PSG: New bomb that will disgust Qatar https://t.co/bDcyyKDmx8 pic.twitter.com/aabr2nflJW

— 24hfootnews (@24hfootnews) April 21, 2023
"We must also take into account the reaction of the people of Marseille"
According to information from TeamfootballZinedine Zidane should not be the next coach of the PSG. For what ? Thibaud Vezirian revealed the reasons for this. The journalist then explained about Zidane : " Despite his proximity to Qatar, if he were to come to PSG, it would force him to sell his Z5 complexes, which would have many consequences for his family, especially his brother. We must also take into account the reaction of the Marseille people, we can expect a real furia ".
"Today, coming to PSG is certainly not a gift"
" Zidane is a smart and thoughtful man, who doesn't engage in dubious business. He is capable of analysis, as at the start of his career when he refused Bordeaux. Today, coming to PSG is certainly not a gift, it's a quagmire. How could he manage a football club when the decisions are not made by the sporting head? Zidane knows this very well. And it is not because the emir offers him a large sum of money that he will come ", has followed Vezirian about the PSG and of Zinedine Zidanewhich, according to information from RMCwould lean more towards a departure towards the Juventus.