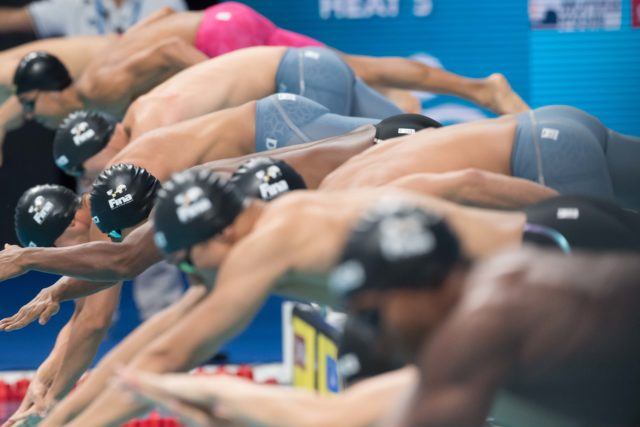 Courtesy: World Aquatics
The biggest International Federation athlete scholarship program opens today. Selected athletes will be part of a one-year program starting in September 2023 that puts them in an environment to help them reach their full aquatics potential.
Launched in 2014 with the aim of increasing the level of aquatics athletes in countries around the globe, the World Aquatics Scholarship Program is back recruiting candidates for its tenth season.
Scholarship Candidate Profile
Targeting athletes who have shown potential international success in competitions like the World Aquatics Championships and the Olympic Games, the program provides financial assistance and expert technical knowledge for up-and-coming athletes that lack sufficient conditions to train locally. Part of the organization's direct outreach to our national member federations and athletes, World Aquatics supports this project as a crucial development program aimed at furthering the progress of national teams globally.
About the World Aquatics Scholarship Program
The World Aquatics Scholarship Program targets 100 swimmers, 20 open water Swimmers, 20 divers and 10 artistic swimming duets. World Aquatics takes into consideration continent quotas and gender equality for each annual class of scholarship recipients. The main goal of the World Aquatics Scholarships Program is to identify and create an optimal training environment for athletes aspiring to represent their countries at the next World Aquatics Championships and the Olympic Games. The program aims to support athletes with greater needs and help them reach their full potential. Successful candidates will be placed at one of the five World Aquatics Training Centres for one or two years. In exceptional cases, an athlete may be offered a World Aquatics scholarship with an individual training option.
World Aquatics Training Centres are located in Europe, Asia, Oceania and America. A new training center will soon open in Africa as well. The World Aquatics Training Centres are designed to welcome athletes from all around the world and provide high-level training conditions as well as full board accommodation, making them the perfect environment to develop and hone one's aquatics skills.
How to Apply
Candidates in the following sports can apply here:
Just don't delay as the deadline for applying is 25 May 2023.
Life at a World Aquatics Training Centre
"I started swimming at five and now I'm really chasing my Olympic dream," said former scholarship holder Sajan Prakash of India of his experience as a scholarship holder, first training out of the World Aquatics Training Centre in Thanyapura, Thailand.
"Training here is the most beautiful place I've ever been to. You see the hills surrounding you everywhere. And the coaching is some of the best I've ever seen."In 2021, Prakash realized his Olympic dream, qualifying and competing in Tokyo Games in the 100m and 200m butterfly events.
Prakash credited the structured training program with a collection of motivated athletes for aiding his swimming progression."In the morning, I wake up at 4:45, eat something and go to training. It starts at 5:15. We warm up for an hour and then the main session starts. We then do gym or dryland and then we're back in the water at 4:45 for another two-hour session."It's a life-changing opportunity to be here," added Prakash. "We're like a family."
"It's a life-changing opportunity to be here. We're like a family."
Since Tokyo, Prakash has continued his progression in the pool, including competing at the World Aquatics Championships – Budapest 2022 and making the semifinals in the 100m butterfly at the 2022 Commonwealth Games.
More on the World Aquatics Mission to Elevate
With World Aquatics' expressed mission to ensure people the opportunity to participate, compete in and benefit from aquatic sports, this scholarship program is a key development pillar for World Aquatics President Husain Al-Musallam."My greatest pleasure as World Aquatics President comes in spending time with our athletes. Traveling to competitions and training centers and meeting with our scholarship holders only strengthens our commitment to offering opportunities like this to our athletes. Scholarship athletes benefit from elite coaching, while also having the ability to continue their academic studies at the same time. In 2023, we are offering more scholarships than ever before. I encourage any interested athlete to apply."
SwimSwam: World Aquatics Scholarship Program Now Accepting Applications