By Braden Keith on SwimSwam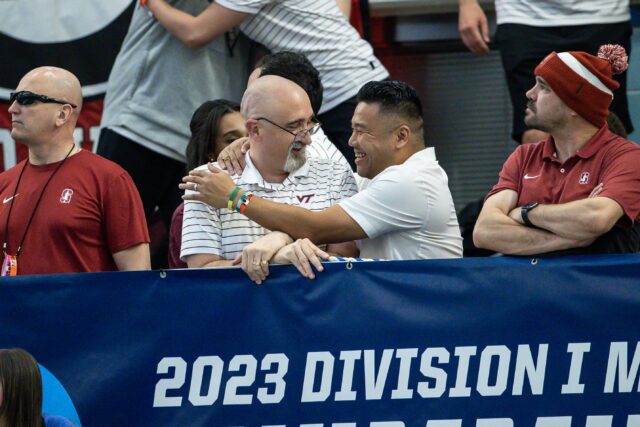 As June approached, it seemed like we were in for a calm offseason on the collegiate coaching carousel, with relatively-few major openings to spin the wheel around the country.
But in 24 hours, the resignation of longtime Stanford women's assistant Tracy Slusser and retirement of Michigan head coach Mike Bottom has thrown chaos into the system, sure to set off a chain-reaction of movement around the country.
Michigan is one of those once-in-a-career gigs where whoever takes the job, if they succeed, should be there for a career. There aren't many steps up the ladder to go from a place like Michigan, with massive resources, a generous salary, a highly-engaged alumni base, and a huge swimming tradition.
This one really gets a lot of wheels turning about the possibilities. Could Michigan, with heir new television deal, attract a mega-name like Arthur Albiero from Louisville? What about the hottest assistant name in the country, Herbie Behm from Arizona State? A big churn in the ACC has recently reset most of the top assistants in that conference, but Virginia's staff has survived most of the moves. Tyler Fenwick isn't moving somewhere cold, but could Blaire Bachmann? What about someone from the Tennessee Volunteers?
With so many of the recent coaching changes in the last few seasons being intraconference, could someone from Big Ten frontrunners Indiana or nearby Wisconsin or Northwestern be the choice? Ohio State has had effectively a full-staff turnover in the last year, which doesn't leave many options from there.
And what about the Michigan Men? Former athletes or coaches who might want to make a come back? Rick Bishop, who has had success in a short stint at LSU, Dr. Josh White, who was part of the Bottom regime, or Gunnar Schmidt, who coaches the local Club Wolverine club?
After a tumultuous few years, will Michigan administration be interested in bringing back any recent departures, or promoting internally? Athletics Director Warde Manuel did just give Bottom a big extension and a raise, so maybe he doesn't see the last few years as tumultuous.
Will they look for a head coach or an assistant from a top tier program with the talent to change the course of a once-proud, but more recently-middling, program? Both strategies have had a few home runs in recent years – like Todd DeSorbo at Virginia (former NC State assistant) or Ryan Wochomurka at Auburn (former Houston head coach), as well as a fair number of strikeouts.
This is arguably the biggest co-ed program role to come open in a generation. Florida split last time it was open, then just folded both programs back under Anthony Nesty. Tennessee hired Kredich just as women's coach and later folded the men under him. Even Michigan's last hire of Mike Bottom was just for the men, before eventually folding the women into the same program. The only co-ed open positions to rival this in maybe decades are Auburn in 2021 and USC last season (though giving the interim head coach the full-time job took a lot of air out of that one).
The possibilities are so endless, and the whole thing is enough to make the head spin, so this might be a fool's errand, but let's take a shot anyway.
Michigan Men
Nothing about Michigan's hiring history indicates that they care much about this, but here are the coaches with deep Michigan roots that could make sense
Dr. Josh White, Michigan Associate head coach – White has been with Michigan for 14 seasons. That's a long time, and has included some of the best results of the Mike Bottom era in his distance group – like Jake Mitchell, Felix Auboeck, Sean Ryan, Emily Brunemann, and Connor Jaeger. It *seems* like he must've had the opportunity to leave for a head coaching job by now, but hasn't. Was he waiting for this gig to open?
Rick Bishop, LSU head coach – Bishop has only been gone for two years, but his departure coincided with a decline in results for Michigan and a bunch of breakthroughs at LSU. He hasn't been gone for long, and the SEC is a very exciting place to be right now. But his base salary is only $160,000 – something Michigan could beat even if they had to pay out the approximately $24,000/year in buyouts that Bishop would owe LSU through the 2025-2026 season.
Gunnar Schmidt, Club Wolverine head coach – A former Michigan swimmer, Schmidt now leads the Club Wolverine program that trains out of the University of Michigan natatorium. He was the NCSA Coach of the Yea rin 2018, and is a known-quantity in Ann Arbor, including as an active member of the alumni group.
Olympic-Caliber Head Coaches
The program's last two head coaching hires were Mike Bottom and Bob Bowman. AD Warde Manuel certainly loves a flashy hire. He'll call everyone – first asking if they want the job, and then asking who they would recommend.
There are a large handful of these coaches around. Eddie Reese obviously isn't leaving Texas. Braden Holloway is an NC State guy through-and-through. But could Todd DeSorbo be talked away from Virginia? Carol Capitani from Texas? Greg Meehan from Stanford? Matt Kredich just signed an extension at Tennessee. Very few feel off limits at this point, but below I've listed the ones that I think make the most sense among a field of coaching greats.
Sergio Lopez, Virginia Tech – One of the most respected coaches in the nation, he's rebuilt Virginia Tech in a hurry, leading the men's team to a 9th-place finish at last year's NCAA Championships. For the longest time, most assumed that he was the heir-apparent to the Texas men after his work at Bolles with the likes of Ryan Murphy, Joseph Schooling, and Santo Condorelli. But Eddie is apparently never retiring, and short of Texas, there aren't many jobs higher on the food chain than this one.
Arthur Albiero, Louisville – It seems like Arthur really loves Louisville. He's built deep roots there, and both of his kids went through the program (and are almost gone). I wonder if he would leave with Gabi's senior season approaching, but in every other way this would be a great hire. He built the Louisville program to nothing into a program that, frankly, gets as much done with athlete development as any program in the country. If he can do what he's done at Louisville, imagine what he can do with the resources and brand name of Michigan.
Best-of-the-Best Assistants
Manuel could also choose to go younger, with one of the mega-name assistant coaches, and find a 30-year solution to the hire. If this gig goes to an assistant, it's going to be a 'hot name.' The ones who are a roaring furnace waiting to be stoked with coal. Below are the four guys who I think best fit that bill right now.
I think the clear front-runners are Albiero and Lopez. While Albiero has deep personal reasons to not leave Louisville, Lopez's aren't as obvious, especially with the pending graduation of his son Cobi from the team.
But I'm sure there are a million other choices that haven't even crossed my mind. For a job this big, there are all of the choices in the world.
SwimSwam: Wild Speculation: Who Will Take Over for Mike Bottom at Michigan?