By Robert Gibbs on SwimSwam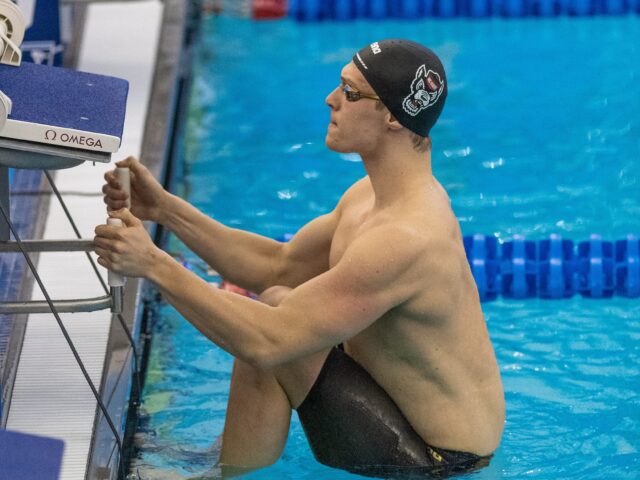 VA VS. UNC VS. NC STATE (MEN'S RECAP)
January 20-21, 2023
Koury Natatorium, Chapel Hill, North Carolina (Friday) and Willis R. Casey Aquatic Center, Raleigh, NC (Saturday)
SCY (25 Yards)
Live Results under "UVA v NCST v UNC Tri Meet" on MeetMobile
Final Scores

NC State 285, UNC 68
NC State 264, UVA 89
UVA 250, UNC 103
The action on Day 2 of the tri meet between UVA, UNC, and NC State shifted from Durham to Raleigh on Saturday, and the Wolfpack men defended their own pool with gusto, winning all except one event and capturing a couple of pool records in the process.
NC State began the meet with a big 1-2 win in the 200 medley relay. The 'A' team of Kacper Stokowski (21.19), Mason Hunter (23.97), Nyls Korstanje (20.31), and David Curtiss (18.87) combined for a time of 1:24.34. That's a strong time for a January dual meet, and it was doubly impressive since it was done in practice suits. All those guys except Hunter swam on NC State 3rd place relay at the 2022, and Hunter is swimming just as fast, or faster than Rafal Kusto was at this point last year, so watch for the Wolfpack to be in the mix at Nationals again.
Their 'B' team took 2nd in 1:26.94, touching just ahead of the Cavaliers' 'A' team (1:27.38). North Carolina ended up 4th with a 1:29.16.
Much of the day wasn't even close, as the Wolfpack swept the top three spots in four of the seven individual events. Will Gallant got the individual events started with an 8:59.86 win in the 1000 free, leading a 1-4 Wolfpack sweep. Next, Luke Miller won the 200 free in 1:34.41, leading a 1-3 NC State sweep and setting a new pool record at the same.
Miller was part of another 1-3 NC State sweep towards the end of the meet. Teammate Nyls Korstanje won the 100 fly with a 46.31, but Miller was right behind him at 46.51. Defending NCAA 100 back champion earned the win in that event today, going 46.48 as NC State took the top three spots.
NC State "only" went 1-2 in the 100 free. Noah Henderson won in 43.41, just ahead of David Curtiss (43.55). That's a solid in-season time for Curtiss, whose known more for his 50 free prowess. Bayne Bennett added 9 points with a 368.70 in the 1m diving event.
The breaststrokes have long been a (relative) weakness for NC State, and UVA's Noah Nichols has been swimming consistently fast all season, so if you had to pick one event for the Cavaliers to nab today, that might have been the logical choice. But, Mason Hunter has been a great graduate transfer for the Wolfpack, and he upset the UVA junior by winning the 100 breast, 53.27 to 53.40.
Instead, UVA picked up a win in the 200 IM. Sean Conway won in 1:48.17, and Nichols picked up another close 2nd, touching in 1:48.49.
The Wolfpack capped off the day with a 2:52.29 win in the 400 free relay. Henderson led off in 43.27, a bit faster than his winning time in the individual 100 free, Curtiss split 43.36, Miller got under 43 with a 42.59 split, and Hunter Tapp anchored in 43.07. That time earned the Wolfpack their second pool record of the day.
UVA took 2nd in 2:55.10, including a pair of 43-low splits from Jack Aikins (43.20) and August Lamb (43.40). 100 free All-American Matt Brownstead led off in 44.49 after taking 3rd in the individual free earlier with a 43.85.
The Tar Heels came within in a whisker of a win today, as diver Alexander Hart finished 2nd behind Bennett with 368.45, just 0.25 points shy of the Wolfpack diver. Outside of diving, UNC's best finish came in the 100 fly, where Boyd Poelke touched 4th with a time of 47.18.
With just over three weeks until the ACC Championships get underway, the NC State men look to be the clear favorites. The biggest challenge for Braden Holloway and staff be deciding exactly which swimmers to leave off the roster — it looks like they have far more than 18 potential ACC scorers. Virginia doesn't typically show a lot of speed until February, so they appear to be about where they've been the last few years, assuming all of their big guns swim ACCs — something that hasn't always been the case in recent years, for one reason or another. UNC should show a little more life at ACCs than they have so far this season, but they'll likely again rely on diving for a good chunk of their points.
This was the final dual meet of the season for UVA, while NC State will take on both Texas and UNC-Wilmington next week in a split-squad format, and UNC will face Duke at home this upcoming Friday.
SwimSwam: Unsuited NC State Men Nearly Get Under 1:24 in Medley Relay During Day 2 Dominance