By James Sutherland on SwimSwam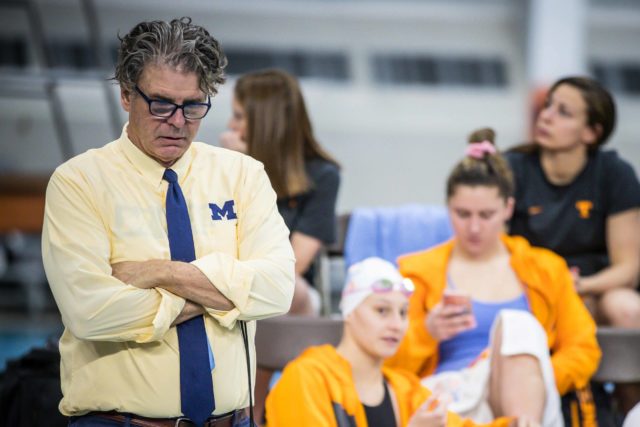 Longtime University of Michigan head coach Mike Bottom has retired from his post after a 15-year tenure in Ann Arbor.
Bottom has been the head coach of the men's swimming & diving program at Michigan for the past 15 seasons, beginning in 2008, and has led the combined men's and women's team for the past 11 years.
A Legend Retires.

Mike Bottom to Retire as Michigan Swimming and Diving Head Coachhttps://t.co/u2K1nqe1R7#GoBlue pic.twitter.com/Keh7z2QGbz

— Michigan Swimming & Diving (@umichswimdive) May 24, 2023
The announcement was made by Michigan Director of Athletics Warde Manuel on Wednesday, noting that Bottom will continue to lead the programs through August 4 as they search for a replacement.
"Today, Mike Bottom informed us that he plans to retire from full-time coaching," said Manuel.
"An Olympic caliber coach, Mike sustained Michigan's legacy of success in the pool for many years and will always be remembered for stewarding great success in men's and women's swimming and capturing the 2013 men's national championship. I deeply appreciate his passion for the sport, his love of U-M, and his willingness to continue leading the program while we search for his replacement."
Bottom's tenure at Michigan included leading the men's team to an NCAA title in 2013, and he also guided them to nine Big Ten titles and a total of eight top-10 finishes at nationals.
The Wolverine women won three conference championships under his watch, winning the 2016, 2017 and 2018 titles to mark the Big Ten's first three-peat since 1996-98.
A native of Akron, Ohio, Bottom was named Big Ten Coach of the Year nine times, coached nine swimmers to individual NCAA titles, and closes his career with a 111-13-1 dual meet record on the men's side and 74-19 for the women.
"Following my 15th year leading Michigan teams and over 30 years of collegiate coaching, my excitement moves to cheering on future success," said Bottom.
"In the coming weeks, I will enjoy being part of our summer national and international pursuits. I am excited to pass the helm to a fresh new leader who will win championships and mentor champions. I am so grateful for the leadership of Warde Manuel and Rob Rademacher over these past years and the growth partnerships that I've enjoyed with so many coaches and staff members. Go Blue!"
Bottom's retirement comes one year after he signed a five-year contract extension through 2026-27, which was worth a total of $1.1 million over its duration.
Prior to Michigan, Bottom served as the co-head coach of the men's team at Cal from 1998 until 2007, and prior to that, served as an assistant at Auburn (1991-94) and USC (1994-97).
Bottom has coached at the Olympics in some capacity for six straight Games, though he only went as an official member of the U.S. delegation in 2016.
Bottom has also coached more than a dozen Olympians over the course of his career, including sprinting greats such as Gary Hall Jr. and Anthony Ervin, and most recently, Canadian Olympic gold medalist Maggie MacNeil.
As a swimmer, Bottom qualified for the 1980 Olympics in Moscow, which the U.S. ultimately boycotted.
SwimSwam: University of Michigan Head Coach Mike Bottom Announces Retirement After 15 Seasons