By James Sutherland on SwimSwam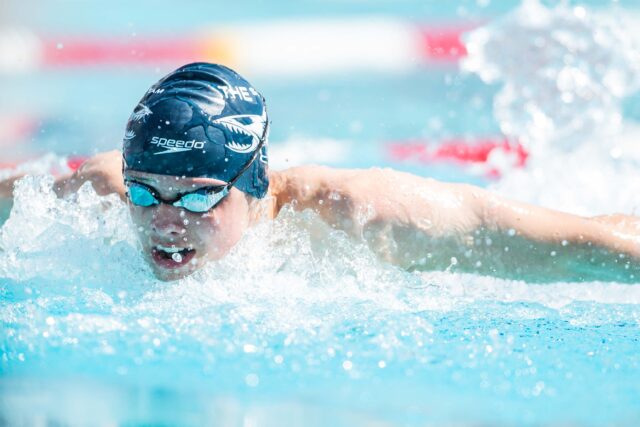 Reigning U.S. Junior National champion Isaac Fleig has opted to defer his enrollment to the University of Wisconsin for the Olympic season, taking a gap year to train with Mark Schubert's elite distance crew with The Swim Team (TST).
Fleig, a Wisconsin native who previously swam out of the Schroeder YMCA Swim Team in Brown Deer, started training with Schubert's group this summer.
Fleig was slated to join the Badgers this fall, but said that after his performance at Junior Nationals in August, he decided to take the year to train with the group, having experienced marked improvement in his short time there.
He won the boys' 1500 freestyle at Junior Nats in a time of 15:19.90, moving him into the top 50 all-time in the boys' 17-18 age group. He also placed 7th in the 800 free (8:08.35), 9th in the 400 IM (4:24.68) and 27th in the 400 free (3:58.84), setting lifetime bests in every event he raced.
Those swims came after he set personal bests of 15:24.20 in the 1500 free and 4:25.19 in the 400 IM at U.S. Nationals just one month earlier.
"After Junior Nationals I decided to take a gap year and train under Mark Schubert," the 18-year-old said. "I couldn't pass down the opportunity to train with this group."
Schubert, a former U.S. Olympic coach, has assembled a talented distance group in Orange County, California, with the likes of 2023 U.S. World Championship team member David Johnston, Tokyo Olympian Michael Brinegar and reigning NCAA champion in the 1650 free Will Gallant training there.
That trio represents three of the six fastest Americans in the 1500 free in 2023, with Fleig's newly-minted PB ranking him 14th.
Fleig initially committed to Kentucky, but switched his commitment to remain in-state at Wisconsin in August 2022.
In short course yards, Fleig owns best times of 4:22.99 in the 500 free, 9:02.78 in the 1000 free, 15:12.51 in the 1650 free and 3:50.58 in the 400 IM.
Coming into the 2023 long course season, Fleig had only raced the LCM 1500 free twice, with his PB standing at 15:51.54 from 2021.
SwimSwam: U.S. Junior National Champion Isaac Fleig Taking Gap Year At Wisconsin