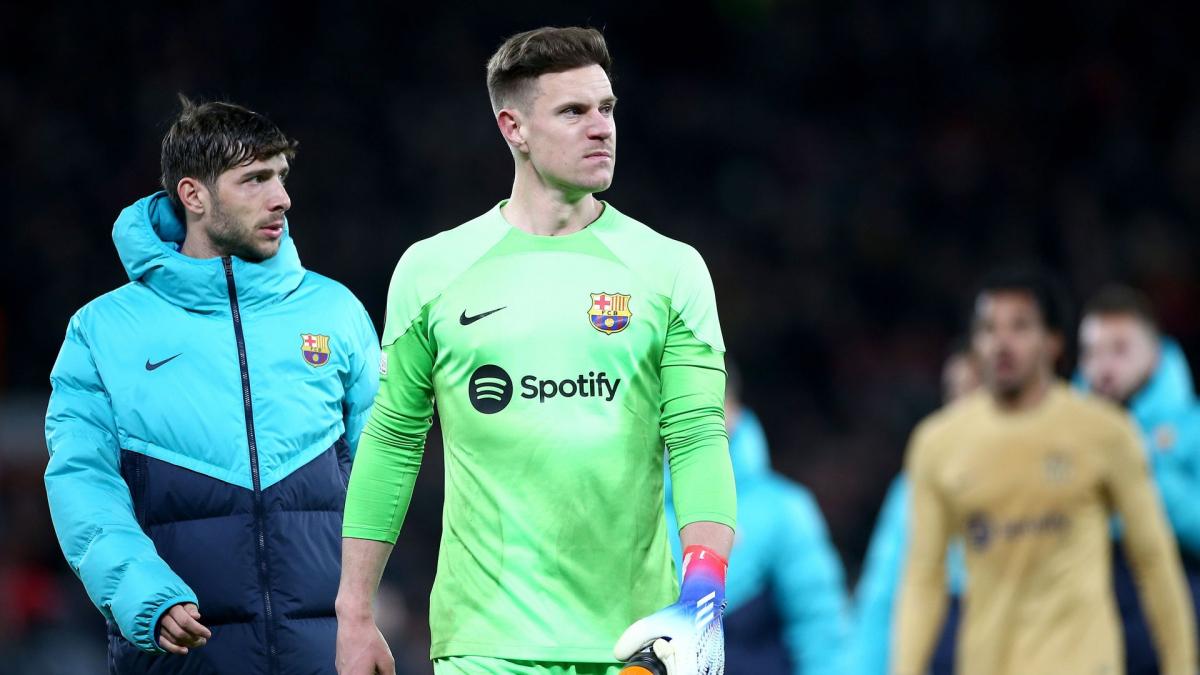 What's next after this ad
A bet on the future, here is what FC Barcelona was doing by betting on Marc-André ter Stegen in the summer of 2014 when he was only 22 years old. A little less than a decade later, the record is rather solid for the German goalkeeper with in particular the Champions League 2015, the Liga 2015, 2016, 2018 and 2019 or the King's Cup 2015, 2016, 2017, 2018 and 2021. All after 369 matches played for 154 clean sheets and with 359 goals conceded. The 12 million euros spent at the time to snatch him from Borussia Mönchengladbach were largely compensated, but yet the adventure was not just a long calm river for the German who will have known several lives in Catalonia . Difficult beginnings with the competition of Claudio Bravo where he will have been invaluable during the victory in the Champions League for the 2015 edition, then an irresistible rise in power until 2019 when he was undoubtedly in the gratin of Europe in his position. Under contract until June 2025, he had since had more trouble, especially since his extension in October 2020 since his Blaugrana career was also marked by failures.
Bearing the seal of humiliations in Europe such as AS Roma (3-0), Liverpool (4-0) or Bayern Munich (8-2), the German goalkeeper remained a benchmark goalkeeper, but his displayed level was less impressive than before. In any case, that was the case before the 2022/2023 season. Certainly helped by a more solid defense where the tandem Ronald Araujo – Andreas Christensen was regularly irreproachable, Marc-André ter Stegen also achieved important performances. If he could not prevent his team from sinking in Europe, whether in the Champions League (10 goals conceded in 5 matches) or in the Europa League (4 goals conceded in 2 matches) where he will never have succeeded to keep his clean sheets, the 30-year-old has shown real supremacy on Spanish soil.
To read
FC Barcelona: Gavi reassures Xavi about his future
Marc-André ter Stegen has several records in his sights
Intractable like his defense, he conceded only nine goals after 30 days, an average of 0.3 goals conceded per game. In addition, he has just achieved 23 clean sheets with the Catalan club this season and equals the record previously held by Claudio Bravo since the 2014/2015 season after another solid match against Atlético de Madrid (1-0 ). If he keeps his clean sheets for one more game, he will also join Petr Cech (Chelsea, 2004-2005) and Jan Oblak (Atlético 2015-2016) with the highest number of clean sheets obtained in a league season by a team from the European top 5. Moreover, if he concedes less than 8 goals or less in the next 8 matches, he would do better than the 18 goals conceded by Jan Oblak during the 2015/2016 season.
What's next after this ad
If Barcelona concede 5 goals or less in the next 8 matches, Chelsea's European record of only 15 goals conceded (2004-2005) would also fall. Mind-blowing figures for Marc-André ter Stegen who, if helped by an iron defence, is of paramount importance in these performances. His coach Xavi Hernandez is in any case pleasantly surprised: "It's not normal to have conceded nine goals in 30 games. It is not normal. I have a lot of confidence. He is determined, he is exceptional, it is a guarantee. I always say he's one of the top three goalkeepers in the world and for the way we want to play, he's the best." In addition, Marc-André ter Stegen is on his way to his first career Zamora trophy (which rewards the goalkeeper who concedes the fewest goals in La Liga over a season), which seems surprising compared to his longevity in Catalan soil. On his way to the title with FC Barcelona and propelled to number one with Germany since Manuel Neuer's injury, Marc-André ter Stegen is walking on water to the delight of his coaches.
Pub. THE
update the
the incredible resurrection of Marc-André ter Stegen 24hfootnews.