Since the Cubs' signing of Craig Kimbrel left them feeling burned for the first two seasons of the contract, ownership and the front office have eschewed spending on the bullpen. Rather than invest in high-priced relief options in free agency, the Cubs have spread out their bullpen investments over a series of small-scale additions, either on low-cost one-year deals or on minor league free agents. At times, they've had great success with the strategy (e.g. Andrew Chafin, David Robertson). Others haven't gone so well (e.g. Brad Boxberger, Brandon Workman). They haven't been burned by any big relief pitching commitments since Kimbrel, but they also have generally sat out on the top names on the market.
The merits of the strategy can be debated ad nauseum. On the one hand, it's unequivocally a good thing to avoid being encumbered by any burdensome multi-year deals for relievers. On the other, the Cubs have the financial resources and payroll capacity to take such risks and withstand the missteps more than many of their smaller-payroll rivals. By steering clear of expensive, multi-year commitments they've also bypassed a number of quality relief options while trotting out bullpens with ERAs of 4.39 (2021), 4.12 (2022) and 4.01 (2023). Since 2021, Cubs relievers rank 20th in MLB with a 4.21 ERA.
It's not as simple as stating, "You get what you pay for," as player development plays an enormous role; the Guardians, for instance, have the second-best bullpen ERA in the past three years (3.30) despite signing just one reliever (Bryan Shaw) as a Major League free agent.
Relying on low-cost bullpen additions increases the importance of developing in-house relievers — which the Cubs have not done all that well — or striking it big in minor league free agency, where teams can potentially land multiple years of an effective reliever who's not yet burned through his arbitration seasons. The Cubs' lack of big investments and lack of development from the farm makes their biggest score in minor league free agency all the more important.
Mark Leiter Jr. has been nothing short of a godsend at Wrigley Field.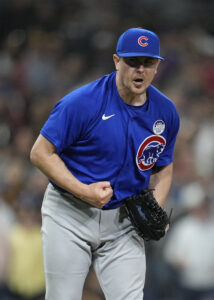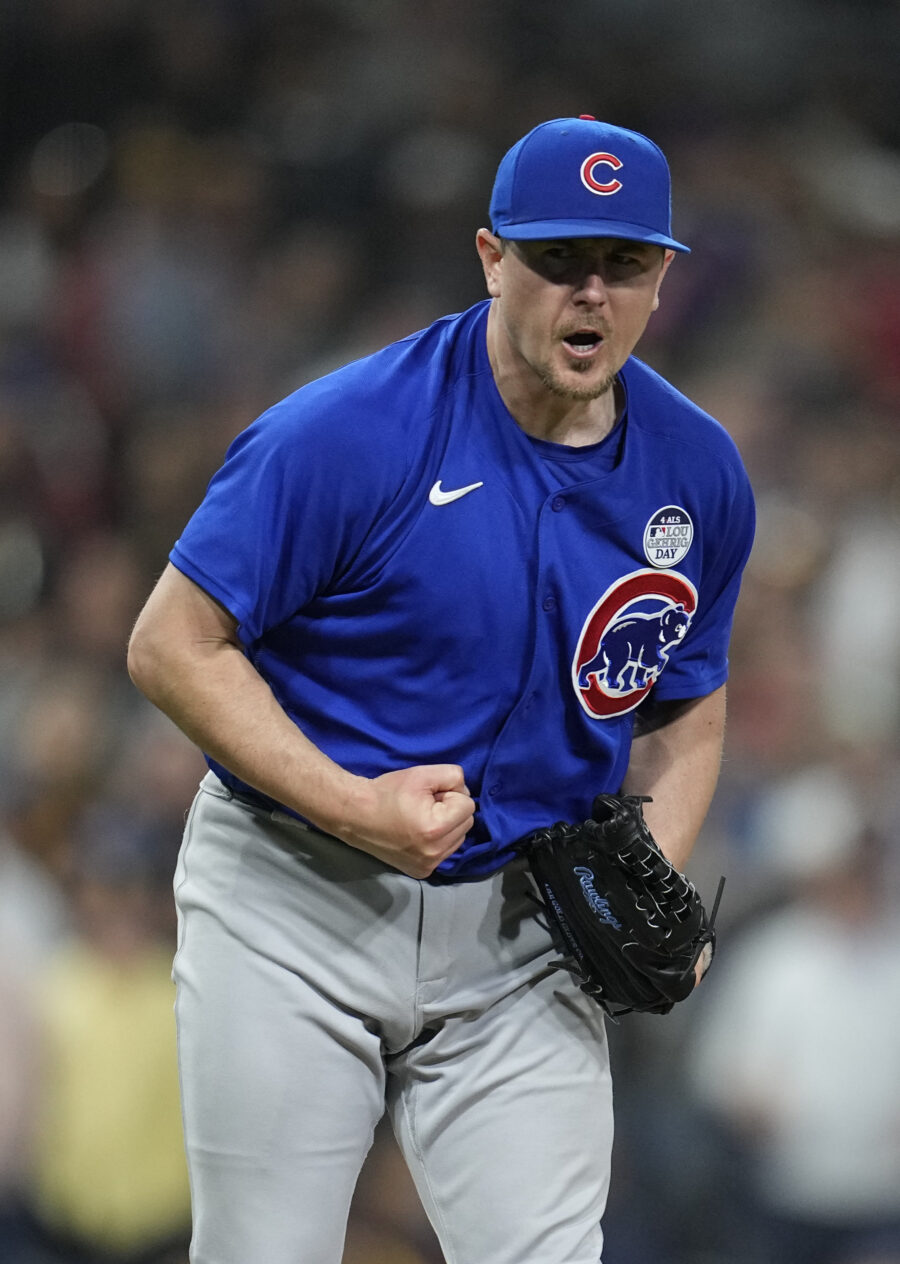 A 22nd-round pick by the Phillies back in 2013, Leiter (obviously) comes from a prolific baseball family. His father, Mark Sr., enjoyed an 11-year big league career. His uncle, Al, is a two-time All-Star and two-time World Series champion who pitched in 19 Major League seasons. Leiter Jr.'s cousin, Jack, was the No. 2 overall pick in the 2021 draft.
Just two years ago, Leiter Jr. looked to be a footnote in the Leiter family baseball lineage. He didn't pitch in the Majors from 2019-21, despite solid numbers with the Tigers' upper minors affiliates in '21. When he quietly joined the Cubs on a minor league deal during MLB's lockout — minor league free agency for players who didn't finish the prior season on a 40-man roster or MLB injured list still continued during the stoppage — few thought much of it. Leiter looked like minor league depth and little more than that.
Perhaps that was how the Cubs saw things, too. Leiter didn't break camp with the team in 2022 and was only summoned to the big leagues as a spot starter in mid-April. He started three games for the Cubs, yielded nine runs in 9 1/3 innings, and was optioned back to Triple-A Iowa. Over the next couple months, he was optioned back and forth a few different times, eventually moving into a full-time bullpen role.
For much of the season, Leiter was a nondescript swingman on a non-contending Cubs club. Trades of Scott Effross, David Robertson, Chris Martin and Mychal Givens, however, opened enough space in the bullpen for the Cubs to call Leiter back to the big leagues and stick him in the bullpen for good. The results were excellent. Although he carried a 5.35 ERA into last year's All-Star break, Leiter was summoned to the Majors on July 30 and dominated in the season's final two months: 29 innings, 2.17 ERA, 3.35 FIP, 27.4% strikeout rate, 9.4% walk rate, 50% ground-ball rate, three saves, four holds.
Even with that big finish to the season, however, Leiter didn't stick on the Cubs' 40-man roster all winter. Chicago held onto Leiter into January but ultimately chose to designate him for assignment in order to open a roster spot for Eric Hosmer (who'd eventually be released in June).
Perhaps it was Leiter's lack of a power fastball, his spotty track record, his status as an out-of-options pitcher, or the fact that most clubs had already filled their 40-man rosters by mid-January and didn't want to adjust — whatever the reason, Leiter cleared waivers. He elected free agency and re-signed with the Cubs less than two weeks later. President of baseball operations Jed Hoyer, manager David Ross and the rest of the Cubs brass have to be thrilled with that outcome.
This time around, Leiter wound up breaking camp with the team — and it's hard to imagine where they'd be without him. In 36 2/3 innings, Leiter carries a 3.19 ERA with a career-high 34.7% strikeout rate against a tidy 8.0% walk rate. He's kept the ball on the ground at a strong 48.8% clip, allowed just three home runs (0.74 HR/9), picked up three more saves and piled up 13 holds. The Cubs were hoping that offseason signees like Brad Boxberger and Michael Fulmer could hold down late-inning roles, but it's been Leiter who's stepped up as the team's most reliable setup man.
Leiter doesn't throw hard, averaging just 91.8 mph on his heater, but both his four-seamer and sinker take a backseat to his splitter anyhow. It's a tumbling offering that opponents have hammered into the ground at a 52.9% clip… when they put the ball in play. Leiter carries a mammoth 49.2% whiff rate on the splitter, which is a huge reason that opponents are batting just .088/.186/.132 in the 102 plate appearances he's ended with that pitch. Unsurprisingly, after throwing the pitch at a 22.7% clip last year (per Statcast), he's ramped that usage rate up to 35.8% in 2023. It's now his most-used pitch.
He's had some rough outings recently, allowing a total of four runs in his past three innings, but the overall results this season have nevertheless been excellent. In fact, dating back to July 30 of last season, when Leiter was called to the big leagues for good, he's now sporting a 2.74 ERA, 31.5% strikeout rate, 8.6% walk rate, 49.3% grounder rate and 0.69 HR/9 mark. Leiter has been proof that not all high-leverage arms need to feature triple-digit fireballs that blow opponents out of their socks.
Cubs management surely hopes the team can come firing out of the gates and play its way back into contention. The Cubs' schedule coming out of the break, after all, isn't exactly formidable. They'll kick things off with three against the Red Sox before playing their next 13 games against the Nationals, Cardinals and White Sox — three of the worst teams in the Majors this season. It's quite possible the Cubs can indeed climb back into the division race.
If, however, the Cubs continue to flounder and/or the Reds and Brewers pull away, Leiter is likely to draw some trade interest. Normally, a pitcher with more than three years of club control wouldn't be a trade candidate for a team like the Cubs, who if not this year hope to contend in 2024. But Leiter is 32 — 33 next March — and only came to them on a minor league deal. If another club is willing to give up some actual prospect value, it'd be hard not to give serious consideration to the scenario.
Leiter's emergence is a feel-good story — a 22nd-round pick that was never a top prospect despite coming from a high-profile baseball family, he hung on when his career looked lost, clawed back to the big leagues in his 30s and now finds himself as a valuable arm in a big league bullpen. More than that, however, his emergence could put the Cubs in a quandary — if they're not able to turn their fortunes. Hang onto a quality reliever for his final three years of team control, or sell high and trade a 32-year-old who's effectively "found money" for them when he's at peak value? These are the types of decisions the Cubs will face over the next few weeks, making their immediate performance following the deadline a particularly important component of this year's deadline season.