By Braden Keith on SwimSwam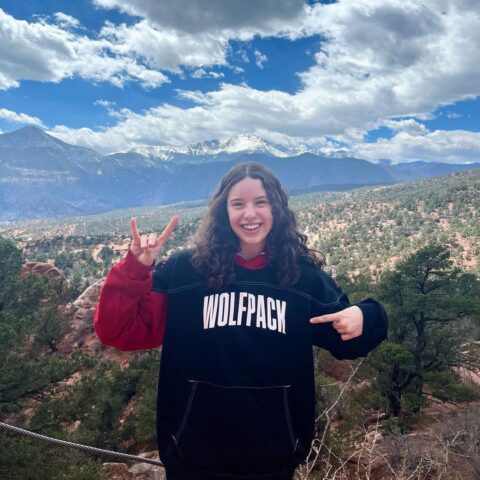 It's been a big week for high school junior Leah Shackley. After committing to NC State for her college career, Shackley on Saturday kicked off her long course season with a massive personal best in the 200 backstroke at a local meet in West Virginia.
Swimming at the 2nd annual Renee McCutchan Invite, Shackley swam 2:08.65 in the 200 backstroke final. That crushed her previous best time of 2:12.36 from December's US Open.
With that swim, the 16-year-old moves to 7th place in USA Swimming history among 15-16s in the event, trailing Missy Franklin's National Age Group Record of 2:05.10 from 2011.
The swim also ranks her 12th in the world so far this season, and as the second-fastest American behind only Regan Smith.
Shackley split her siwm on Saturday 1:03.29/1:05.36. Relative to her previous personal best, she was almost exactly the same pacing at the halfway mark, but finished the swim almost four seconds faster over the last lap.
"This is my first long course meet of the season, so we came into it with an open mind just to see where I am at," Shackley told SwimSwam. "Haven't changed much with the way I've been practicing, maybe just a little more intensity I'd say."
The swim significantly changes the outlook for Shackley this season. At last year's International Team Trials, she finished 4th in the Juniors final (C final) of the 200 back. Her new best time would have placed her 4th last year, which this summer would put her on one of the three US international rosters she's eligible for (Worlds, World Juniors, or Pan American Games).
As for her goals for the summer, Shackley said simply "just go fast."
While the time at a small local long course kickoff may have been a surprise, the progression isn't out of nowhere – even since the US Open in December, she has improved her best time in the 200 yard back from 1:54.91 to 1:51.27. The latter time won her the YMCA National Championship by more than three seconds.
At the end of last season, Shackley ranked #11 in the high school class of 2024 among girls' recruits. She is one of the fastest-rising performers in the class – heading into the 2021-2022 season, she wasn't on many recruiting radars, but starting in December of that year, she has been dropping time in a hurry to land among the best in the country.
Shackley is scheduled to swim the 100 back and 100 fly on Sunday. She trains at the Blair Regional YMCA in Hollidaysburg, Pennsylvania, about midway between Pittsburgh and Harrisburg.
SwimSwam: Teen Leah Shackley Goes 2:08 in the 200 Meter Back to Rank as #2 American This Season