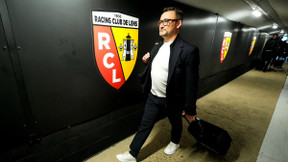 After leading RC Lens to the heights in Ligue 1, Franck Haise logically found himself in demand. The Sang et Or coach has chosen continuity and he will continue at least one more season at Bollaert. His decision was made faster than expected.
The love story will continue between the RC Lens And Frank Haise. Confirmed in his position as general manager, the native of Mont-Saint-Aignan admits having rejected various requests during the summer. Determined to dispute the Champions League and bring the RC Lens a little further up, Franck Haise preferred to stay. His vision is shared by all of the club's decision-makers and that is why he will continue next season.
Mercato: RC Lens confirms two XXL transfers! https://t.co/o79WgzQ5kc pic.twitter.com/kL4WJW6DCP

— 24hfootnews (@24hfootnews) July 9, 2023
"I wanted to be sure that we continued to be aligned"
" I did not say that I would leave (he is under contract until 2027), but it was legitimate for me to ask my management. I wanted to make sure that we continue to be aligned. I did not ask for guarantees, it was not a delirium to say "we must keep him and him", I am also general manager so I know that there are certain things that we cannot do. It was about how we see the next few years ", recognised Frank Haise in an interview with France Soccer. The general manager of RC Lens discussed at length with its leaders.
"My intimate decision was quickly made"
" During these days in Marbella, we didn't just drink shots. We had a long discussion with the president (Joseph) Oughourlian (also owner), Arnaud Pouille (general manager) and Greg Thil (technical director). Even if there were solicitations, my intimate decision was quickly made. I wanted to live next season here and not just for the Champions League ", he added. Things are clear for Frank Haise.
RC Lens boss makes huge announcement for his future 24hfootnews.