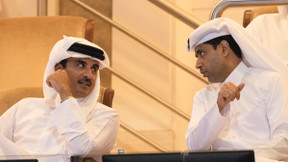 PSG have been owned by QSI since 2011. However, the Qatari royal family could quickly become the new owner of Manchester United through Sheikh Jassim Bin Hamad Al-Thani. Daniel Riolo wonders for the future at PSG.
On February 17, the Royal Family of Qatar publicly confirmed its intention to submit a takeover bid for Manchester United. RMC Sports recently confirmed the trend by explaining that the Nine Two Foundation was behind the project led by the Sheikh Jasim bin Hamad Al-Thani.
Qatar in good position to take over Manchester United
But that's not all, potential future buyers of Manchester United would plan to buy the club for the sum of €5 billion and would be equally keen to pay off the debts of the Mancunians, which would amount to €580 million according to RMC Sports.
Mercato – PSG: Qatar will crack down, a bomb is dropped by the Spanish press https://t.co/kfGo0sD2Qg pic.twitter.com/ygpvRYnL9n

— 24hfootnews (@24hfootnews) March 8, 2023
"It really worries for the future"
Editorialist for RMC, Daniel Riolo took advantage of a video posted for The After Review in order to put a damper on the sports project of PSG which could suffer from the potential acquisition of Manchester United from the Qatari family. "The question that will arise is whether Qatar does not want to make it a B club and that its first club, where we will put money, will be Manchester United. It's really worrying for the future ". THE PSG is warned.
PSG soon on its knees because of the Qatar revolution? 24hfootnews.