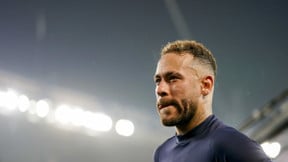 Since his arrival at the club in 2017, the relationship between Neymar and PSG supporters has not always been good. The Brazilian, very often injured, has missed many important meetings of the club, and this, in the Champions League in particular. Injured then operated on the ankle, we will not see the Parisian number 10 again anytime soon according to Daniel Riolo.
While performing one of his best games of 2023, Neymar was injured against Lille in the 4-3 victory on February 19. Once again, the Brazilian was hit in the ankle. While he was only due to miss 3-4 weeks of competition, PSG had declared that the former FC Barcelona was going to have surgery and was going to miss the entire rest of the season.
Neymar wants to end his career at PSG
In recent days, information from The Athletic had revealed that the Brazilian absolutely did not want to leave the PSGand that he would see himself ending his career at Paris. Nevertheless, Neymar is far from unanimous, while the latter had already been pushed out last summer.
Mercato: He said yes to PSG, a surprising offer is coming https://t.co/tHbZa61K98 pic.twitter.com/j2RTUGGTxZ

— 24hfootnews (@24hfootnews) March 14, 2023
Neymar's injury "more serious" than announced, says Daniel Riolo
Present in the show After Football, Daniel Riolo spoke about the seriousness of the injury of number 10 of the PSG : "Neymar, in my opinion, it's almost over, because his ankle injury, in my opinion, it's more serious than we want to say, but we'll see, maybe I'm wrong".