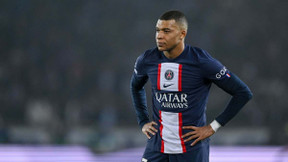 Kylian Mbappé is thirsty for revenge. Missed out in the first leg of the Champions League against Bayern Munich last Wednesday, the PSG player promised a different face in Bavaria on March 8. An exit, which does not frighten Julian Nagelsmann. The German technician wanted to answer him at a press conference.
Came on during the second half against Bayern Munich last Tuesday, Kylian Mbappé tried to give a boost to his team, battered in the round of 16 first leg Champions League. The PSG star tried, but stumbled (0-1 defeat). After the meeting, the French international would not have hidden his anger in the locker room, but not enough to undermine his optimism. Present to the media after the final whistle, Mbappe had announced the color for the return match, scheduled for March 8.
The ordeal continues for this PSG star https://t.co/E0RxPHJMkJ pic.twitter.com/TpY9XDvnwI

— 24hfootnews (@24hfootnews) February 18, 2023
Mbappé warns Bayern Munich
" We will go to Munich with the aim of qualifying. There is still a possibility. We will go there with a lot of energy and determination. A team like PSG must dominate, we are not used to being dominated. In the second half, we saw that when we play with a lot more personality, we put them in difficulty and we are able to score goals and be dangerous. If we play our attacking football and we put them in difficulty, we would be level in scoring once » had confided Mbappe. THE Bayern Munich was quick to respond.
Nagelsmann answers him
Present at a press conference, Julian Nagelsmann is in no way afraid of the release of Mbappe. " Mbappé said they could hurt us if they had the ball and played attacking. But it's the same the other way around. We are not going to sit idly by in the second leg. The Parisians ? We will have to leave them in defense. Sitting in front of our area to defend our lead is out of the question." said the coach of Bayern Munich. The duel is on.