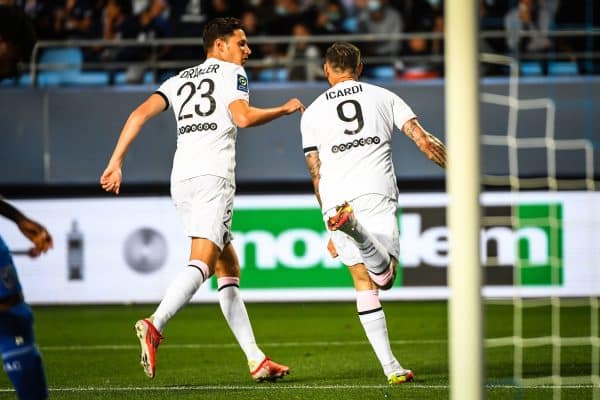 Concerned by the cases of Lionel Messi, Neymar or Sergio Ramos, Paris Saint-Germain also hopes to get rid of several undesirables, loaned abroad.
In Julian Draxler's case, it could get seriously complicated. The 29-year-old German, who had not necessarily convinced Benfica Lisbon training since the start of the season, has been seriously injured in recent days. Hit in the ankle, Julian Draxler underwent surgery, the Portuguese club announced in a press release. The attacking midfielder, uncomfortable in Portugal (18 games, 2 goals, no assists), is now unavailable until the end of the season. Loaned to the 1st in the Portuguese championship until June 2023, Julian Draxler should therefore return to PSG at the end of his loan, after having failed to prove himself. The German international is linked to the French club until 2024. The PG will have to find another way out for him.
Draxler struggling, Icardi thoroughly
Unlike his ex-teammate Julian Draxler, Mauro Icardi, he has a blast on the side of Galatasaray. Loaned to the Turkish club in September 2022, the Argentinian has played very good games since the start of the season (9 goals and 6 assists in 13 games), after a mixed start. Asked about the striker's future, Wanda Nara, his agent, confirmed to the Rai 2 that Mauro Icardi would not return to Paris Saint-Germain at the end of his loan. https://www.youtube.com/watch?v=cyIdEZocTF4 This is good, since several teams would like to hire the services of the former Inter player.
Icardi back in Italy?
According to the revelations of the Italian press, AC Milan and AS Roma are thinking of Mauro Icardi. The Lombard club, which is trying to extend its contract to Olivier Giroud, would like to strengthen the goalscoring position, while Zlatan Ibrahimovic (41) has still not played this season and Divock Origi is not satisfactory (2 goals in 16 Serie A games). AS Roma of José Mourinho, who could leave, is also thinking of the 30-year-old Argentinian, while Tammy Abraham (32 games, 7 goals, 5 assists) and Andrea Belotti (4 goals in 27 games) are in competition .