By Braden Keith on SwimSwam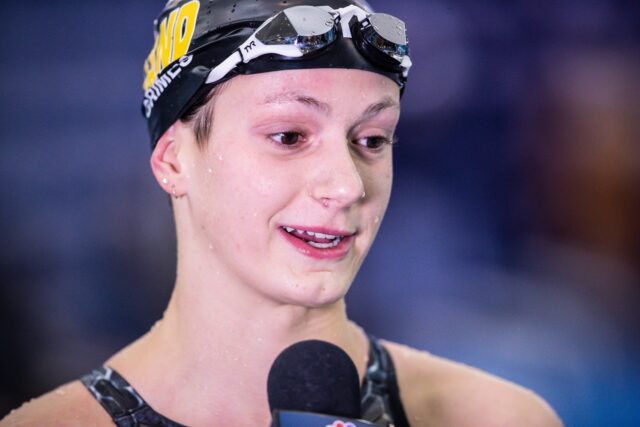 An NBC replay and highlights package of the Pro Swim Series at Knoxville that aired on Sunday afternoon drew an average of 345,000 viewers, according to Nielsen television ratings.
The meet did feature some stars, including the country's top female swimmer Katie Ledecky, but continued to struggle without the presence of Caeleb Dressel, who was built as the country's top swim star through the Tokyo 2020 Olympics. Dressel has not raced since leaving the 2022 World Championships midway through without completing his event schedule.
The highlight package on NBC ran up against the ratings juggernaut that was the opening weekend of the NFL Playoffs. Specifically, it overlapped with CBS' 1:00 game between the Miami Dolphins and the Buffalo Bills, which drew almost 31 million average viewers. The top NFL game of the day, the 4:30 game on Fox between the New York Giants and Minnesota Vikings, drew an average of 33 million viewers, with the NBC evening game between the Baltimore Ravens and Cincinnati Bengals drawing an average of almost 27 million viewers on Sunday evening.
These recap shows on Network television can often capture a "channel surfing" audience, though many of the core swimming audience watch the meets live on cable, the Peacock streaming service, or the USA Swimming website, which does erode viewership somewhat from its true maximum.
Only about 30% of that estimated audience fell in the crucial 18-49 age group that is of primary interest to most advertisers. That is lower than most of the sports audience on the weekend, though both the raw numbers, and the percentage in that key demographic, outperformed the early round action from the Australian Open that aired on ESPN on Sunday evening.
Those Pro Swim Series numbers are low relative to other domestic swimming events, likely in part because of the football conflict. A highlight package from the San Antonio stop of the 2022 series, for example, drew an average of 537,000 viewers, while a US Nationals highlight package from the summer drew 572,000 viewers. Both of those programs aired on NBC as well.
SwimSwam: Pro Swim Series Meet in Knoxville Drew 345,000 Viewers for NBC Replay Package