By Sidney Zacharias on SwimSwam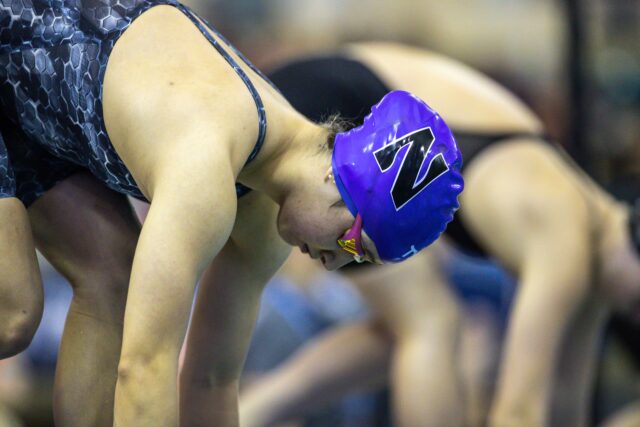 Wisconsin vs. Northwestern
January 21, 2023

Soderholm Aquatic Center, Madison, WI

SCY (25 yards)

Full Results on MeetMobile: "Wisconsin vs Northwestern"

Team Scores:

Northwestern women def. Wisconsin women 162-138

Wisconsin men def. Northwestern men 181-119
The Wisconsin Badgers hosted the Northwestern Wildcats on Saturday. The meet ended in a split, with Northwestern topping Wisconsin on the women's side of the meet, while the Wisconsin men cruised to a victory on the other side of the meet. 
This is not the end of dual meets this season for either team, as Northwestern will head north to take on Minnesota and Purdue, while Wisconsin will travel to Ann Arbor for a tri-meet against Pitt and Michigan.
Women's Recap
Scores:

Northwestern – 162

Wisconsin – 138
Northwestern opened the meet with a win in the 400 medley relay, as the team of Justine Murdock, Hannah Brunzell, Miriam Guevara, and Audrey Yu combined for a final time of 3:40.60. They beat Wisconsin's 'B' team by nearly 3 seconds, while Wisconsin's 'A' team was disqualified.
Wisconsin started out strong with a win from Paige McKenna in the 1000 (9:53.58), while her teammate Abby Carlson followed suit with a win in the 200 free (1:47.62). Carlson grabbed her 2nd win of the meet in the 500 free, clocking a 4:49.20 just ahead of McKenna (4:50.96).  
Wisconsin's duo of Mackenzie McConagha and Phoebe Bacon went 1-2 in both backstroke races. McConagha opened with a win over Bacon in the 100 (54.69), while Bacon took first in the 200 (1:58.35). 
Northwestern's first individual win came in the 100 breaststroke, as Brunzell edged Wisconsin's Elizabeth Moore by just over a tenth to touch first at 1:02.29. Northwestern was notably without Jasmine Nocentini in this event, who has gone undefeated in the three meets she has swam it in. 
The Wildcats' momentum carried into the 200 fly and sprint freestyle events, as Hana Shimizu-Bowers clocked a 1:58.51 to win for the Wildcats in a season best time. Shortly after, Northwestern's duo of Yu and Lindsay Ervin swept the sprint freestyle events, with Yu winning the 50 free (23.07) and Ervin taking the 100 (49.97). 
Northwestern snagged victories in the final two individual events, beginning with Guevara clocking  a 54.44 to win the 100 fly over Wisconsin's Mallory Jump (54.66). Jamie Brennan led a 1-2 finish in the 200 IM, as she touched first in a season best time of 2:02.06. Bowers was runner-up, also posting a season best time in 2:02.29.
Northwestern solidified their win with a final victory in the 200 freestyle relay. The quartet of Ervin (22.83), Yu (22.55), Riley Huddleston (23.26), and Ally Larson (22.49) combined for a time of 1:31.13, topping Wisconsin's team by over a second.
Diving played a large role in Northwestern's victory, as Jaye Patrick led a 1-2-3 finish on 1-meter, while Markie Hopkins led the same finish for Northwestern on 3-meter. 
Men's Recap
Scores:

Northwestern – 119

Wisconsin – 181
The Badger men opened with a dominating victory in the 400 medley relay, as the team of Jake Newmark (47.20), Will Myhre (53.08), Constantin Bensch (47.66), and Ben Wiegand (44.68) cruised to first with a 3:12.62, almost 3 seconds quicker than Northwestern.
Newmark continued to be an asset for the Badger men, as he picked up two individual victories. He first won the 100 back by over a second, touching first at 47.19 ahead of teammate Wes Jekel (48.37). Newmark completed his backstroke sweep with another 1st place finish in the 200, as he won by over a second in 1:46.56. 
Wisconsin's Yigit Aslan was another double winner, grabbing wins in the 1000 and 500. He clocked a 9:12.56 to take the 1000 by nearly 3 seconds, while in the 500 he won with a final time of 4:28.11. Northwestern's Jude Williams was runner-up to Aslan in both events, recording a 9:15.28 and 4:30.68. 
Other individual event winners for the Badgers included Dominik Mark Torok in the 200 free (1:39.30), and Wiegand in the 50 free (20.01). Myhre also snagged first in the 100 breast (53.92), while also taking 2nd in the 200 breast (2:00.25) behind Northwestern's Marcus Mok (1:59.74.) 
Northwestern was led by Ben Miller, who came away with wins in the 200 fly and 100 fly. He first beat teammate Tona Zinn by nearly 2 seconds to post a 1:47.33 in the 200, while swimming a 48.47 to win the 100 by a couple tenths. Aleksa Bobar and Tyler Lu picked up one win a piece for the Wildcats, with Bobar taking first in the 100 free (45.29) and Lu winning the 200 IM (1:47.45).
The diving events were split, with Northwestern's Henry Schirmer dominating 3-meter, while Wisconsin's Daniel Muller won 1-meter. 
SwimSwam: Northwestern Women Top Wisconsin By 24 Points; Northwestern Men Fall To Badgers 181-119