By Braden Keith on SwimSwam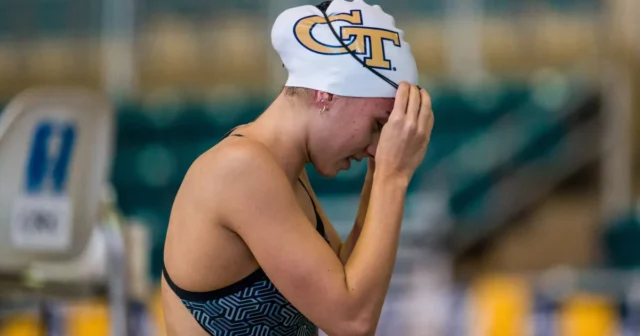 Georgia Tech freshman Deniz Ertan has entered the NCAA Transfer Portal, though she says she's not necessarily transferring. The Turkish national record holder says that she is "looking for possible options" for next season.
Ertan qualified for the NCAA Championships in her first season in the USA. There, she finished 39th in the 500 free (4:44.04) and 15th in the 1650 free (16:02.75) – both of which were short of her season bests.
She was Georgia Tech's only swimmer at the NCAA Championships, and her two points tied the Yellow Jackets for 39th place. Diver Anna Bradescu also qualified, placing 28th on platform.
Ertan was part of a wave of Turkish National Teamers who have come to the US to train over the last year-or-two. At least one other, Ece Tanriverdi of Pitt, has also entered the portal.
Ertan's Best Times in Yards:
200 free – 1:49.88 (dual meet) // 1:45.97 relay split (ACCs)
500 free – 4:38.04 (ACCs)
1650 free – 15:55.77 (ACCs)
200 fly – 2:00.75 (dual meet)
400 IM – 4:09.68 (Mid-season Invite)
Ertan is the Turkish National Record holder in the 200 fly in long course (2:09.34), though that wasn't one of her primary events this season at Georgia Tech.
Ertan's Best Times in Long Course Meters:
200 free – 2:00.68
400 free – 4:08.04
800 free – 8:24.94
1500 free – 16:13.22
100 fly – 1:00.26
200 fly – 2:09.34
200 IM – 2:14.15
400 IM – 4:40.45
Entering the NCAA Transfer Portal does not require an athlete to transfer; rather, it gives athletes the opportunity to discuss the possibility of a transfer with other programs.
SwimSwam: NCAA Qualifier Deniz Ertan Enters NCAA Transfer Portal to Explore Options