Q: FIRST AND FOREMOST, IS THE 2023 MC250 BETTER THAN THE 2022 MODEL?
A: Last year's 2022 GasGas MC250 two-stroke was a brand-new model from GasGas, but that is not exactly true. When GasGas introduced its 2021 model lineup the year before, they did not have the MC250 two-stroke, but they had an EX300 two-stroke and MC125 two-stroke.
So, even though the GasGas brand is in its third year of production (under the Austrian umbrella), the 2023 GasGas MC250 two-stroke is only in its second year. Why is that important? Because GasGas has no reason to make significant changes to a bike that was only one-year old, thus the 2023 GasGas MC250 is not better than the 2022 model because it is an exact clone of the 2022 MC250. However, that is not exactly true! If you look closely at the 2023 MC250, you will notice a dark drop-shadow under the GasGas logo on the radiator wing. That shadow is the only difference between the 2022 and 2023 models.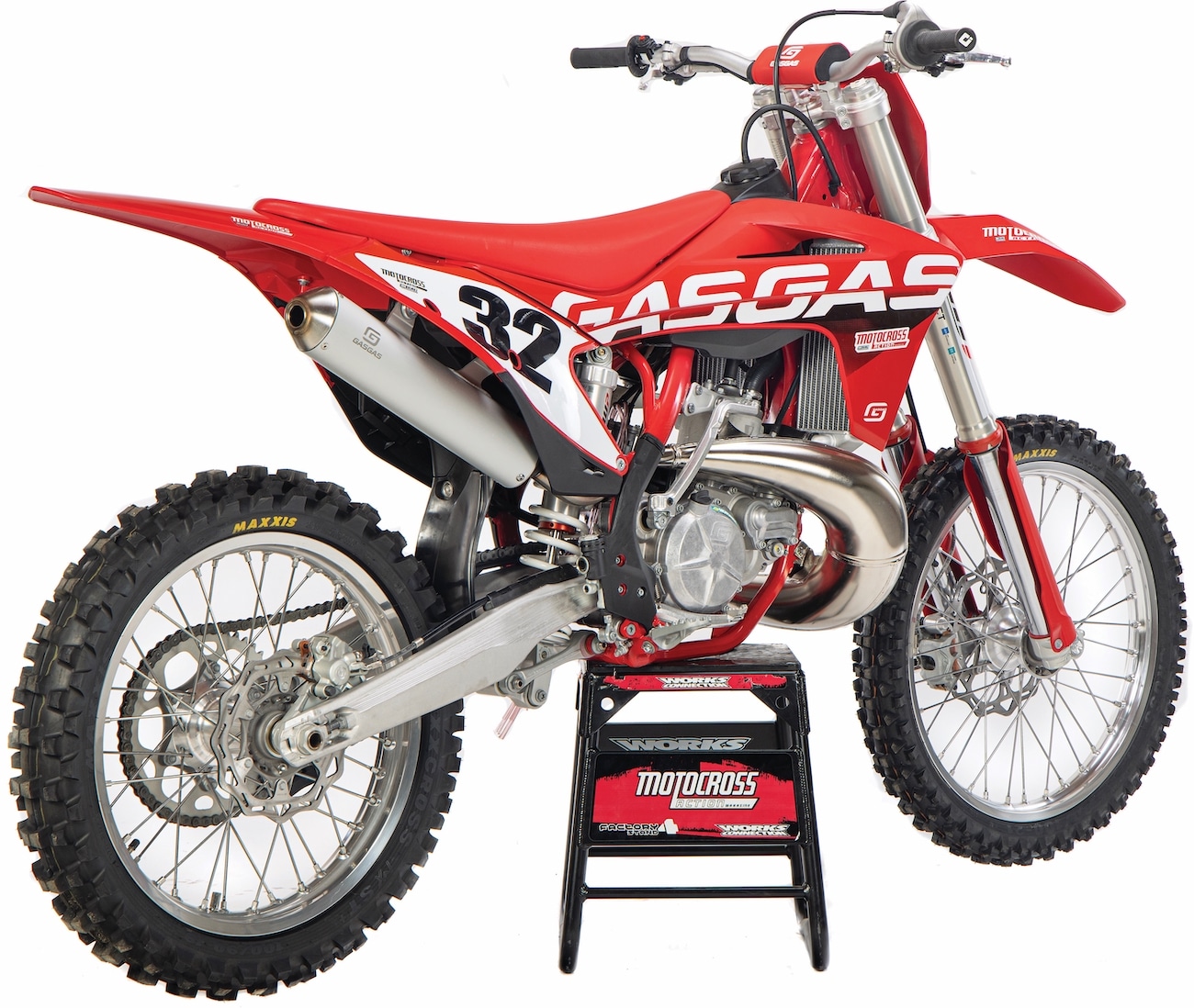 Q: WHAT MAKES THE 2023 GASGAS MC250 TWO-STROKE DIFFERENT FROM THE 2023 KTM 250SX?
A: It's no secret that KTM's current three-brand success is a byproduct of platform sharing. For those who don't know, platform sharing allows a manufacturer to use major components from one brand as the basis for another. Platform sharing saves money because the manufacturer gets the benefits of economy of scale, simplified parts outsourcing and assembly-line continuity.
In the case of GasGas in 2021 and 2022, it benefited from the engines, frames, swingarms, linkages, forks, shocks, hubs, brakes, footpegs and clutches that it shared with KTM and Husqvarna. Platform sharing gave GasGas a jump start into the American motocross marketplace in 2021-'22; however, for 2023, the GasGas MC250 is no longer platform shared with its Austrian brethren. It is a stand-alone machine with its own proprietary engine, frame, swingarm, shock linkage, shock and brakes. Well, actually, that is not exactly true! The 2023 GasGas MC250 does share most of its major components with KTM and Husky—just not with the 2023 250SX or TC250. 
Does that mean that GasGas carved its own path to differentiate itself from KTM and Husqvarna? No, it doesn't. Instead, KTM and Husqvarna carved a new path with their 2023 machines that included a totally new frame with a different swingarm and shock linkage. Additionally, the 2023 KTM 250SX and Husky TC250 got fuel-injection, electric starting and ECU-controlled, power-valve-equipped powerplants. 
In short, the 2023 GasGas MC250 is no longer platformed shared with the KTM and Husky two-strokes because Austria didn't share their newest platform with GasGas. The 2023 GasGas MC250 is the recipient of last year's running gear.
Q: IS OLD TECH GOOD OR BAD FOR THE 2023 GASGAS MC250 TWO-STROKE?
A: It depends on your point of view.
(1) Good. It's a good thing that the 2023 GasGas MC250 two-stroke is using the tried-and-true 2022 platform. First, it's not a "first-year model" with any teething problems. Riders know what to expect from it. Second, it doesn't take long to break in, is easy to ride, compliant over the bumps and nimble in the corners. Third, it has a track record of known qualities. That means that a 2023 GasGas MC250 two-stroke buyer isn't going to face unexpected pitfalls with relatively untested technology. Fourth, it has a 38mm Mikuni TMX carburetor, which every two-stroke veteran has a decent understanding of how to tune (or can easily find someone who does). This is not true with the 2023 KTM's and Husqvarna's fuel injection and ECU-controlled power valve. Fifth, the 2022 GasGas MC250 is the lightest two-stroke sold. At 212 pounds, the MC250 is 7 pounds lighter than its 219-pound, high-tech Austrian stablemates. And sixth, the MSRP is $8349—$600 cheaper than the $8949 KTM 250SX.
(2) Bad. It's a bad thing that the 2023 GasGas MC250 is stuck with old technology when it could have had the same fuel-injection, 39mm throttle body, electric starting, electronic power valve, anti-squat frame geometry and aluminum-polyamide hybrid subframe as its Austrian neighbors.
All of this modernization brings with it easier starting, close-to-perfect jetting, added over-rev, no fuss jetting (because there are no jets), and the ability to compensate for altitude and temperature changes in a blink. These obvious pluses are tempered by some negatives, which include the added weight of the heavier frame, increased break-in time of the stiffer chassis, the $600 upcharge over the MC250, and the starting system's battery, motor and gears. Most of all, if there is a jetting glitch, it can only be fixed by remapping the ECU. 
Q: HOW DOES THE 2023 GASGAS MC250 RUN ON THE TRACK?
A: The GasGas MC250 is two-stroke fast, which means abrupt, aggressive and angry. It requires the rider to stay on top of each gear by shifting as quickly as possible to keep up with each gear's lifespan.
The MC250's only readily available non-Austrian competitor is the Yamaha YZ250. For comparison, the GasGas MC250 comes on stronger and pulls harder into the midrange, where it needs to be short-shifted because it signs off early. It wouldn't hurt to gear it one tooth taller to calm down the low-end burst and spread out each gear to increase powerband usability. The YZ250 isn't anywhere near as strong from low to mid, but it has a broader powerband and considerably more revvability.
MC250 riders who are looking for more power either drill holes in the stock airbox cover or order an aftermarket vented GasGas airbox cover from UFO Plastics, but the vast majority of GasGas MC250 test riders aren't looking for additional throttle response down low. They are in search of more manageability.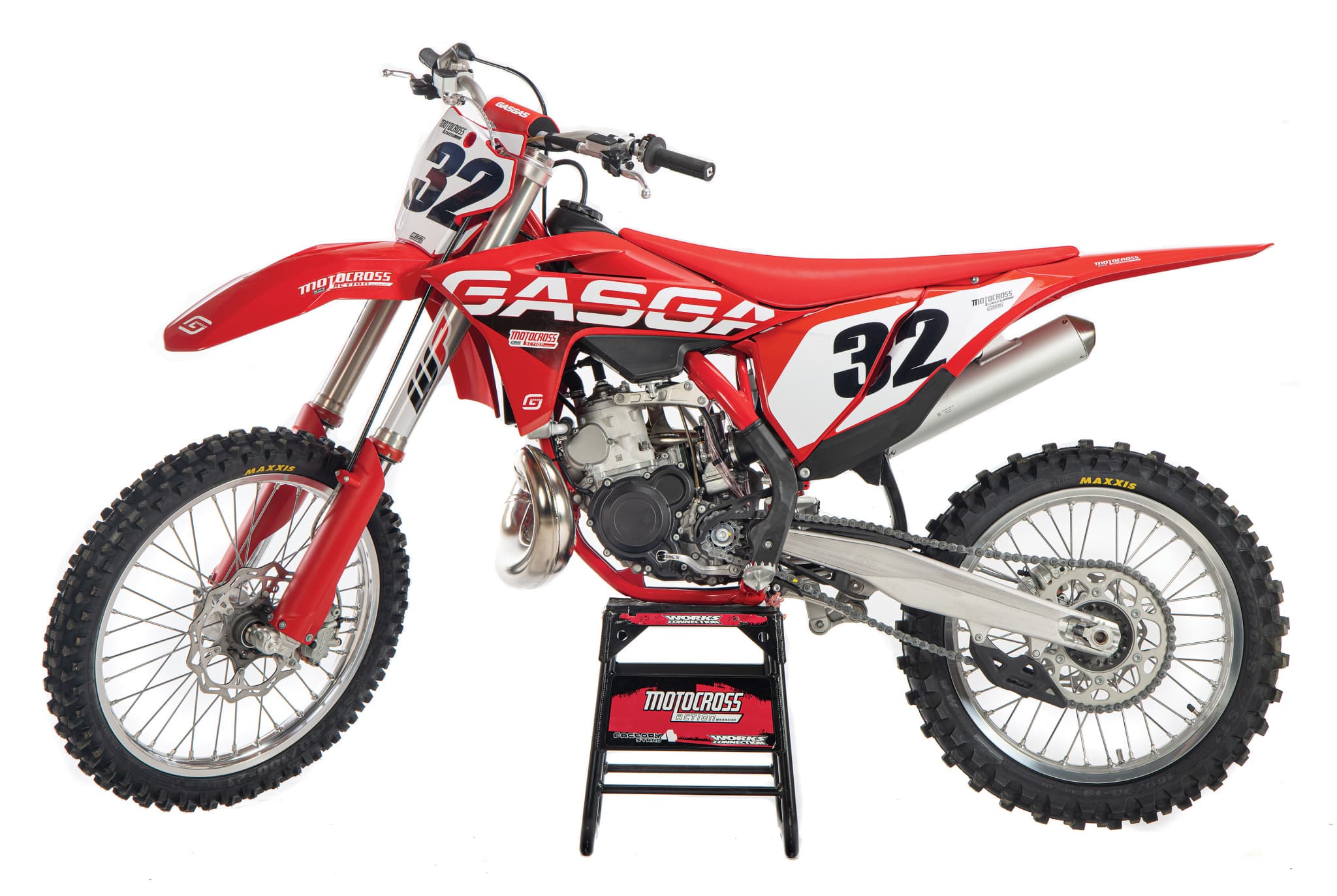 Q: HOW DO YOU ADJUST THE GASGAS POWER VALVE SETTINGS?
A: You need a square Robertson wrench to adjust the MC250's brass power valve screw, but this tool is hard to find in the pits. Your local GasGas dealer can sell you a small T-handle-shaped power valve tool from the PowerPart catalog; however, MXA test riders vastly prefer Kreft Moto's Powerdial 3.0 ($49.95). The Powerdial lets us adjust the power valve by hand. We start by turning it at 1/2-turn increments. Once we get close, then we fine-tune it in smaller 1/8-turn increments. 
The average setting for MXA test riders is found when we back the power valve adjuster all the way out, then turn it in 1-1/2 turns. This setting is snappy off the bottom but not so aggressive that it's difficult to corner. The best thing about the Powerdial 3.0 is its ability to change the power valve quickly and easily. Sometimes our Vet test riders turn the Powerdial in 2-1/2 turns to mellow out the bottom end, especially when the track gets dry and slippery.
To further customize the power characteristics, you can change the small auxiliary spring inside of the main power valve spring. Basically, the main power valve spring deter-mines at which rpm the valve opens, while the auxiliary spring determines how fast it opens once it gets to that rpm. GasGas provides three auxiliary power valve spring options when you buy the bike. The yellow spring is stock. The red spring allows the valve to open quicker, and the green spring makes it open slower.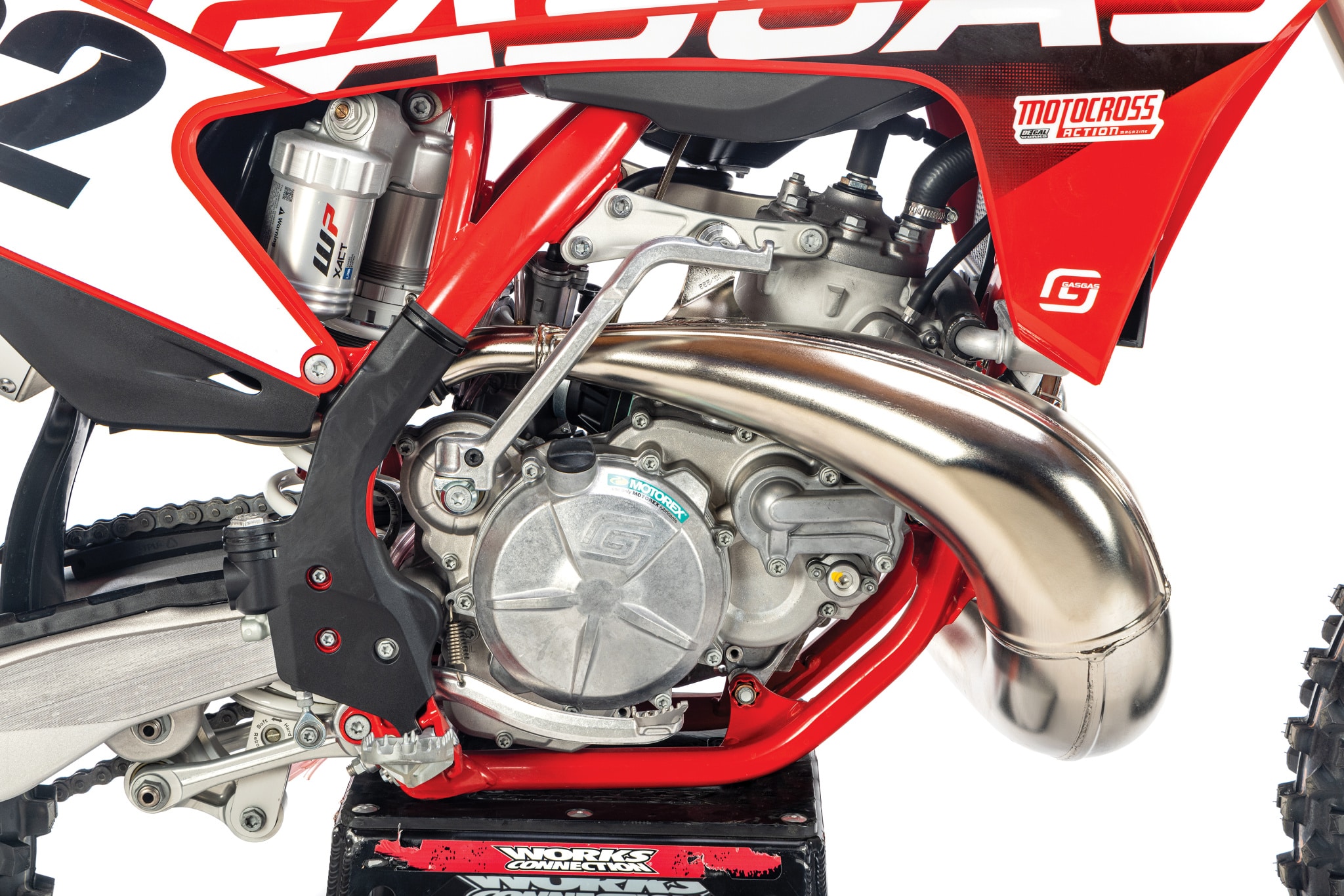 Q: HOW DOES THE 2023 MC250 HANDLE ON THE TRACK?
A: GasGas isn't interested in building a "red KTM." They want their bikes to appeal to a different market. Billed as the "Fun Brand," GasGas is trying to build a bike that is best suited to riders looking for something different and unique. The most obvious pandering is to the Vet and youth audiences that appreciate the lighter spring rates and valving settings on the forks and shock. Although the 42 N/mm shock spring on the MC250 shock is the same as on the KTM 250SX, the internal valving on the GasGas shock is softer. This allows the suspension to compress easier, giving it a plusher and more comfortable feel for riders who aren't hitting the bumps at full tilt. As for the forks, GasGas uses the basic WP XACT air fork but with lighter recommended air pressures and shim stacks that make the valving more absorbent.
Realistically, the GasGas MC250 two-stroke's softer suspension isn't designed to make top-level competitors happy. Why not? The soft suspension creates a harsh feeling for faster riders who charge into bumps at higher speeds, launch farther off jumps and hit the brakes harder coming into corners. The GasGas MC250's target buyer is a regular Joe who wants his suspension to move freely and the bike to be comfortable at speed. 
One of the unique aspects of all three Austrian two-strokes is that they feel more resilient, suppler and plusher than their orange, white and red corresponding four-strokes. MXA test riders, who complain about the rigid feel on the Austrian four-strokes, will go out on an Austrian two-stroke and feel right at home. It goes without saying that the 2023 GasGas two-stroke is more absorbent than the 2023 KTM 250SX or Husqvarna TC250—let alone their bookend four-strokes. It is super light, super agile and blessed with an engine that produces a ton of torquey, bottom-end grunt and plenty of midrange power.
Q: WHAT COMPONENTS SET THE GASGAS MC250 APART FROM ITS COMPETITION?
A: Remember, platform sharing between GasGas and KTM is not a major factor in 2023. The GasGas MC250 package has more in common with the 2022 KTM than it does with the 2023 model—and even then, the two have significantly different personalities. Here's a list of the parts that make the 2023 GasGas MC250 unique:
(1) Aesthetics. The GasGas has uniquely shaped red plastics with a different fuel tank to accommodate the GasGas shrouds. Plus, the GasGas has silver Neken handlebars, silver Takasago rims and a closed-off airbox cover.
(2) Triple clamps. The 2023 MC250's forged aluminum triple clamps have more in common with the forged clamps on Yamaha, Honda, Suzuki and Kawasaki dirt bikes than anything coming down the Mattighofen assembly line. KTM and Husqvarna have high-end, CNC-machined, billet triple clamps. The MC250's forged clamps have some positive and negative effects on handling.
(3) Bar mounts. For 2023, KTM got more intricately designed and rubber-cushioned bar mounts. The GasGas bar mounts bolt directly to the top clamp.
(4) Valving. The structural makeup of the WP XACT air forks is almost the same on all three Austrian two-strokes (save for HydroStop bottoming cones on the KTM and Husky). The biggest difference is that GasGas' damping is valved much softer.
(5) Shock. KTM's all-new, anti-squat frame uses a much shorter shock with finger-adjustable damping clickers. The GasGas shock is 15mm longer and is tool adjusted.
(6) Tires. The GasGas comes with Maxxis MaxxCross MX-ST tires, while Husky and KTM get Dunlop MX33s. 
Q: ARE THE WP XACT AIR FORKS ANY GOOD? 
A: Yes. But they are only good for riders who understand how air forks work and are willing to take the time to set them up. The 2019 and 2020 WP air forks were good but not great. The 2021-2023 XACT air forks were re-engineered with creative air and oil bypass holes and a longer bypass notch to "blow-off" built-up pressure in the forks. Along with the innovative "trampoline valve," the new XACT forks have a smooth and controlled action that starts off plush at the top of the stroke and gets stiffer as the fork compresses.
Surprisingly, WP is selling its own version of a coil spring conversion kit for its air forks to compete with other aftermarket spring conversion kits and to satisfy the "no air forks at all costs" attitude that many consumers have. But, even after testing the WP spring conversion forks back-to-back with the WP air forks, MXA prefers air. They're ultra-plush on top. They settle into corners easily' which inspires confidence' and they're 3 pounds lighter than coil spring forks.
The GasGas MC250 WP forks have softer valving than its KTM or Husky brothers.Q: ARE THE FORGED ALUMINUM TRIPLE CLAMPS ANY GOOD?
A: In addition to the softer suspension settings, the forged aluminum triple clamps on the GasGas allow for more flex in the front end. This softens the blow of chatter bumps, creating a smoother ride and lessening feedback from the front wheel. We admit that on the GasGas MC450F and MC250F four-strokes, we had issues with the front end feeling "vague" in corners. It wasn't as precise on corner entrance as with the stock KTM clamps or as accurate as with aftermarket Luxon MX or Ride Engineering clamps. The forged clamps would want to push out, whereas the CNC-machined clamps would track the arc perfectly. 
It should be noted that the vague feeling was less of an issue on the GasGas MC250 two-stroke than on the heavier MC450F four-stroke. With two-stroke engines having a strong "hit" of power with practically no engine braking, the rear wheel drives the bike with less input from the front wheel. The absence of engine braking is why two-strokes usually have softer fork settings than four-strokes. With those physics in play, the stock forged aluminum triple clamps weren't as big of a difference on the GasGas two-stroke when compared to the CNC-machined KTM/Husky clamps.
As a backyard solution, we upped the torque settings on the triple clamps to 20 N/mm on the top clamp and 15 N/mm on the bottom (which is tighter than the recommended KTM/Husky settings). This helped bring back some of the front-end accuracy.  
 Q: WHAT DID WE HATE?
A: The hate list:
(1) Bar pad. The mini bar pad looks awkward and feels dangerous. The only nice part is that it's super easy to take on and off.
(2) Brake-pedal spring. On the 2023 GasGas, the spring that attaches to the rear brake pedal will either fall off or break off over time. We always turn this spring around, so our boot won't catch on the exposed tang and push out it of the pedal. We typically replace the stock brake-pedal spring with a Honda rear brake spring. On the 2023 KTM 250SX and Husqvarna TC250, the rear brake spring is repositioned to a laid-down angle to keep the spring from breaking.
(3) Spokes. As always, the spokes next to the rim lock come loose quickly, especially when breaking the bike in. Check them each time you ride.
(4) Over-rev. KTMs are famous for their ability to rev to unheard of rpm; however, the GasGas MC250 could use a lot more rev, because our left foot gets tired of shifting.
(5) Tires. The Maxxis MX-ST tires aren't horrible on the track, but the durability is low. We started chunking knobs if the rear tire spent too much time on hard terrain.
(6) Bleed screws. WP, please change the fork's bleed screws from Torxs back to Phillips screws.
(7) Preload ring. The plastic preload ring needs to be beefed up; it gets chewed up easily. The preload rings on the 2023 KTM and Husqvarnas are much better at their job.
(8) Fork adjuster. The thin, short fork clicker adjuster hurts your fingers after a few clicks.
(9) Sprocket bolts. Watch them for as long as you own the bike.  
Q: WHAT DID WE LIKE?
A: The like list:
(1) Weight. At 212 pounds, the GasGas is ultra-light and easy to maneuver around the track, carving from inside to outside perfectly.
(2) Suspension. The WP XACT air forks and shock are perfect if you're a Vet rider or if you're light.
(3) Gearing. We like the 14/49 gear ratio, but MXA test riders varied back and forth between stock gearing and one tooth taller 14/48 gearing.
(4) Brakes. We have seen 2023 GasGas models with Braktec hydraulics spec'ed instead of the normal Brembo components, but our test 2023 GasGas MC250 had Brembo clutch and brake master cylinders and Brembo levers and clutch slave cylinders.
(5) Aesthetics. The red plastics and red frame can't be beat. Modern-day Hondas and GasGas' always get attention in the pits, especially when they're brand new.
(6) Power valve. We appreciate that we can customize the power for each rider and track on the GasGas MC250.
(7) Oil change. The MC250 doesn't have a sight glass for checking oil height like on the four-stroke models. Instead, it has an oil-level monitoring screw located behind the rear brake spring. Remove the spring and take the 8mm bolt out; if a small amount of oil comes out, you're good.
(8) Maps. Although we often forget to mess with them, the GasGas has adjustable maps. To change maps, you have to unplug the white male/female connector under the left side of the gas tank to access a mellower map.
(9) Radiator cap. The GasGas MC250 comes stock with a 1.8 radiator cap. We wish the Japanese brands would run this cap on all of their motocross bikes. 
Q: WHAT DID WE REALLY THINK?
A: We don't know how to break it to you, but this is probably the last year that there will be a carbureted GasGas two-stroke in either 125, 250 or 300 displacements. We had hoped that GasGas would be smart enough to recognize that the majority of riders who buy two-strokes don't want a more complicated, more expensive, heavier, fuel-injected smoker. Two-stroke guys aren't the same as four-stroke motocross racers; they love their carburetors!
GasGas should make its bikes match the mindset of the potential buyers—not try to change their mindset.
MXA'S 2023 GASGAS MC250 SETUP SPECS
This is how we set up our 2023 GasGas MC250 for racing. We offer it as a guide to help you find your own sweet spot. 
WP XACT AIR FORK SETTINGS
We always recommend using a zip-tie to find your correct air pressure setting. Then, once you find the air-pressure number that brings your forks to within 1-1/2 inches of bottoming out, start messing with the compression clicker until you're comfortable. For hardcore racing, we recommend this fork setup for the 2023 GasGas MC250.
Air pressure: 10.4 bar (151 psi)
Compression: 8 clicks out (for Intermediate and up), 12 clicks out (for slower or lighter riders)
Rebound: 10 clicks out (18 clicks out for slower or lighter riders)
Fork height: 2nd line
Notes: As a rule of thumb, don't start playing with your air pressure or clicker settings until you set the air pressure for your weight, check the tire pressure, and bleed the air out of the little Torx head bolt on both fork caps. Also, on a hot day, your forks will gain pressure over time. Check the pressure periodically throughout the day, especially if it's hot out. We're confident that you'll love the new WP XACT suspension if you set your air pressure and use the clicker to control the damping. 
WP REAR SHOCK SETTINGS
The WP XACT rear shock is easy to feel comfortable on. For hardcore racing, we recommend this shock setup for the 2023 GasGas MC250 (stock specs are in parentheses):
Spring rate: 42 N/mm
Hi-compression: 1-1/2 turns out (2 turns out)
Lo-compression: 14 clicks out
Rebound: 14 clicks out
Race sag: 105mm
Notes: The stock MC250 settings are better for Novice and Vet riders because they are softer. If you are fast or heavy, you'll need to go in on the clickers, switch to a 45 N/mm spring or send your suspension off to get it sprung and valved for you. 
MIKUNI TMX 38 JETTING SPECS
The stock GasGas MC250 jetting worked great for us on our SoCal tracks. Obviously, there will be some air screw, needle or pilot adjustments needed for your local elevation, humidity and temperature. The suggested pre-mix ratio, per GasGas, is 60:1. MXA normally runs Maxima K2 at 40:1, but we tested 60:1 and it was crisper. Still, we often travel with more than just one two-stroke and rather than carry different ratios, we opt for 40:1. Here's what we ran in our Mikuni TMX 38 carburetor:
Main jet: 450
Pilot: 35
Needle: 6BFY42-71
Clip: 3rd
Air screw: 1-1/2 turns out
Notes: If the bike is hesitant off the bottom, try adjusting the air screw. Have someone hold the throttle at 1800 rpm while you turn the air screw in and out. When the engine's idle reaches its highest peak rpm, that is where the air screw should be.

MXA RACE TEST: THE REAL TEST OF THE 2023 GASGAS MC250 TWO-STROKE Motocross Action Magazine.