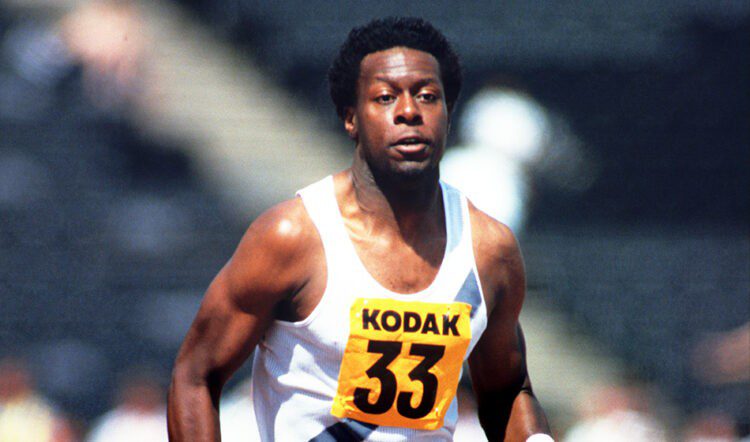 Olympic sprint relay silver medallist and Commonwealth 200m champion was also a brilliant and respected coach
Mike McFarlane, the 1980s sprints icon and much-admired coach, has died aged 63.
McFarlane won Olympic 4x100m silver in 1988 and European indoor 60m gold in 1985 representing Great Britain, but he was best known for finishing joint first in his English vest with Olympic 100m champion Allan Wells in the 200m at the 1982 Commonwealth Games.
In an epic race in Brisbane, Australia, both men clocked 20.43 and officials were unable to separate them on the photo finish, ultimately awarding them both the gold medal.
In later years Mac, as he was affectionately known, enjoyed great success as a sprints coach but suffered a heart attack in recent days and was unable to recover in hospital.
"Everyone at UK Athletics is saddened to hear of the passing of Mike McFarlane, the Olympic silver medallist and highly respected coach," the national governing body. "All our thoughts go to his family and friends at this time."
Kath Merry, the Olympic 400m medallist and broadcaster, said: "A wonderful coach and a super athlete. How sad. No age at 63. Always a smiling face. He will be missed."
Jeanette Kwayke, former UK 60m record-holder, added: "Coaches like Mac played such an important role in the lives of so many of the boys I grew up in the game with."
As a teenager McFarlane won a hat-trick of English Schools 200m titles from 1975-1977. Indeed, his wind-assisted winning time of 20.9 in the senior boys' race at the 1977 event in London still stands as a championship best today.
Such talent led him to the top of the podium at the same distance at the European Under-20 Championships in Bydgoszcz in 1979 and he earned a spot on the AW front cover shortly afterwards.
At a time when Newcastle and Arsenal striker Malcolm MacDonald – AKA 'Super Mac' – was national headlines due to his speed, British athletics had its own super Mac who was even quicker. Coached by John Isaacs at Haringey, McFarlane's brilliance acted as a catalyst for the revival of British sprinting in the 1980s.
In 1984 he took the UK 100m title in Cwmbran ahead of Buster Watson and Donovan Reid and went on to finish fifth in the Olympic 100m final in Los Angeles where he rubbed shoulders with multiple gold medallist Carl Lewis.
The following winter he won the European indoor 60m crown in Athens in 6.61 ahead of Antoine Richard of France and Ronald Desruelles of Belgium, but he will go down in history as one of Britain's greatest bend runners on an outdoor track.
It is this ability that saw him combine with Elliot Bunney, John Regis and Linford Christie at the 1988 Seoul Games when the GB quartet – with McFarlane on the third leg – took silver in 38.28, less than one tenth of a second behind the Soviet Union.
McFarlane's career wound down in the late 1980s and he ended his career with PBs of 10.22 (10.08w) for 100m and 20.43 from the famous Commonwealth final before going on to help future generations of athletes.
Rob Draper, a former athlete who went on to be chief football writer at the Mail on Sunday, said: "Mac was a superbly-gifted coach and underused in this country at times, especially in the last decade. He coached a clean Dwain Chambers to 9.97 and world 100m bronze in 1999, a trailblazing performance for that generation of sprinters. No one knew more about sprints in the UK than him and Linford Christie.
"But he was so much more than a great coach: he was a husband to Joanne and father to Ryan. His charisma filled a room. He was a loyal friend and straight talker.
"He worked incredibly hard, coaching world-class athletes like Chambers, Julian Golding and Tony Jarrett whilst working for the Duke of Edinburgh award scheme. More recently the likes of Jodie Williams and Desiree Henry benefited from his advice.
"My memory of him will be stood with stopwatch at New River Stadium on a dark, cold night, his squad complaining about 300m reps and Mac pushing them on through the pain."
With social media increasingly awash with tributes, Newham & Essex Beagles said: "Mike's extraordinary contributions to the world of athletics have left an indelible mark, and his loss will be felt deeply by the entire sporting community.
"His exceptional achievements as a sprinter were an inspiration to countless individuals around the world. His dedication, unwavering determination, and remarkable talent propelled him to the pinnacle of athletic success. His legacy as a sprinter will continue to motivate aspiring athletes for generations to come.
"Moreover, Mike's subsequent career as a coach has been equally remarkable. His passion for nurturing young talents and imparting his extensive knowledge and experience to others made him a revered figure in the field of sports coaching. His guidance and mentorship have undoubtedly shaped the lives and careers of many athletes, instilling in them the values of discipline, resilience, and the pursuit of excellence."
» Subscribe to AW magazine here
Mike McFarlane, super Mac of the GB sprints scene, dies aged 63 appeared first on AW.