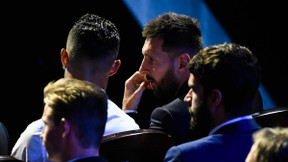 At the end of the contract next June with PSG, Lionel Messi does not miss an opportunity for his future. The World Champion could notably bounce back in Saudi Arabia and more precisely on the side of Al-Hilal. But while the craziest figures are circulating, the Argentinian should not receive more than Cristiano Ronaldo.
Lionel Messi's future has been a hot topic lately. And for good reason, his contract at PSG ends next June, and while an extension remains in the pipeline, a departure cannot be ruled out. And for good reason, several options would be available to him, especially in Saudi Arabia.
PSG: In Spain, a huge announcement is dropped on Messi https://t.co/ihmTmDF4K2 pic.twitter.com/zKmWc3cZCZ

— 24hfootnews (@24hfootnews) March 15, 2023
Same salary for Messi and Ronaldo?
And while some rumors have circulated that Lionel Messi demanded €600m to sign for Al Hilal, MARCA categorically denies and ensures that number 30 of the PSG does not ask for a salary higher than that of Cristiano Ronaldo. Indeed, the two stars would have exactly the same salary if Lionel Messi landed in Saudi Arabia.
A difference in the duration of the contract
The Spanish media adds that there is only one difference between the two contracts, namely the duration. Indeed, while Cristiano Ronaldo signed for two and a half years to Al Nassr while Lionel Messi to sign up for a single season.
Messi receives an offer, Cristiano Ronaldo can breathe 24hfootnews.