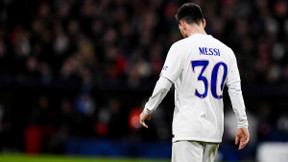 While the idea of ​​a return to FC Barcelona is starting to seriously gain credibility for Lionel Messi, Gerard Pique has not hidden his desire to see La Pulga return to Catalonia. It must be said that the Argentinian's contract ends next June with PSG, and an agreement for an extension is slow in coming.
After the World Cup, the extension of Lionel Messi seemed like a mere formality since an agreement in principle had been reached with the PSG. Nevertheless, the formalization is slow to materialize and both parties seem to have taken a step back and it is no longer guaranteed that Lionel Messi either a player PSG next season.
PSG: Concern for Messi, a first response falls https://t.co/LXDc4I7c6e pic.twitter.com/lxSILCqFmp

— 24hfootnews (@24hfootnews) March 24, 2023
Pique challenges Messi
Therefore, a possible return to FC Barcelona, two years after his departure, is more and more talked about. And such an operation obviously has its supporters, like Gerard Pique. For live Twitch of Gerard Romerothe former Barça defender assures that he " would very much like Messi to return to Barca ".
"If Laporta takes the step…"
For his part, Sergio Agüero gives important details on a possible return of his friend to Barcelona: If Laporta makes the move, I think he will be closer. Messi was born at Barca and is expected to retire at Barcelona. Now I give her a half chance of coming back ".