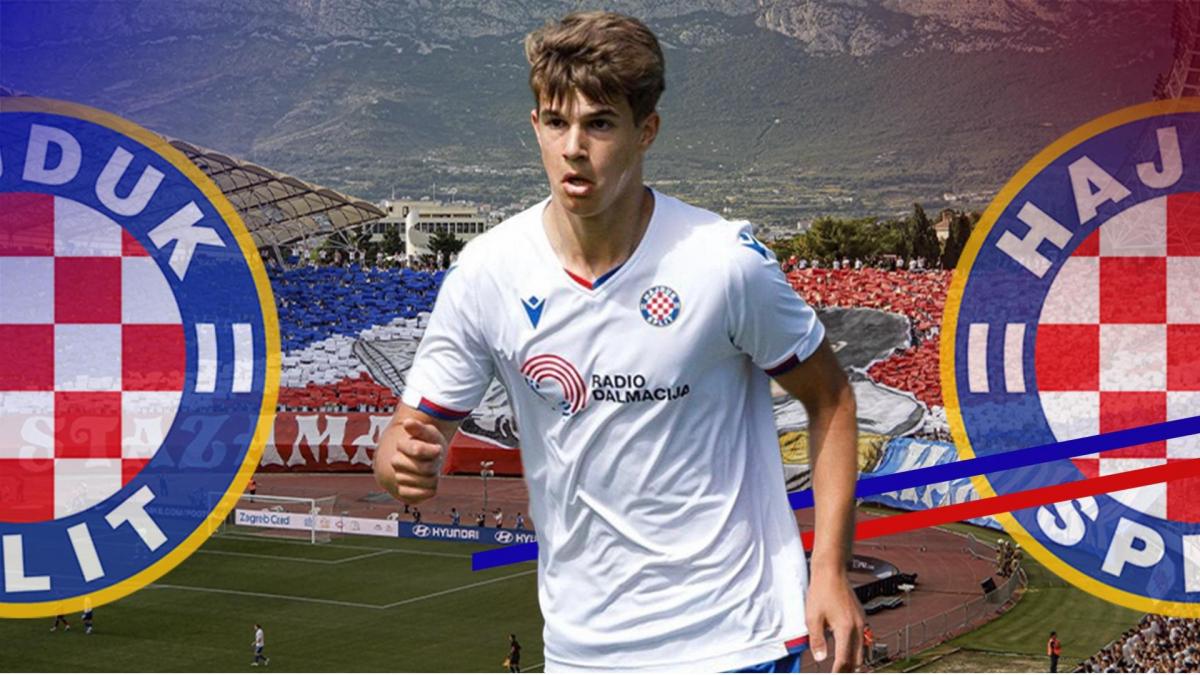 He's a central defender, he's young, he's Croatian, he appeals to the best European clubs and no, it's not about Joško Gvardiol. If the latter performs as well at RB Leipzig as in selection and will be one of the main players in the next windows of the transfer market, one of his compatriots will also animate the coming months. While he has just celebrated his 16th birthday since he was born on February 24, 2007, Luka Vušković is a hit with Hajduk Split. A central defender who can also play as a sentry, this 1m93 colossus is already a Croatian U17 international and his brother Mario (21) is a Hamburger SV player and trained at Hajduk Split. His father Daniel had also worn the Hajduk Split jersey, as had his late grandfather Mario, while his great-grandfather Marko had a leadership role within the club and even played three matches in the 1940s. Football? A family story for the Vuškovićs. Author of a resounding start to the season with the U19 team Hajduk Split (6 goals in 13 matches when he is a central defender), he was also invaluable in the Youth League where he participated in the epic his own, who are still in the race for the quarter-final stage (2 goals in 4 matches played). It is logical that he signed his first professional contract with the 2nd in the Croatian championship.
What's next after this ad
Thus, he has committed until June 2026. "It's a great feeling that I will continue to be part of this big family. I've been here all my life, I remember the first days, the first goal for Hajduk, everything I went through at the Academy. I'm happy to have been able to help my teammates so far.", he explained after signing the contract. In the process, he joined the first team directly by becoming a starter. Launched into the deep end against Dinamo Zagreb, he had a complicated first in a 4-0 defeat. The next league match against NK Lokomotiva was no more successful with a 4-3 loss. "Vušković has a lot of things. He is a great talent, and he will play good and bad games. We have to endure this and find solutions.", will also explain the coach Ivan Leko after this last meeting against Lokomotiva. If he pays for the bad dynamic of his people, he has meanwhile distinguished himself against Osijek on March 1 by scoring in the quarter-finals of the Croatian Cup in a 2-1 victory. Becoming the youngest goalscorer in the history of his club at 16 years and 5 days and thus erasing the previous record held by Fran Brodić, Luka Vušković treated his first team debut. "Scoring a goal in a game like this is a really nice feeling. I'm happy about it, but even happier that we won."he blurted out at the Croatian club website after the match. He has since enjoyed the league victory against Osijek where he still played 90 minutes (2-0).
To read
LdC: the ovation of the Etihad Stadium for the exit of Haaland
Beautiful people on the lookout
Already announced as one of the great talents to come in Croatian football, Luka Vušković already has concrete objectives at the end of the season, namely to go as far as possible in the Youth League and continue to make his mark in the first team. A Hajduk Split club which could quickly become too small for him since the suitors are positioning themselves. Thus, AC Milan, Atlético de Madrid, Manchester City, Paris Saint-Germain or even Real Madrid have been mentioned as clubs interested in the player, obviously with a stint in their reserve team. Now represented by one of the most influential agents in the world, namely Pini Zahavi, Luka Vušković will be spoiled for choice and Hajduk Split will not close the door to a departure, as announced by President Lukša Jakobušić in comments collected by Index : "It's a club project, otherwise we wouldn't have signed him for three years. Do you think it was easy? I also thank his father, I have not met his mother. Would I sell it? If a good offer comes, we would definitely sell it. For how much ? If he's the best, it must be the biggest offer. If he's the biggest talent, and the numbers are in his favor. His family is relaxed and he can devote himself to football and enjoy it. If an offer comes in, they'll consider it. If it will be good for the club… If it does not exceed Nikola Vlašić's 8 million euros (club record sale, when he left Everton in the summer of 2017, editor's note) then it is not good. »
What's next after this ad
The Croatian press has also explained that last January, an offer of 8 million euros would have been rejected by the club which intends to raise the stakes and wants to take advantage of its outbreak also sportingly. Former Croatian international Samir Toplak also told Index that he intended to see him stay a bit in the country before taking the plunge: "Clubs like PSG want such talented kids only because they are ultra-young. […] I am not in favor of that. Croatia is a very small country. It's never too late for a good player to leave. Let him mature as much as he needs to, and then get into a big club through the big door, not the small one. We had the examples of Halilović (FC Barcelona), Ćorić (AS Roma), Palaversa (Manchester City)… These are all purchases: "Let's take it and if it explodes, it explodes." Vušković has time. If he performs well at the Hajduk, he will have a great chance of becoming a member of the national team today or tomorrow, which opens the door to the big clubs.
Comments also shared by his former coach, Roko Kurtović: "He was already extremely dominant in those younger categories. Not only physically, but also as a player, in the technical aspect of football. I agree with coach Leko, I've never seen a 16-year-old play as well as Luka Vušković. His attitude towards work is phenomenal. He does every training session at the Hajduk as if it were the last. […] In my opinion, it would be better for him to play a few seasons in the Hajduk jersey. Not just for him, it's the best for every young player. Unfortunately, it happens that they leave very young. It is undeniable that he is an exceptional talent, but it is undeniable that there will be mistakes over time. Promised to a great future, Luka Vušković presents himself as one of the most talented players in his position to emerge and the battle to win his services already promises to be particularly fierce…
Pub. THE
update the
Luka Vušković, the Croatian nugget who caught the eye of the best clubs in the world 24hfootnews.