By James Sutherland on SwimSwam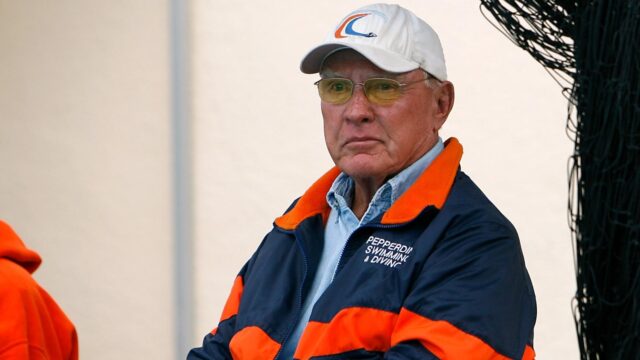 Nick Rodionoff, the former head coach of the Pepperdine swimming & diving program, died last Friday. He was 87.
Rodionoff served as the head coach of the Pepperdine women's swim & dive team for 18 seasons spanning from 2000 to 2018, having first come to the school in 1974 as the coach of the men's diving team. In 1987, he established the women's diving program at the school, which went undefeated for five years.
Prior to joining the Waves, Rodionoff served as the diving coach at UCLA from 1964 to 1974.
Since taking over as Pepperdine head coach in 2000, Rodionoff guided the Waves to 14 top-five finishes at the Pacific Collegiate Swim & Dive Conference Championships, with their best-ever finish under Rodionoff (tying the best-ever) coming in 2008, when they placed second.
Rodionoff was named PCSC Coach of the Year in both 2002 and 2009, and he guided seven different women to 12 conference titles and four women to six NCAA Championship berths. He also led Jessica Mosbaugh to back-to-back PCSC Division I Swimmer of the Year titles in 2014 and 2015.
Obituary courtesy of the Rodionoff family:
The swimming and diving world has lost one of its most influential and beloved coaches with the passing of Nick Rodionoff. Son of Sergei Rodionoff, an accomplished musician and composer, and Maria Rodionoff, an opera singer, Nicholas Sergei Rodionoff was born in Los Angeles, California on May 22, 1935.
Nick attended Canoga Park High School and went to Occidental College on a football scholarship, where he joined the Alpha Tau Omega fraternity and participated in diving, football and track and field. He captured the conference diving title in his senior year of competition. After graduating, Nick started teaching full-time at Porter Junior High and coached the "Puddle Jumpers" after school – a team that got their name from working out at different pools all over the city. After leaving Porter Junior High, he coached diving at UCLA from 1964 to 1974, and became the swimming and diving coach at Birmingham High School, where he would create a dynasty that would boast 31 league championships. In recognition of his remarkable contribution and record, the pool at Birmingham High was renamed The Nick Rodionoff Pool in his honor. Nick coached 36 high school All-American Champions at Birmingham before leaving to become the full-time swimming and diving coach at Pepperdine in 2000, where he led the Waves to 14 top-five finishes at the Pacific Collegiate Swim and Dive Conference Championships.
In 1974, Nick was named to the International Swimming and Diving Hall of Fame. In 1999 he was the recipient of the Fred A. Cady Memorial Coaches Award, which is presented biannually to coaches who have dedicated 25 or more years to diving while developing outstanding talent in the U.S. National Diving program and international competition, including the Olympic Games. Nick was also inducted into the National High School Coaches Hall of Fame in 2004 and is only one of two swimming coaches to have received that honor. One of his greatest achievements was being the only coach in the United States to have coached both swimming and diving National Champions. In 2021, Pepperdine renamed the Malibu Invitational Swim Meet to the Rodionoff Invitational in his honor. Many of the athletes who have been coached by Nick speak of the profound positive impact that he's had on their lives.
Nick was also well-known as an incredible photographer. His photographs often graced the front page of Malibu's Surfside News, and every year he looked forward to showing his latest photos at the annual Malibu Art Show, where he enjoyed catching up with old friends and people always knew where to find him because his display was built around his "Woody" station wagon. Nick loved the outdoors and spent all his free time at the beach or in the mountains. If he wasn't skiing or surfing, he was taking pictures.
On September 7, 1968, Nick married the love of his life, Carolyn (Carrie) Theresa Bentley. They met while Nick was coaching, and Carrie was being trained to become a swim instructor and assistant coach. This was the beginning of a truly great love story that would last for more than 50 years. Nick leaves Carrie Rodionoff, his wife of 54 years; his son, his daughter, and four grandchildren.
Nick had a quiet strength that was comforting to all who knew him. He was an eternal optimist with a great sense of humor, and he was a man of beautiful faith. His compassion, strength and integrity are a legacy that will be cherished by all who had the privilege of knowing him. The family is planning a private service. In lieu of flowers, the family suggests that donations be made to the Nick and Carrie Rodionoff Endowed Fund at Pepperdine University.
SwimSwam: Longtime Pepperdine Coach Nick Rodionoff Dies At 87