By Coleman Hodges on SwimSwam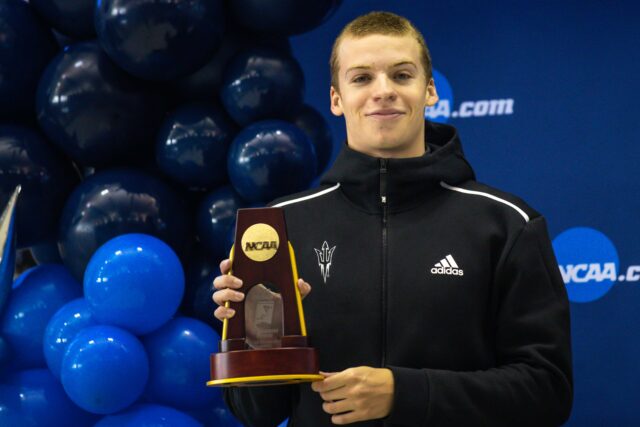 This week on the SwimSwam Breakdown, we discuss Leon Marchand's NCAA record in the 400 IM, UVA's event lineup for NCAAs, and suiting up at dual meets. See full list of topics below:
0:00 SwimSwam Breakdown Introduction
0:55 ASU Dual Meet Initial Thoughts
2:43 Leon Marchand 3:31 400 IM in January – How do you contextualize that?
10:03 Sink or Swim Suiting Up for Dual Meets?
19:40 What is the ideal NCAA Event Lineup be for G Walsh, A Walsh, and Kate Douglass?
SINK or SWIM
25:04 Is seeing top times in January going to be a new trend in the NCAA?
32:30 Will Bob Bowman be tabbed for the head Olympic coach in 2024 or 2028?
38:57 Will Kyle Chalmers Swim other individual events at the 2023 World Champs besides the 100 free?
42:50 If you could pick ONE current college swimmer, male or female, to start an NCAA team around, who would it be?
SwimSwam: Leon Marchand, UVA Lineups, & Suiting for Dual Meets | SWIMSWAM BREAKDOWN