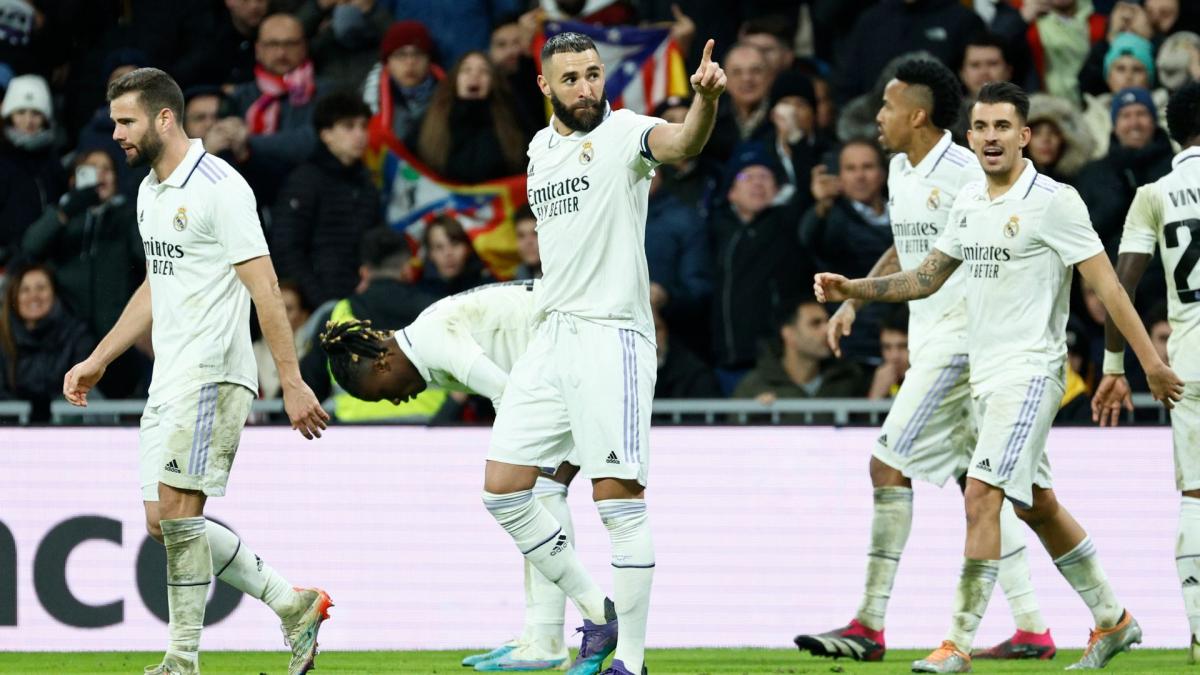 What's next after this ad
Real Madrid and Paris Saint-Germain have the same hassle. As the UEFA Champions League Round of 16 draw near, both sides struggle with several injuries. On the French side, Neymar, Sergio Ramos and Kylian Mbappé, who is already forfeited to face Bayern Munich, are worrying. On the Spanish side, David Alaba, Ferland Mendy and Lucas Vazquez are currently on the flank. A long list to which were added Eder Militão and Karim Benzema, touched yesterday during the meeting against Valencia (victory 2 to 0).
Benzema is out through injury
However, the evening had started well for the Ballon d'Or 2022. Double decisive passer, he delighted Vinicius Jr and Marco Asensio. But in the 59th minute, the French asked to leave the field, he who seemed touched after a strike. Carlo Ancelotti acceded to the request of his captain, who went directly to the locker room, touching the back of his thigh. An injury that his coach would have done well knowing that the calendar is busy this month with 5 more games to play, including the shock against Liverpool in C1.
To read
Liga: Real Madrid tames Valencia but loses Karim Benzema to injury!
But Ancelotti was rather reassuring after the match. "Militão's injury seems a bit more serious than Benzema's, which is more benign. We will assess him tomorrow (Friday), but it is certain that Militão will not be there on Sunday. No risk will also be taken for the 35-year-old striker whose presence against Mallorca on Sunday is not yet assured. Despite everything, the state of form of KB9 worries the Iberian press. It is not the physical glitch suffered yesterday that raises questions but the multiplication of his injuries this season knowing that he has no real replacement capable of taking on his role as attacking leader.
What's next after this ad
The Spanish press is not reassured
AS discusses the subject this Friday: "Concerning the striker, this is his third injury this season. He was injured in Glasgow, weeks later there was his 'muscle fatigue' and now this one. At the moment, we don't know exactly what he has, but we know when he felt pain for the first time: a bit during the second half. He quickly touched his knee and looked at the bench, asking for the change. Ancelotti brought in Rodrygo and the Frenchman headed for the locker room tunnel, limping badly and emotionally very touched. Continually shaking his head."
Defense Central also spoke about the Benzema case. "The French striker is injured at a key moment of the season (…) Karim is having a more difficult season than the previous one, the injuries seem to have weighed him down physically. Of course, his stats aren't bad. The Frenchman continues to be the reference for Real Madrid (…) Benzema had been playing every game since the return from the World Cup, it seemed that he had left his injuries behind him… but his body once again said that it enough was enough. Karim's role with Real Madrid is essential, and now there are very important challenges and matches ahead." Touched three times, KB9 hopes to no longer be bothered by physical problems and lead Madrid to the heights as he knows how to do so well.
Pub. the
update the