By Sophie Kaufman on SwimSwam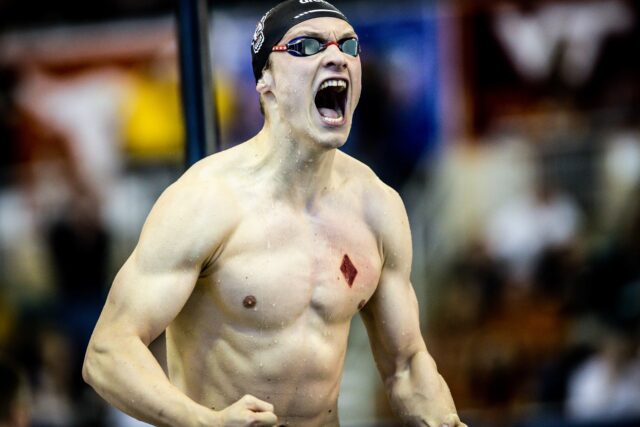 NC STATE VS. TEXAS – DAY 2
January 28, 2023
Lee & Joe Jamail Texas Swim Center – Austin, Texas
SCY (25 Yards)
Over the last week, we've seen multiple swimmers put up NCAA leading times during their January dual meets. Kacper Stokowski is the newest addition to that list, swimming 44.79 in the 100 backstroke at the Texas vs. NC State dual meet to take over the top time in the nation this season.
He swam the mark leading off NC State's winning 400 medley relay (3:04.22). Earlier in the session, he won the individual event in 45.63, just .03 seconds ahead of teammate Aiden Hayes.
Top 5 Men's 100 Back Times, 2022-23 Season as of 1/28/23
Kacper Stokowski (NC State) — 44.79
Destin Lasco (Cal) — 44.88
Bjorn Seeliger (Cal) — 45.23
Jack Dolan (ASU) — 45.25
Nate Stoffle (Auburn) — 45.26
The Polish Olympian is the defending NCAA champion in the event, which he won in a lifetime best of 44.04. His time at this dual meet versus Texas puts him within a second of that mark. It also gets him under the 45 second barrier for the first time this season; his previous season best was 45.02, done at NC State's midseason invite.
Stokowski's time is .09 seconds ahead of Destin Lasco's 44.88. They are the only two men faster than 45 seconds this season, as Bjorn Seeliger sits third at 45.23. Distanced from the rest of the field by almost half a second, Stokowski and Lasco are currently the two favorites for the NCAA title as the regular season winds down. In 2022, Lasco took fourth in the event behind Stokowski, Brendan Burns, and Adam Chaney.
NC State's mark of 3:04.22 also launches them up the season standings in the 400 medley relay, moving them from 15th to 7th. Stokowski teamed with Mason Hunter (52.00 breast), Nyls Korstanje (44.83 fly), and Hunter Tapp (42.60 free) for the time.
Over the electric two day meet, Stokowski also won the 200 backstroke (1:41.93), took third in the 100 fly (46.20), led off the 200 medley relay (20.91), and split 19.41 on the 200 free relay.
SwimSwam: Kacper Stokowski Clocks 44.79 100 Back for #1 Time in the NCAA This Season