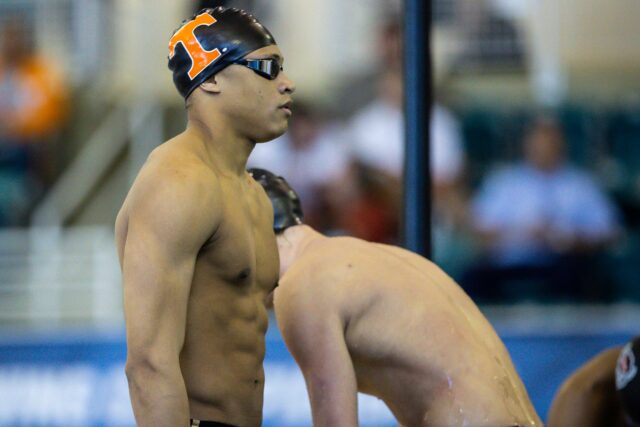 2022 FINA SHORT COURSE WORLD CHAMPIONSHIPS
Tuesday, December 13 to Sunday, December 18, 2022
Melbourne Sports and Aquatics Centre, Melbourne, Australia
SCM (25m)
Psych Sheets (Updated)
The Cayman Islands, a tiny Caribbean nation boasting a population of just around 66,000 people, had never won a World Championships medal in swimming prior to today. In fact, their success across all sports has been very limited, given the fact that they've never once had an Olympic medalist in their 46-year history of competing at the games.
That all changed with the emergence of Jordan Crooks, a swimmer that currently trains in the United States but was born and raised in the Cayman Islands.
Crooks, an NCAA star swimming for the University of Tennessee, is well-known for his standout short course yards performances. However, the 2022 Short Course World Championships were his breakthrough on the international scene. After a disappointing sixth-place finish in the 100 free, a race where he came in as the top seed and added 0.15 seconds from semifinals, he bounced back in the 50 free. There, he held off defending 2021 world champion Ben Proud, clocking a time of 20.46 to win gold by 0.03 seconds. That gold medal was the first in the Cayman Islands' history at the World Championships (for both long course and short course).
In the semi-finals of the 50 free, Crooks set his best time of 20.31, which is also the Cayman Islands national record. He also swam a 20.36 in prelims.
Crooks wasn't the only Caribbean swimmer on the 50 free podium, as Trinidad and Tobago swimmer Dylan Carter finished third. Carter is one out of two World Championships medalists for his country, with the first one being George Bovell.
That 50 free gold medal was Crooks' first international accolade, but it also meant more than that, as he had made history for his country in the process.
SwimSwam: Jordan Crooks Wins First World Championships Medal For Cayman Islands With 50 Free Gold