By James Sutherland on SwimSwam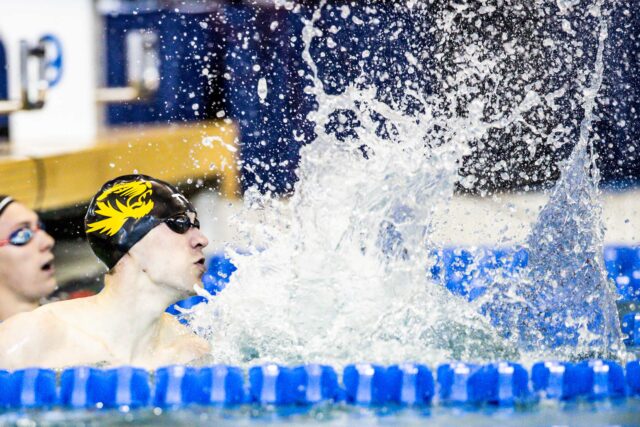 2023 NCAA DIVISION I MEN'S SWIMMING & DIVING CHAMPIONSHIPS
March 22-25, 2023
Jean K. Freeman Aquatic Center | Minneapolis, MN
SCY (25 yards)
Missouri's Jack Dahlgren was the top-seeded swimmer to scratch out of an event on Day 3 of the Men's NCAA Championships, as the fifth-year senior has dropped the 100 backstroke as the 20th seed.
Dahlgren, who held that seed by virtue of his 45.47 swim on the lead-off leg of the 400 medley relay at the SEC Championships, withdraws from the event in favor of the 200 freestyle, which will take place shortly prior to the 100 back on Friday.
Dahlgren comes into the 200 free as the second seed, having fired off a lifetime best of 1:31.17 last month at SECs, and had one of the top relay splits on Wednesday in the 800 free relay (1:30.45).
Last season, Dahlgren scratched the 50 free and only swam the 200 free and 200 back individually. He is also entered in the 200 back this year as the 12th seed.
Another notable scratch in the 100 back comes Georgia's Ian Grum, who was seeded 31st at 45.82. He will turn his focus to the 400 IM, where he's the 13th seed.
The 31st seed in the 100 fly, Wyatt Davis, has withdrawn from that event to focus on the 100 back, where he is seeded 10th. The same goes for SIU's Ruard Van Renen, who was seeded 38th in the 100 fly but holds a top-eight seed in the 100 back.
Tennessee sprinter Gui Caribe has also dropped the 100 fly, while the top seed in Saturday's 1650, Levi Sandidge, is out of the 400 IM, as is Texas' Alec Enyeart.
FULL SCRATCH REPORT
400 IM
100 Fly
31. Wyatt Davis (Michigan)
38. Ruard Van Renen (SIU)
41. Abdelrahm Elaraby (Louisville)
42. Gui Caribe (Tennessee)
43. Marcin Goraj (Pitt)
48. Bence Szabados (Michigan)
49. Cheuk Ng (Georgia)
52. Tommy Janton (Notre Dame)
55. Nicholas Simons (Tennessee)
200 Free
47. Bar Soloveychik (Minnesota)
48. Mitchell Norton (Georgia)
100 Back
SwimSwam: Jack Dahlgren Drops 100 Back On Day 3 of Men's NCAAs (Prelims Scratches)