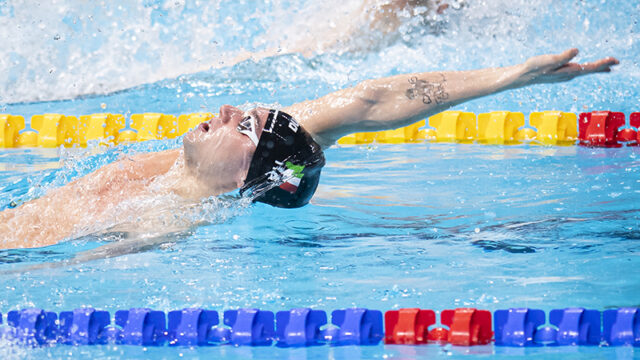 2022 FINA SHORT COURSE WORLD CHAMPIONSHIPS
Tuesday, December 13 to Sunday, December 18, 2022
Melbourne Sports and Aquatics Centre, Melbourne, Australia
SCM (25m)
Psych Sheets (Updated)
The Italian men took their second world record of the 2022 Short Course World Championships when they won the 4×50 medley relay in a time of 1:29.72, beating out the country's old mark of 1:30.14 from the 2021 European Championships to become the first-ever team under the 1:30 barrier.
Lorenzo Mora started things off on backstroke, leading off in a 22.65. He was second to Ryan Murphy by 0.04 seconds, but then Nicolo Martinenghi split 24.95 on breast (the only sub-25 split of the field) to give the Italians the clear lead. Matteo Rivolta then split 21.60 on fly, the fastest split in the field, and Leonardo Deplano finished things off with a 20.52 freestyle anchor.
Despite the fact that Italy broke their own world record that was set less than a year ago, Martinenghi was the only swimmer that was both on the old and new world record relays. The other swimmers on the previous world record relay were Michele Lamberti, Marco Orsi, and Lorenzo Zazzeri, who are all not on this year's short course worlds roster for Italy.
Splits Comparison:
Earlier at short course worlds, the Italian men had broken the world record in the 4×100 free relay, with Deplano having been on that relay as well.
SwimSwam: Italian Men Smash 4×50 Medley Relay World Record With A 1:29.72