By Retta Race on SwimSwam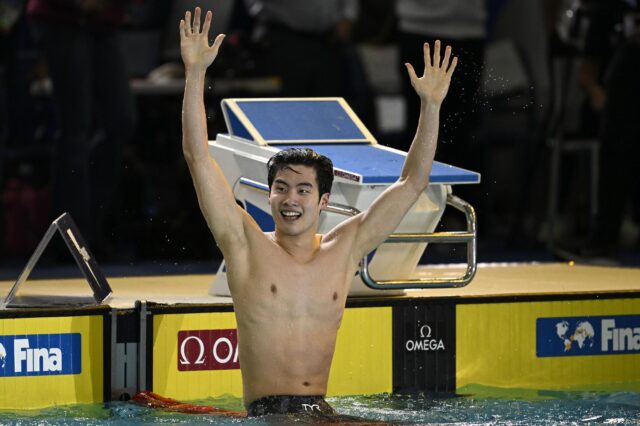 2nd GWANGJU NATIONAL SWIMMING CHAMPIONSHIPS
Saturday, June 10th – Thursday, June 15th
Nambu University International Swimming Pool
LCM (50m)
World Championships medalist and Korean national record holder Hwang Sunwoo put up a statement-making swim on his home soil.
Competing on day four of the 2nd Gwangju National Swimming Championships, 20-year-old Hwang posted a time of 1:44.61 to top the men's 200m free podium.
Hwang got to the wall over a second ahead of teammate Hojun Lee who touched in 1:46.19 while Jaehoon Yang rounded out the top 3 in 1:48.40.
As for Hwang, entering this competition his fastest 200m free time of 2023 checked in at the 1:45.36 he produced in March. Before that, he scorched a 1:44.67 in October at the 2022 Korean Sports Festival.
With his 1:44.61 outing here, Hwang now reclaims his spot atop the world's rankings on the season, usurping Chinese ace Pan Zhanle who led the globe with his 1:44.65 from Chinese Nationals last month. His time represents the 2nd fastest of his career.
Splits were not available at the time of publishing
2

Hwang




Sunwoo

KOR
1:44.67
10/08
3

Matthew




Richards

GBR
1:44.83
04/09
4

Thomas




Dean

GBR
1:44.93
04/09
5

Katsuhiro




Matsumoto

JPN
1:44.98
04/05
On his performance this evening, Hwang told Asian media, "I was happy to have posted the best time of the season, but at the same time, I was a bit disappointed I didn't break the national record. I prepared really hard for this competition. I wanted to improve my 200m time here."
Hwang's national record stands at the 1:44.47 he posted en route to claiming silver at the 2022 World Championships.
In terms of his time against the context of current medal contenders for Fukuoka, Hwang said, "Pan Zhanle and I are both Asians, and we're about the same age. He's someone I will have to compete with, and I am relieved to have posted a slightly better time than his.
"Obviously, I've been keeping an eye on him because he's been putting up great times," Hwang said. "Since we'll be battling at the world championships and also the Asian Games (in September this year), I've been thinking about him.
"I felt I absolutely had to be in the 1:44 range to do well at the world championships and the Asian games later. At least I got to the mid-1:44s. I will try to break my own record at the worlds." (Yonhap)
Hwang will take on the 100m free tomorrow in Gwangju
Additional Notes
Kim Seoyeoung topped the podium twice thus far, winning the women's 200m IM and 100m fly. The 29-year-old clocked a time of 2:11.69 in the former and 58.76 in the latter. She is the 200m IM national record holder with her lifetime best of 2:08.34 from the 2018 Asian Games.
Kim Woomin fell just shy of cracking the Korean national record in the men's 800m free. The ace notched a winning mark of 7:49,97, a mark only .04 short of Olympian Park Tae Hwan's national standard of 7:49.93 put up at the 2012 Olympic Games. Kim now ranks 15th in the world this season.
SwimSwam: Hwang Sunwoo Reclaims Spot Atop Men's 200 Free World Rankings – 1:44.61