By Riley Overend on SwimSwam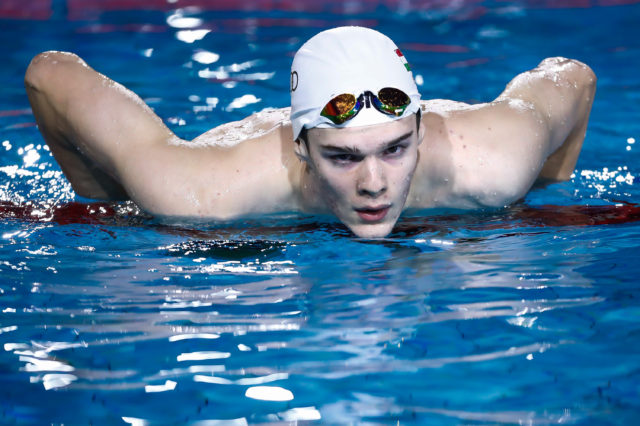 During his NCAA debut this weekend, Hubert Kos offered Arizona State a glimpse of the scoring potential the 19-year-old Hungarian Olympian could bring to this year's NCAA Championships in March.
Kos swam his first official races in short-course yards (SCY) on Friday against Stanford. He placed third in the 200 butterfly with a 1:43.41, second in the 200 back with a 1:41.50 (just .24 seconds behind Stanford's Leon MacAlister, and third in the 200 IM with a 1:44.53. Kos burst onto the international scene last year by capturing the 200 IM title at the European Championships in August.
On Saturday, he tallied three runner-up finishes in the 100 back (47.07), 200 back (1:41.48), and 400 IM (3:43.77). Most notably, he outpaced Cal's Destin Lasco in the 200 back until the final length of the pool, when the reigning NCAA champ chased down Kos for a slim victory by just .24 seconds. Kos was nearly a full second ahead with 50 meters remaining, finishing as the No. 20 performer in the NCAA this season. In the 100 back, Kos reached the wall just over a second behind Lasco. And in the 400 IM, he was 12 seconds behind Leon Marchand's NCAA-record time of 3:31.84.
VIDEO https://t.co/oXSZ28IIfp pic.twitter.com/3iE5CfxYOA

— Buttstroke Swimming ⑦  (@ButtstrokeSwim) January 21, 2023
Kos only joined the Sun Devils' program earlier this month but he already figures to be a game-changer heading into season. If he can convert his long-course success into yards, that might mean an extra 40 NCAA points for Arizona State, which could be what turns the Sun Devils from a fifth- or sixth-place squad into one of the top contenders.
One big question for Kos is what he'll decide on for his third individual event at championship meets. The 200 IM and 200 back appear to be locks, but he swam the 200 fly on Friday and the 100 back on Saturday.
The 100 back was an interesting decision as his LCM personal best stood at just 56.13 from 2019, seemingly not as good as his best LCM 100 fly time of 51.33 (converted to 44.55 SCY). However, he blew away the SCY conversion of his 100 back (49.48) by more than two seconds against Cal, marking the only event in which he has already closed the gap on his long-course prowess.
Hubert Kos, Debut SCY Times vs. Converted LCM Bests
| | | |
| --- | --- | --- |
| Event | Best SCY Time | SCY Converted from Best LCM |
| 200 IM | 1:44.53 | 1:39.74 |
| 200 back | 1:41.48 | 1:38.42 |
| 200 fly | 1:43.41 | 1:41.58 |
| 100 back | 47.07 | 49.48 |
Kos has the biggest SCY vs. LCM gap in the 200 IM, but with talented medley specialists such Marchand, Chase Kalisz, and Jay Litherland also training on campus under head coach Bob Bowman, it shouldn't be cause for concern just yet.
Kos wasn't the only Sun Devil to make a splash in his debut this weekend. On Friday, Zalan Sarkany broke the Arizona State school record in the 1000 free in his first-ever SCY race, clocking an 8:50.56 to take down a 39-year-old mark that had stood untouched since 1984. On Saturday, Sarkany lowered his own record to 8:50.25 in his second time swimming the event.
SwimSwam: How Did Hungarian Olympian Hubert Kos Fare in His First SCY Races for Arizona State?