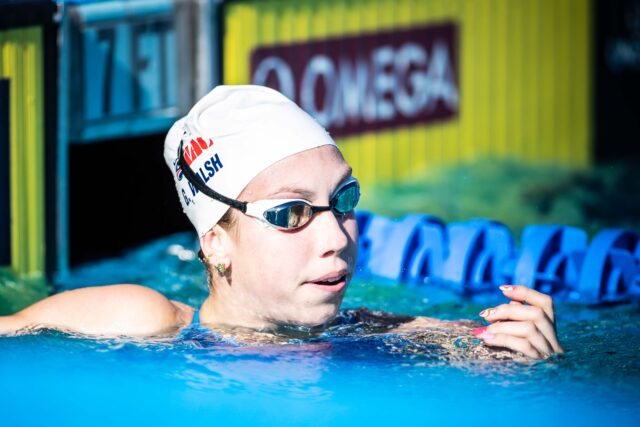 UVA vs. UNC vs. NC State
January 20, 2022
Koury Natatorium, Chapel Hill, North Carolina
Live Results under "UVA v NCST v UNC Tri Meet" on MeetMobile
For the second week in a row, a post-midseason invite NCAA-leading time for the 2022-23 season was clocked at a dual meet, in a practice suit. And also for the second week in a row, that nation-leading time was put up by a UVA women's swimmer.
A week after Kate Douglass swam a nation-leading 1:52.07 200 IM against Virginia Tech, Virginia sophomore Gretchen Walsh put up a 50.07 100 back leading off the 400 medley relay at the UVA-NC State-UNC dual meet. That time is 0.05 seconds faster than Claire Curzan's previous nation-leading time of 50.12 set at the NC State midseason invite. In addition, Walsh's time also beats out her own 50.13 clocked at the Tennessee Invite, and is over a second faster than Maggie MacNeil's 51.10 that was clocked at the LSU vs. Tulane vs. Vanderbilt dual meet and previously stood as the fastest dual meet time of the season.
As a matter of fact, Walsh and Curzan own the top five 100 back times set during the 2022-23 season.
Top Women's 100 Back Times, 2022-23 Season:
Gretchen Walsh, Virginia, UVA vs. UNC vs. NC State — 50.07
Claire Curzan, Stanford, NC State Invite — 50.12
Gretchen Walsh, Virginia, Tennessee Invite — 50.13
Claire Curzan, Stanford, NC State Invite — 50.32
Gretchen Walsh, Virginia, Tennessee Invite — 50.37
Maggie MacNeil, LSU, Art Adamson Invitational — 50.70
As shown in the splits, Walsh improved on her back half from invites to now. However, in her two fastest 100 back swims this season, she was faster than Curzan on her front half but slower on her back half, which gives us a sense of how a race between them would play out during NCAAs.
Walsh vs. Curzan, Comparative Splits:
Walsh's entire relay also beat their season-best, as her, Alex Walsh (59.27), Douglass (50.63), and Maxine Parker (48.66) combined for a 400 medley relay time of 3:28.63 that is faster than their midseason invites time of 3:29.15. However, they still remain third in the country behind Stanford (3:26.97) and Texas (3:25.96).
Throughout the season, Gretchen Walsh has been on fire, and has gained a lot of attention for swimming particularly fast times in dual meets (such as when she clocked the then-fastest 50 fly split ever in a dual meet against Florida). As of now, she still remains undefeated in individual events for the 2022-23 season.
SwimSwam: Gretchen Walsh Posts A 50.07 100 Back In Practice Suit, #1 Time In The NCAA