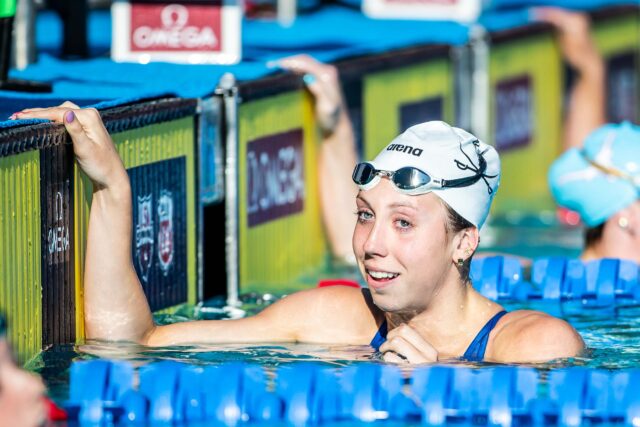 UVA VS. UNC VS. NC STATE (Women's Recap)
January 20-21, 2023
Koury Natatorium, Chapel Hill, North Carolina
SCY (25 Yards)
Live Results under "UVA v NCST v UNC Tri Meet" on MeetMobile
Final Score:

UVA 223, NC State 130
UVA 261, UNC 92
Full men's recap to follow.
12 races later, and Gretchen Walsh is still undefeated.
In UVA's sweep of NC State and UNC today, Walsh clocked a 50.76 in the 100 fly, winning her race by nearly two seconds. She also swam the second-fastest 100 fly ever in a practice suit, with only her 50.53 from the UVA-Florida meet being a quicker swim unsuited. Following her victory in the 100 fly, Walsh officially completed a perfect "regular" NCAA season, meaning in the 2022-23 season she didn't lose a single individual race prior to conferences or NCAAs.
We will publish a more detailed breakdown about this year's undefeated swimmers later this weekend, but it's important to note here that Maggie MacNeil also pulled off a perfect pre-championship season in LSU's final dual meet of the season. In addition, Leon Marchand just needs to win all of his races against Arizona next week to also end his pre-championship season undefeated.
The only way that Walsh and MacNeil will have their perfect pre-champs season nullified is if they choose to swim and lose at their upcoming "last chance" invites prior to conferences, which are meets that usually the top swimmers don't compete at.
Now, back to the UVA-UNC-NC State meet. In addition to Walsh, another big headliner from this meet was Kate Douglass' win in the 100 free, as she swam a 47.77 to win by over a second. While this time would have scored at NCAAs, it's a typical dual meet time for Douglass—in fact, it's her second-fastest dual meet time ever following her 47.49 against Florida this season.
Alex Walsh, the final member of UVA's trio of national champions, also took an individual win today. She swam a 59.90 in the 100 breast, being the only swimmer in the field under a minute. Her dual meet best time comes from the UVA-Texas meet, where she was just under a second faster than she was today at 58.95.
NC State's top performer today was Katharine Berkoff. The NCAA record holder in the 100 back won the event today, swimming a 51.63. Behind her was her teammate Kennedy Noble, who went a 52.63 for second. Noble was just over a second off her best time of 51.51, while Berkoff was close to her season-best of 51.21. NC State was struck with illness in the beginning of the season, hence why Berkoff was off her best times at invites, but her setting a near season-best at a dual meet bodes well for championship season.
In the 200 free, NC State's Abbey Webb and UVA's Aimee Canny were engaged in a tight race. Canny led Webb in the front half of the race, but the two swimmers had identical third 50 splits (26.68) and Webb ended up out-splitting Canny 26.43 to 26.83 to run her down for the win. Webb swam a final time of 1:46.48, while Canny went 1:46.72. Canny, an international freshman hailing from South Africa, was racing in just her second-ever 200 free, and swam just off her best time of 1:46.10 from last week.
The longest race of the day was won by UVA's Maddie Donohoe, who swam a 9:57.04. She was the only swimmer under 10 minutes in the field.
NC State's Abbey Arens won the 200 IM in a time of 1:58.51, beating UVA's Ella Nelson by over a second. Nelson finished behind Arens with a time of 2:00.01. The splitting was interesting for this race, as Arens went 33.15 on breast compared to Nelson's 34.09. This comes just after Nelson outsplit Alex Walsh by four seconds on breast in their 400 IM duel on the first day of this meet. Arens also outsplit Nelson by a significant margin on fly and free, while Nelson was faster on back.
UVA took both relays, as Gretchen Walsh (23.57), Alex Walsh (27.16), Douglass (22.84), and Maxine Parker (22.14) swam a 1:35.71 200 medley relay to beat NC State's Berkoff (23.94), Andrea Podmanikova (27.86), Kylee Alons (23.28), and Abby Arens (22.39), who combined for a 1:37.39. The fastest freestyle split in this race was clocked by UNC's Grace Countie, who went 21.99 on UNC's third-place relay.
In the 400 free relay, it was Gretchen Walsh (47.94), Douglass (47.40), Alex Walsh (49.05), and Parker (50.06) who came out on top with a 3:14.45, while the UVA 'B' relay of Carly Novelline (50.97), Canny (49.21), Lexi Cuomo (50.24), and Reilly Tiltmann (50.11) placed second in 3:20.53. UNC's Countie (50.22), Olivia Nel (50.59), Greer Pattison (50.76), and Sophie Lindner (49.16) were third.
UNC's only win of the day once again came from diver Aranza Vazquez, who scored 309.85 points to take first in the one-meter diving event.
UVA will next host the Cavalier Invite from February 3 to 5, NC State will split their squad against UNCW and Texas on January 27 and 28, and UNC will compete against in-state rival Duke on January 28.
SwimSwam: Gretchen Walsh Completes A Perfect Pre-Champs Season On Day 2 Of UVA-UNC-NC State Meet