By Anne Lepesant on SwimSwam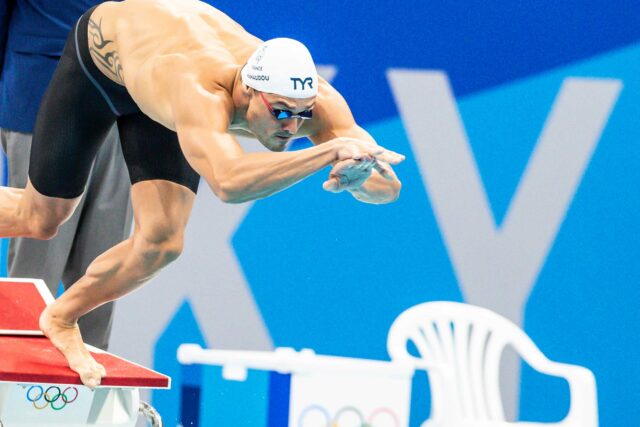 2023 French Elite Championships
Sunday, June 11th – Friday, June 16th
Rennes, France
LCM (50m)
World Championships Qualifier
32-year-old Florent Manaudou threw down the fifth-fastest time of his career on Tuesday, going 48.12 in prelims of the 100 free in Rennes. Entered with "no time" he swam in heat 1, in an outside lane, with only the clock to drive him.
Manaudou moves to #15 in the world so far this season, the highest-ranked Frenchman. Maxime Grousset is 26th with his 48.50 from the Giant Open final in March.
"I am very happy," Manaudou said after the race. "It's my record morning time, and my record as a blond."
Manaudou was out in 23.08 and home in 25.04 for the fifth-fastest 100 free in his career, and the fastest since 2016. "I was pleasantly surprised. I would have liked to swim 48.8 or 48.9; that would have been great. I don't often have surprises like that anymore."
Manaudou will sit out the final, but his performance qualifies him for the 4×100 free relay in Fukuoka. His goal in prelims was simply to "swim fast and swim well," two objectives that he met in his race. When asked why he's only swimming in prelims, he responded, "because it's just one race in the day. It was already hard when I was young to swim 200 meters in a day. Now, with my age, my body type, and the training I do… It takes talent; I can do it because I've done a lot [of 100 frees] in my career and I know how to swim it. I think I'm one of the best because I know how not to crack at the end. And in fact, I did it perfectly this morning, with the energy that I have. Tonight, if I were to swim, I would certainly be slower."
But the most important reason is that recovering from the 100 free is "exponentially" more difficult for him, and with the 50 free only 48 hours from now, Manaudou is giving himself time to prepare properly for his biggest race of the week.
Manaudou said he was looking forward to swimming on the 4×100 free relay at World Championships, now that he has proved to himself that he has the level. "If I had gone 49.5 I wouldn't be interested. The thing about relays is that you need very high-level swimmers. And with several of us going 48.5 or faster, it forces the others to be at the same level."
Manaudou's top-10 lifetime performances:
| | |
| --- | --- |
| 100 Free | Date |
| 47.98 | 12/19/2015 |
| 47.98 | 8/22/2014 |
| 48.00 | 3/6/2016 |
| 48.10 | 4/1/2016 |
| 48.12 | 6/13/2023 |
| 48.41 | 6/15/2013 |
| 48.51 | 2/7/2016 |
| 48.55 | 6/15/2013 |
| 48.58 | 6/18/2021 |
| 48.61 | 8/21/2014 |
2

David




Popovici

ROU
47.61
04/08
3

Kyle




Chalmers

AUS
47.69
05/13
4

Matthew




Richards

GBR
47.72
04/06
5

Hwang




Sunwoo

KOR
47.78
10/12
6

Guilherme




Caribe Santos

BRA
47.82
12/09
7

Katsuhiro




Matsumoto

JPN
47.85
04/06
8

Josh




Liendo

CAN
47.86
03/31
8

Marcelo




Chierighini

BRA
47.86
06/01
10

Wang




Haoyu

CHN
47.89
03/19
11

Vladislav




Grinev

RUS
47.97
04/21
12

Diogo




Ribeiro

POR
47.98
03/31
13

Lewis




Burras

GBR
47.99
04/06
14

Duncan




Scott

GBR
48.00
04/06
15

Wang




Haoyo

CHN
48.15
05/01
SwimSwam: Florent Manaudou Clocks His Fastest-Ever Morning Time in 100 Free (48.12) at Rennes